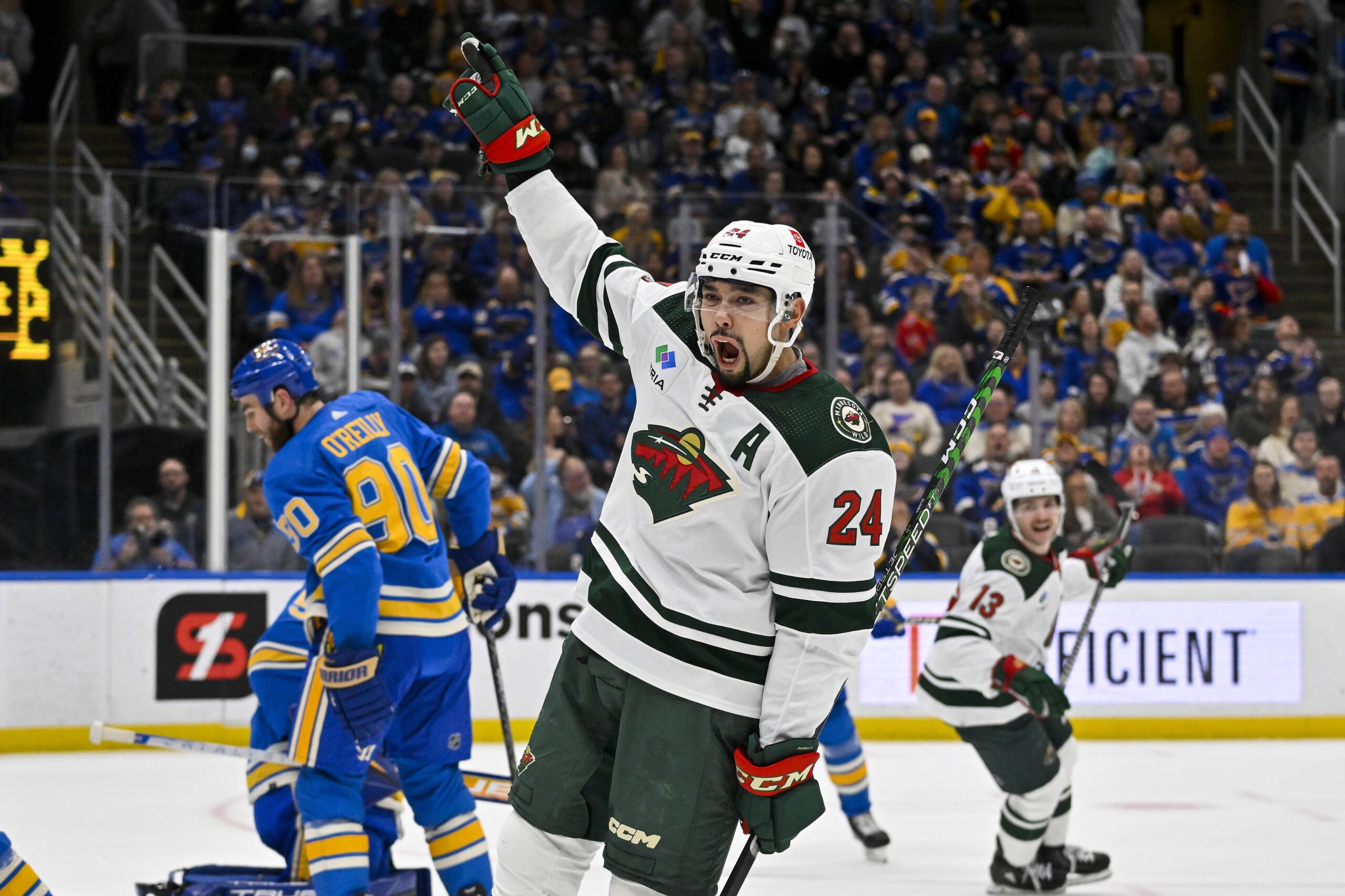 It's sort of amusing how the State of Hockey was so confident that Matt Dumba was going to be traded this time. Even at 10K Rinks, you could find countless articles written about potential trade partners and return packages for The Defenseman Who Could Never Leave the Minnesota Wild.
So as the hours ticked by, and Dumba's name never came up in serious trade talks, it became clear that he is here to stay, at least until Minnesota's season is over. Having Dumba still in the lineup keeps the blue line chemistry intact and will only benefit the Wild heading into the postseason.
Reportedly, other GMs made inquiries about the pending UFA defenseman, but general manager Bill Guerin felt that Dumba has been too valuable to the team to move him. While Dumba is most likely going to walk in free agency, he has evaded the dreaded trade deadline once again.
True to the old Minnesota adage, there really are just two seasons in the Twin Cities: Winter Matt Dumba Speculation Season and Summer Matt Dumba Speculation Season. It's as treasured as the spoon with the cherry. Nearly every year when the deadline (or draft) comes around, Minnesotans gather around the hot stove to make mock trades and find the perfect return for him, but Dumba always manages to outfox the forces pulling him out of St. Paul.
"We wouldn't have done it," Guerin said of trading Dumba. "Matt is playing too well right now. He's helping us too much right now. The last month, he's been fantastic."
When reporters asked Dumba about being with the Wild post-deadline, he joked, "Dodged another one. They can't get me out of here." But Dumba's been clear this whole time that this is his home and reaffirmed that after the deadline. "It feels good. It's where I want to be. I want to help this team. I definitely want to win. I want to go further than I have. This is one of the best teams I've been a part of in Minnesota. I'm excited."
The Wild got a taste of what the team would look like without Dumba when Dean Evason scratched him for back-to-back games against the Florida Panthers and Tampa Bay Lightning in January. They ended up losing both games. The evidence piles up: Dumba makes the Wild better when he's in the lineup, whether you like to admit it or not.
He's been in Minnesota his whole professional career, along with Jonas Brodin and Jared Spurgeon. They are the glue of the Wild's blueline group.
Dumba is effectively a rental player going forward. Unless the Wild can bring him back at an unreasonably low price, he's gone this summer, and Minnesota loses him for nothing. But he's such a presence on the team that the Wild would've been unwise to trade him for a pick that wouldn't help them this year. Minnesota has been lights-out defensively for almost two months, and Dumba is a big part of that. He plays the most five-on-five minutes among the defensemen, and while he doesn't typically score all kinds of points, he's still got an intangible spark to him that everyone loves.
Plus it helps that he's got undeniable chemistry with his defensive partner, Brodin. According to Moneypuck, no defense pair with 300-plus minutes has allowed fewer goals against per hour. The entire defensive core isn't giving much up lately, even with Brodin on injured reserve. In the past seven games, they've only given up six goals. Dumba is thriving, even with Alex Goligoski as his partner.
The Wild used more in offensive situations early in Dumba's career. More recently, though, he's become more of a shutdown defenseman, especially when with Brodin. The two often face the top line of opposing teams, with each playing over 21 minutes per night.
Minnesota's defense is so incredibly structured lately that the only complaint you can have is that they're not making the games very exciting. In Saturday night's game against the Calgary Flames, the Wild were only on the penalty kill twice and allowed only one breakaway, which goaltender Filip Gustavsson denied.
"If that's the only stuff we'll give up a game, we're gonna win a lot of hockey games, so it's really good defensive play," said the goaltender. He also added that the locker room has been very positive. "We found the defensive game and we win just scoring one goal usually. It's just really positive in here. Everyone is comfortable playing those tight games, and we've had success with it."
The Western Conference has yet to reveal a true contender. If the Wild keep playing solid defensively, they could very well emerge from that group. Just imagine if Dumba and the defense – featuring new face John Klingberg – start scoring. The Wild might actually be deadly.
If we've learned anything over the years, it's that you can never count Dumba out from coming back next year. Dumba loves it so much in Minnesota that it wouldn't be surprising at all if he took the pay cut necessary to stay in St. Paul. With the way the coaches love him too, it really wouldn't be surprising to see him become a Wild lifer. He's been able to evade trades for so long that it might be a superpower of his.
The ability to stay on Minnesota's roster will be tested this summer. But for now, instead of starting fresh with a new team towards the end of the season, Dumba gets to ride out what might be the last of his time in Minnesota. He doesn't have to learn a new system and make friends with new teammates.
Dumba can enjoy the remainder of the season with the team and organization he is comfortable with. And the Wild can enjoy having a third veteran defenseman patrolling the right side of the blueline entering the playoffs.