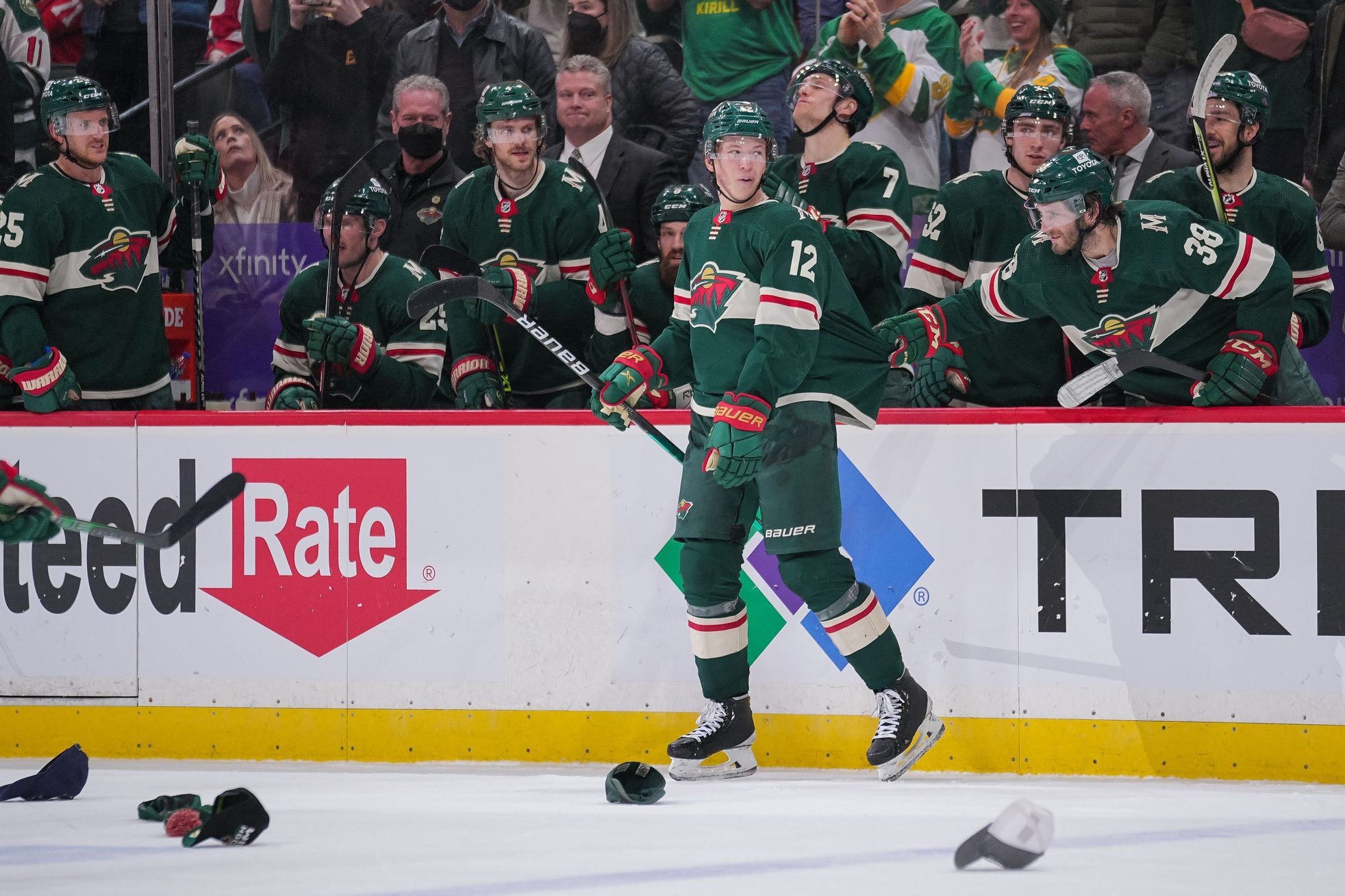 On Monday, Matt Boldy's hat trick against the Detroit Red Wings put an exclamation point on his hot start. His career is only 13 games old, and he already looks ready for a higher league than the NHL. There isn't one, so he'll have to settle for merely dominating the best players in the world.
Boldy is showing himself to be elite by any metric. You want to go by points? Of all players with 10-plus games, he's 33rd in points per game (1.08) and tied for 18th in goals per game (0.54). Most advanced stats indicate that he's almost impossibly good. Through just 13 games (barely over 200 minutes), he's been worth 2.5 points in the standings. That's ranked 84th among all NHLers.
That's unfathomable. Boldy has been roughly as valuable as the entire seasons of Sasha Barkov (34 games), Miro Heiskanen (45), Jordan Kyrou (42), and Anthony Cirelli (43). Small sample size be damned; these 13 games are so astronomically good they should catapult Boldy into Calder contention.
It's a triumph on many levels for the Wild. They added an elite player to the roster at the low cost of free. Best of all, he's likely not even the first star in this next wave of prospects. Minnesota's farm system is so deep with talent that Hockey Prospecting estimates Minnesota will get 2.98 star players out of it. Looks like Boldy is one of them, so there's probably two to go.
Many Wild fans see Boldy as the antithesis of how the Wild used to bring along young players. Minnesota had two strong waves of prospects hit the NHL over the past decade. The first was in the early 2010s, when Mikael Granlund, Jason Zucker, Charlie Coyle, Nino Niederreiter, Jonas Brodin, and Matt Dumba first made the NHL. The second was the 2015 and '16 draft classes, which featured Joel Eriksson Ek, Jordan Greenway, Kirill Kaprizov, and Luke Kunin.
Except for Kaprizov, neither yielded any stars. The conventional wisdom is that they were rushed to the NHL much too quickly. They didn't get enough big minutes to develop or lost confidence in early struggles.
That didn't happen with Boldy. When Guerin signed him out of Boston College last season, he immediately put Boldy in the AHL. Even as he put up big point totals, Guerin didn't call him up to the NHL. The playoffs came and went without Boldy entering the lineup. Most fans wanted Boldy to make the Wild out of training camp, but Guerin again started him in Iowa.
But it was all worth it to see a Boldy that was fully baked and 100% ready to dominate the NHL. The results speak for themselves. There's a clear lesson most are taking from here: It's best to be patient and take it slow with prospects. Top prospects like Marco Rossi and Calen Addison must wait for their turns, and it's in the best interest of their development to pay their dues.
The only problem with that lesson is almost none of that thinking holds up to scrutiny.
It took Boldy nine months to go from inking his entry-level contract to making his NHL debut. But it's hardly as if he became a seasoned AHL veteran. He played 14 games at the tail end of Iowa's season last year, then 10 games this year. That's 24 games total. He's already more than halfway to surpassing that total in NHL games.
Meanwhile, several of those rushed Wild prospects got significantly more time to marinate before making their debuts. For example, Granlund got 29 AHL games before making the NHL full-time, and that came after two years of stewing in Finland's top league.
Coyle had 47 AHL games before making his debut, nearly twice as many as Boldy. Niederreiter had a disastrous 55-game NHL season at age-19, but he spent 74 games in the AHL before getting traded to Minnesota. By the time Zucker was in the NHL for good, he had 77 AHL tilts under his belt.
How much more seasoning did any of those guys need? At some point, you are who you are, no matter how much time you get in the AHL.
Sure, you can point to players who Minnesota probably rushed. Greenway had only five AHL regular-season games in his career. Eriksson Ek had just 17. Then again, the best Wild player of that bunch (non-Kaprizov division), Brodin, only played nine AHL games before stepping into the NHL at 19. A quick arrival doesn't necessarily mean it's too soon.
Fans aren't wrong that the revamped Wild scouting department is doing something different than it did under Fletcher. It's just not patience with prospects. Remember, rumors were kicking around last year Minnesota was holding their top center spot open for Rossi before being diagnosed with myocarditis.
No, what's allowing them to succeed is targeting players with a high likelihood of becoming special. Looking back at that group of prospects, the ones with the highest probability of becoming a star in their draft year (per Hockey Prospecting) were Granlund (39%) and Kaprizov (35%). No other player in that group had a greater star probability of 20%.
Contrast this to Boldy (41%) and Rossi (77%) when the Wild drafted them. Throw in Addison (38% when the Wild traded for him) and some good growth from head scout Judd Brackett's draft picks, and that's more upside than Minnesota's past prospect pools ever had.
Now, the criteria of "star" is based on point production, and that obviously isn't everything. But the results are undeniable: Minnesota never had players who could do what Boldy and Kaprizov could do until they started targeting upside.
That's not to say we can't learn lessons from how Minnesota handled Boldy. However, the lesson to glean from here isn't Prospects need lots of time in the minors to succeed.
No, the lesson Minnesota must take from Boldy is, If a player's showing they're special, let them prove it. Minnesota didn't do that last season when they held Boldy out of the playoffs despite his brilliant 18-point-in-14-game performance. By that time, there were no more AHL games left where he could conceivably develop.
Instead, the Wild rolled with veterans, despite underwhelming performances from many of them. The results were brutal, with the Wild putting up just 11 goals in seven games against the Vegas Golden Knights. Now they have Boldy, and he's already responsible for Minnesota's cushion over the St. Louis Blues and Nashville Predators.
Yes, Boldy has played 10 AHL games between then and now. But let's be honest: he did not go from not ready for the NHL to a top-2 player on the Wild. Holding him out of the playoffs wasn't a prudent move for the sake of his development. It was a blunder that, if anything, cost him valuable playoff experience that could've furthered his growth -- not to mention Minnesota's playoff run.
The Wild would do well to learn from their mistake last year. Both Rossi and Addison are proving they're special in the AHL. Rossi's logged 38 points in 35 games, and Addison has 39 points in 54 games as a defenseman. They both can even boast of having more AHL experience than Boldy had. And in both players' cases, there's a logical spot in the lineup for them, where they can take a replacement-level player's place.
When a player shows they're special, let them prove it. Until Minnesota learns that lesson, they're putting a ceiling on their upside come playoff time.
All point-per-game data via Stathead.com, all other data from Evolving Hockey unless otherwise noted.