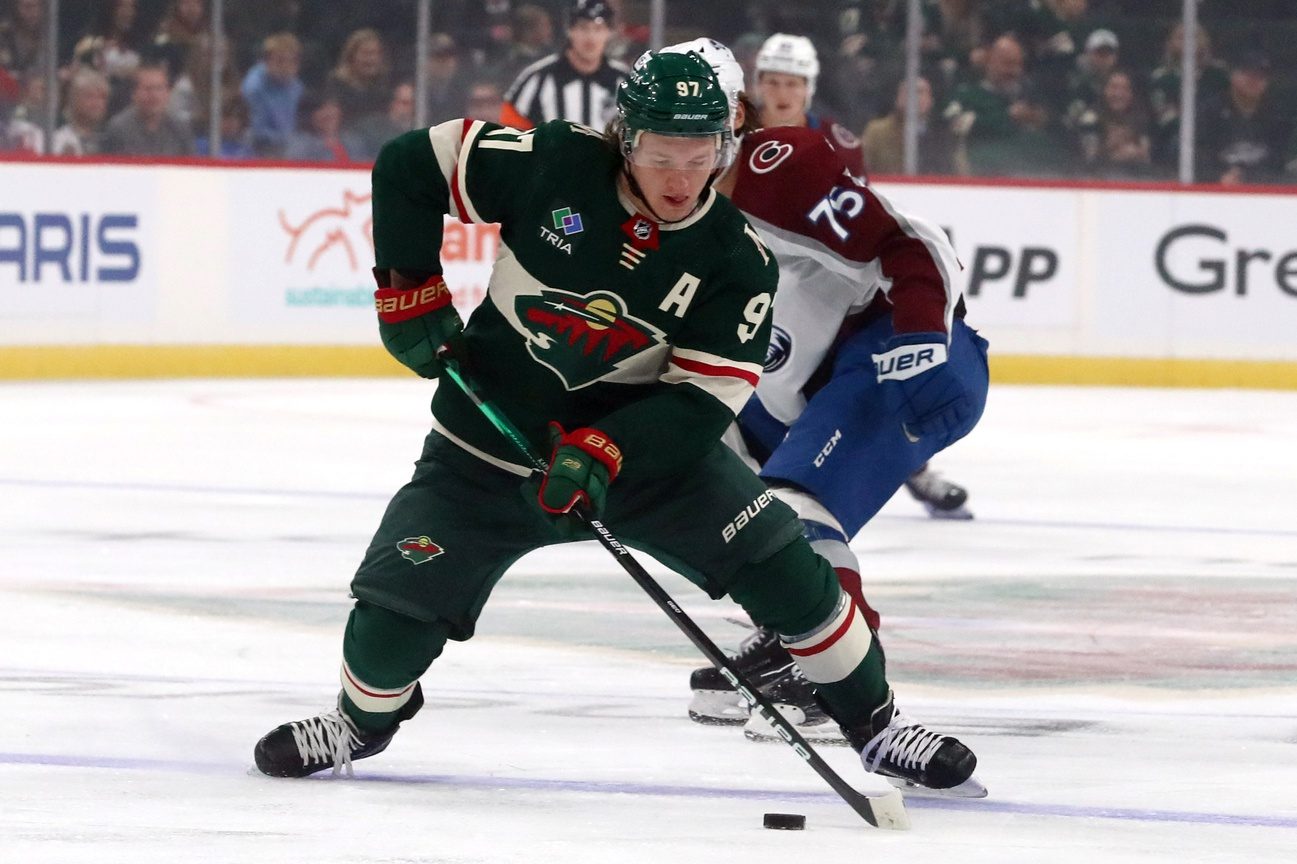 The Minnesota Wild once again watched the majority of the playoffs from their couches last season. During that time, they had plenty of time to examine the still-participating Tampa Bay Lightning. We even wrote about how the Wild could look to replicate their year-after-year dominance on the man advantage. What are the keys to their perpetual success, and could the Wild replicate it?
We know everyone in the State of Hockey read that article in June and can regurgitate every detail from it from memory. Still, we'll give you a quick refresher. Here are the two keys of the Tampa Bay power play that the Wild could (and should) copy as we inch ever closer to the season opener.
First, Tampa Bay prioritizes handedness at each position of the 1-3-1 power play. This is even more important to them than talent level. Now, the Lightning are filled with talent, so they still end up with a skilled player in each spot. But even when right-shot Brayden Point missed time with injury in the playoffs, coach Jon Cooper opted for Corey Perry to fill that spot above more talented options such as Ondrej Palat or Anthony Cirelli.
Let's visualize how the handedness should align with a 1-3-1 PP, if the play is set up on the right side. For the Lightning, it starts with Nikita Kucherov in that F1 spot. For the Wild, this has been Kirill Kaprizov's home.

Second, the top PP units in the NHL over the past handful of years have a potent one-timer option opposite of their main flank. In the above example, this would be a right-handed shot in the F4 position. Think of the likes of Steven Stamkos, Alex Ovechkin, and most recently, Mika Zibanejad. If a power play chooses to run from the opposite side with a skilled right-handed player, the one-timer threat switches to the left-handed shot from F1.
So we already identified the two biggest differences between the Wild and Lightning's power plays. The Wild needed to start prioritizing handedness to maximize one-timer threats, along with finding a threatening right-handed one-timer opposite of Kaprizov this summer. Last year they utilized Kevin Fiala in that spot. With his departure, Minnesota needed to find a capable replacement. They did, but not in the way you might think.
Here are how their two power-play units should be deployed from a personnel standpoint, keeping the above rules in mind.
Top Unit

It all starts with Kaprizov, of course. His ability as both a passer and a shooter forces penalty kills to defend every option with the puck on his stick. F1, F2, and F3 remain the same as last year. The chemistry developed between Kaprizov, Mats Zuccarello, and Ryan Hartman makes for a dynamic threat in tight spaces.
Still, it would be nice to have a right-handed shot with more proven finishing ability to man the bumper position in the middle of the 1-3-1. Hartman did post a career-high 34 goals last year, but just one of those came on the man advantage.
Hartman is a really good complementary piece at 5-on-5 for Kaprizov and Zuccarello due to his forechecking. But make no mistake, lacking a top-tier right-handed finisher leaves the Wild's power play with one less threat. We could have slotted someone like Joel Eriksson Ek here, but remember, we are prioritizing handedness over skill level.
For now, the Wild don't possess a better option, so Hartman remains in this spot. However, The Athletic's Michael Russo has reported GM Bill Guerin is in the market for another forward to fill their last open roster spot.
Many teams are still over the cap and may have to trade players in return for nothing. With over $5 million in cap space, that puts the Wild in a position to poach players. Perhaps Edmonton's Jesse Puljujarvi could be that solution? Last year, Hartman averaged just 0.3 goals per 60 minutes on the power play. Puljujarvi, even with his reputation as someone who can't finish scoring chances, recorded 2.5 goals per 60 with the man advantage.
Keep an eye out for what happens with Puljujarvi. He would be an immediate upgrade to the Wild's top power play. For now, though, we will proceed as though Minnesota's roster is set.
So Guerin went out and signed a right-handed replacement for Fiala on the other side, right? Not exactly. It doesn't mean they don't have options. They should simply just play Spurgeon in the spot he is most dangerous. Spoiler warning: That's not at the point, quarterbacking the PP.
Instead, we are replacing Spurgeon at the point with the burgeoning rookie Calen Addison. This frees Minnesota to slide the captain down to the F4 position. It might sound weird to put a defenseman in that spot, but he's thrived there in the past. Need some proof? Check out his goal from the pre-season win over the Dallas Stars on Thursday.
For much of the previous five to six years, this is the exact spot Spurgeon loves to go. He doesn't possess the heaviest shot, but his accuracy and instincts are top-notch. You thought that goal from this week was nice? Let's remember this play from 2017.
Playing the F4 requires pinpoint accuracy and great instincts, more so than just the heavy shot. It's a role made for Spurgeon.
Second Unit

Yes, it's odd for Boldy and Marco Rossi to end up on the second power play, and not with Kaprizov. There are two main reasons for this. First, we're adhering to the handedness rule as best we can. The second reason? Boldy and Rossi thrived together on the power play in Iowa. Why not keep them paired up on opposite flanks?
Doing so gives the Wild two potentially potent power play units. Better yet, both units would operate differently from one another, perhaps leading to some confusion for the opposing penalty killers.
Boldy would control the play along the left flank for this unit. Here is the only instance where we are breaking the handedness rule, as Boldy is a left-shot. The main reason is that Minnesota has such few right-handed options, and also because Boldy is quite adept at working on his off-hand. This preseason, in particular, has shown that. Eriksson Ek can finally play the bumper position on his correct side, perhaps leading to a further goal-scoring outbreak from the Swede.
Speaking of Sweden, Jonas Brodin will man the point on this unit as well. While he lacks the shot Addison provides to the top unit, his excellent skating and passing abilities allow him to place a lot of stress on the penalty kill.
With Gaudreau the only remaining right-handed option available to operate down low, this leaves us with Rossi in the F1 position opposite of Boldy for one-timers. It's a perfect spot for Rossi. While his chemistry with Boldy and their ability to open up seams together is well documented, his shot is not talked about nearly enough. It's elite.
Minnesota's power play has been very productive in the short sample of the preseason. However, that's mostly due to changes in zone entry strategies and puck retrievals. The Wild have yet to ice their full-strength roster, so personnel deployment is still a bit of a mystery. If the Wild can choose to place their players in the same manner Tampa Bay does, they have a chance to power up into the Top-10 this year.
There's a ton of talent and a mandate for change. So if that power play doesn't deliver, Evason's going to have some explaining to do to his boss.