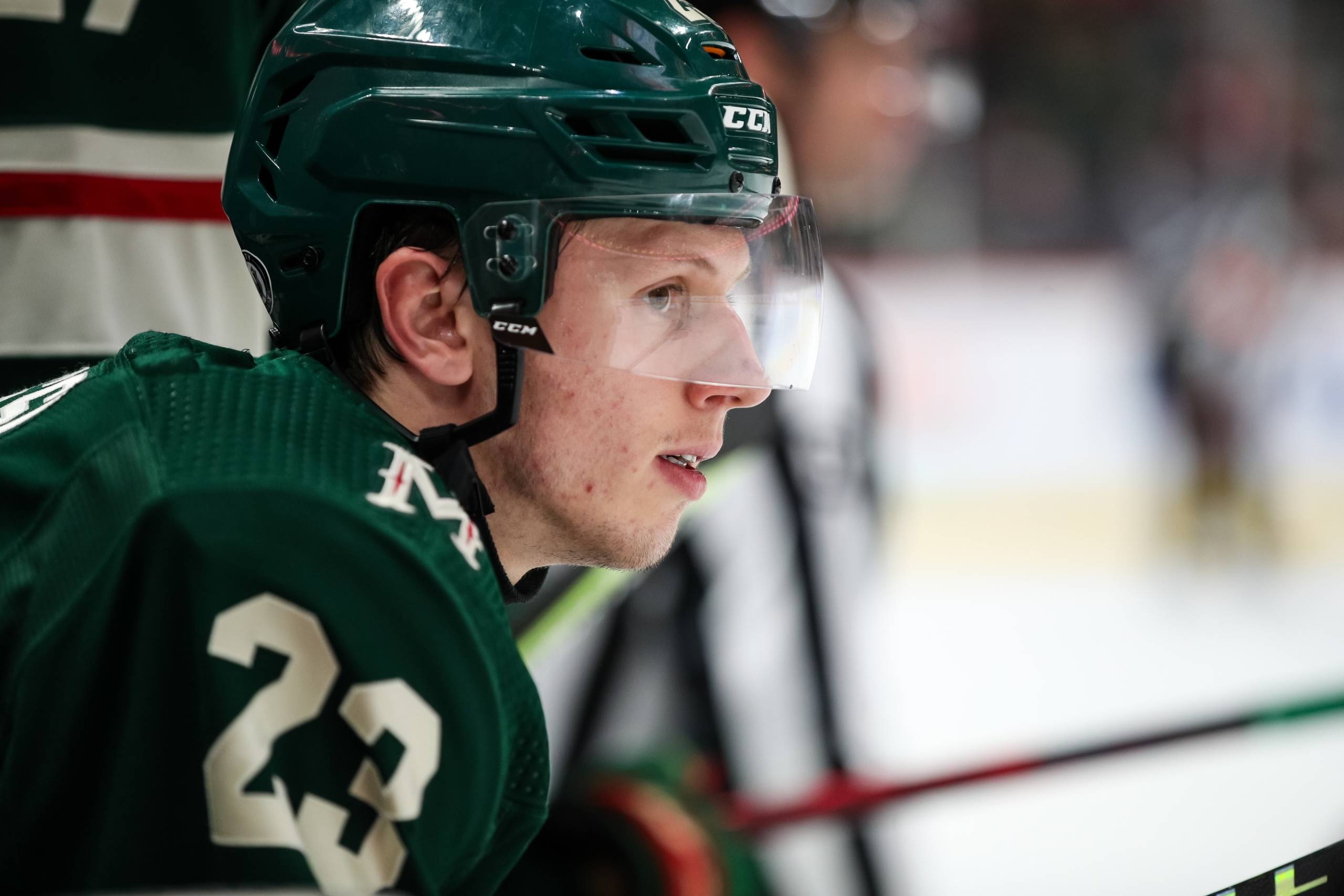 When the Minnesota Wild selected Marco Rossi ninth overall in the 2020 NHL Entry Draft, they added a blue-chip center prospect to their prospect pool who could potentially make the team's opening night roster straight out of camp. But heart complications due to COVID-19 kept him sidelined for the entirety of the 2021 season, and fans would have to wait to get their first glimpse of him donning a Wild sweater.
With the 2021-22 season officially underway and Rossi starting his pro career in Iowa fans will have to wait a little longer for his NHL debut. He's building excitement in Des Moines, though, racking up 15 points in 13 games. Is it time that the Wild brass finally gives the young centerman a chance to prove that he's ready to help the team compete for a Stanley Cup?
What's the rush?
Minnesota sits atop the Central Division standings with an 18-6-1 record and is tied for 4th in the league with 33 points. The Wild have managed to manufacture wins and build chemistry this season by regularly outworking their opponents and getting depth scoring in critical moments from unexpected heroes. The team's chemistry and success are the key reasons Rossi should continue developing in Iowa despite his hot start.
Bringing Rossi into the mix would send a message that contradicts the entire ethos of Minnesota's organization. Under coach Dean Evason and general manager Bill Guerin, players earn their spots by committing themselves to the team and playing the game the right way. If the Wild were to call Rossi up, he would need to play significant minutes in a top-6 role and displace Victor Rask, Freddy Gaudreau, or Ryan Hartman.
While Rask and Gaudreau may not be long-term pieces to the Wild being Cup contenders over the next few seasons, they've stepped up and contributed to the team's early success. Team chemistry is one of the most complicated attributes to manufacture in team sports, and the Wild are currently vibing and playing a brand of hockey that has never been seen before in the State of Hockey.
There is no denying that there could be significant upside in giving Rossi a shot to play alongside one of the team's young stars in Kirill Kaprizov or Kevin Fiala. But given how the team has been playing, there isn't enough evidence to suggest that they need Rossi to succeed. While the Wild still lack a legitimate number one center, this is no time to look to fill that void by promoting Rossi. He is playing valuable minutes in critical situations that he likely wouldn't find himself in in the NHL.
As recent years have shown, young players need time to develop before they are thrust into key roles. It's a big step, and high expectations have proven to be a significant challenge for a couple of recent first overall draft picks. Alexis Lafreniere and Jack Hughes skipped the AHL altogether to begin their NHL careers immediately after being drafted. Both players were consensus number one picks leading up to their respective drafts and expected to contribute offense instantly. Instead, both have had difficulty adjusting to the nuances of the NHL.
Lafreniere has 27 points through 77 games, and Hughes has 55 in 121 games. While these players are early into their careers and will likely see their offensive production go up, those weren't the statistics their teams expected when their clubs won the draft lottery. The fact is, it's hard to be an impact player immediately, even for highly-touted prospects. For every Connor McDavid or Auston Matthews, some players take a while to blossom, even future stars like Nathan MacKinnon.
Guerin's commitment to having the team's prospects spend time in the minors and develop their game is a breath of fresh air. Over the past decade, the Wild have needed prospects to step up and contribute before they were capable of doing so on a nightly basis. Joel Eriksson Ek may be the perfect example of this.
In his first season in Minnesota, Eriksson Ek played 15 games and spent most of his time playing in Sweden. He then played one game in Iowa the following season before becoming an NHLer on a nightly basis. In total, Eriksson Ek played just 18 games in the AHL during parts of three different seasons, which may have contributed to his initial lack of production in the NHL. Over his first four seasons in the NHL, he scored 24 goals in 210 games. He didn't demonstrate any finishing ability until he was 24, scoring 28 goals in 79 games over the past two seasons.
It is difficult to say that former Wild prospects would have made a more significant impact on the team had they spent more time developing in the AHL. But the extra experience gained in the minors during critical years of development will never be a negative. Rossi is showing he has the skillset, work ethic, and attitude to be an impactful player for Minnesota for years to come. But right now, he's better served to develop his game by playing substantial minutes for an Iowa team that needs him.