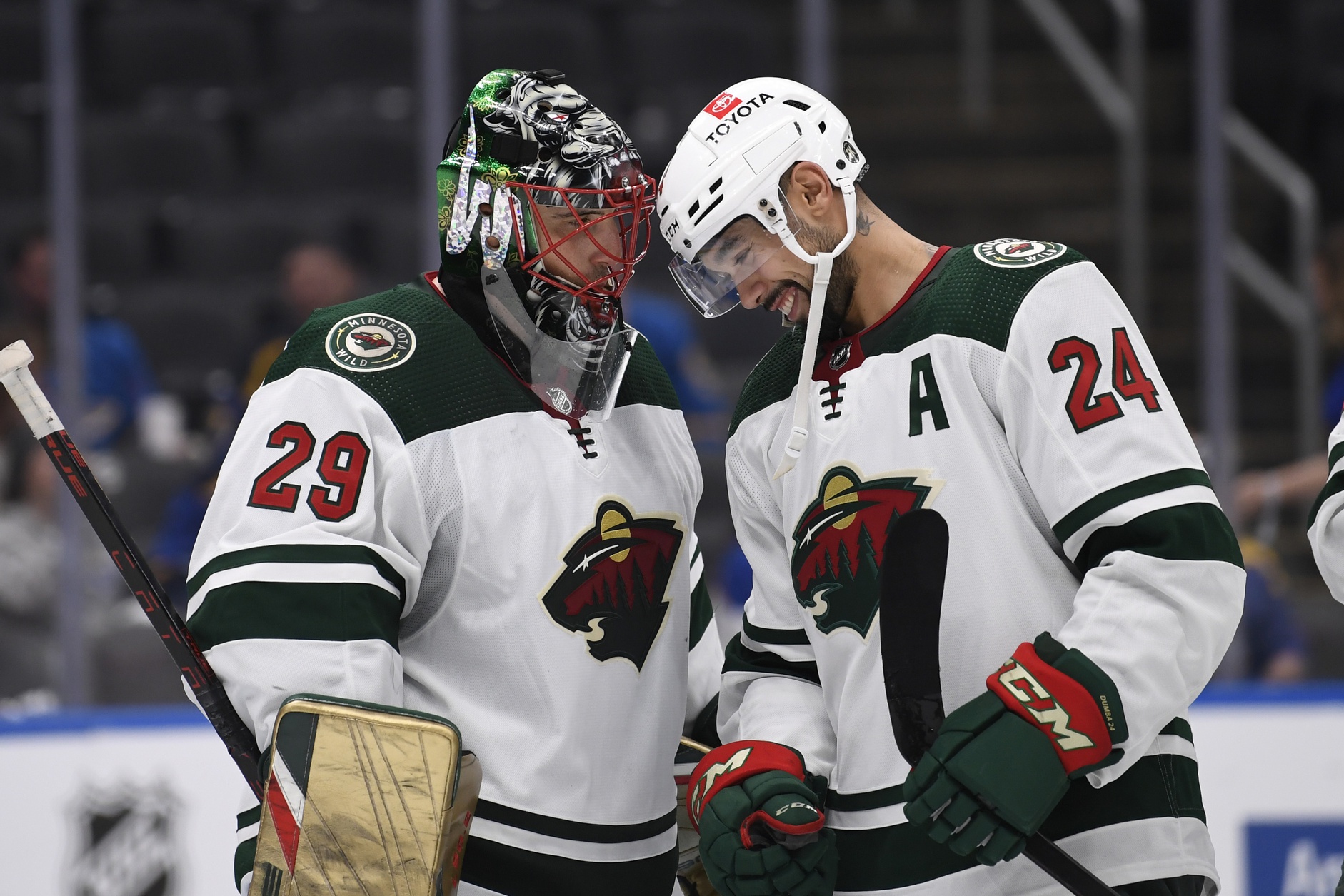 How did the Minnesota Wild jump out to just their third 2-1 series lead in their playoff history? By reversing a lot of other unfortunate trends.
There's the obvious one: simply getting wins against the St. Louis Blues. The Wild had a well-publicized two-year streak of getting absolutely owned by the Blues. But now, those questions of whether Minnesota can take them are answered. They can, at least enough to get halfway to advancing to Round 2.
With very few exceptions, the Wild's best players tend not to make noise in the postseason. Even Kirill Kaprizov relatively fizzled last season, with three points in seven games. No more. Now Kaprizov has four goals and five points through three games, and is bringing the kind of playoff magic that usually works against Minnesota.
Perhaps most crucially, though, they've reversed the trend of having a banged-up defense. In 2019-20 and 2020-21, the only thing stopping Matt Dumba, Jonas Brodin, and Jared Spurgeon from playing 82 games was, essentially, a global pandemic. The trio combined to miss just 17 of a possible 582 games.
This year, however, was a different story. Brodin missed nine games, and he was the relatively healthy one. Injuries kept Spurgeon out for 17 games, while Dumba missed 25, including 12 between April 5 and the regular-season finale.
In fact, the Wild had their Big Three defensemen all in the lineup for just 37 of a possible 82 games. For you math wizards, that's less than half the season. With all three in the lineup, they had a 26-8-3 record (or a .753 points percentage), compared to 27-14-4 (.644) with one or more missing.
Those 37 healthy games include zero of their regular-season meetings against St. Louis. It might be a coincidence that they gave up 16 goals in those three games. It also might not be.
No one's naive enough to think that Spurgeon and Dumba, who both sat out as recently as nine games ago, are perfectly healthy and pain-free. But they're healthy enough to be in the lineup and play well, and the impact on Minnesota has been massive. Compare their seven goals allowed through three games to what St. Louis did against them in the regular season.
Again, maybe it's a coincidence. It's just three games. Considering how impactful these three defensemen are in their own end, though, you shouldn't bet on this trend going away anytime soon. Brodin and Spurgeon have long been among the most impactful defensive players in the league. As for Dumba, he's taken major steps in his own end and makes his pairing with Brodin work.
It's not just those three, either. The bottom of their defense is also healthy. Jake Middleton is serving as a net-clearing, defensively-focused partner to Spurgeon. Jon Merrill, Alex Goligoski, and Dmitry Kulikov are all healthy as well, giving Minnesota plenty of options on the third pair.
For example, when Kulikov had a tough time on defense in Game 1, no problem. Dean Evason just turned to Goligoski, who responded well to being scratched in the series' opening game.
Thanks to all this, Minnesota's been able to suffocate the Blues at 5-on-5 play. They're allowing 1.72 expected goals per hour, which is even lower than their regular-season mark of 2.07. That's fourth-best among teams this postseason. One of those teams ahead of them is the Boston Bruins, the only team to best Minnesota's defense in the regular season. The other two are the Calgary Flames and Dallas Stars, who've apparently agreed to not try scoring against each other.
Leading the way is, of course, the Wild's shutdown Brodin-Dumba pairing. Of the 93 defensemen to play 20-plus minutes this postseason, they're tied for ninth at allowing expected goals, surrendering just 1.21 per hour.
Their stinginess, as well as Spurgeon's (2.17 xG/60) and Middleton's (2.00 xG/60), goes a long way toward explaining why they've all given up zero actual goals at 5-on-5 this series. They've made Marc-Andre Fleury's life very easy, at least at even-strength.
We can throw numbers at you all day, but all you really need to do to see the impact of a healthy defense is look to the other bench. The Blues entered the series with Marco Scandella out of the lineup with injury. It's only gotten worse since then.
They lost Nick Leddy, their trade deadline blue line upgrade, for Games 2 and 3. That's 21 minutes a night that the Blues suddenly need to replace. Third-pair defenseman Robert Bortuzzo wasn't going to fill them, because he left with an injury in Game 2, then missed Game 3. Scandella returned in Game 3, but power play quarterback Torey Krug left the ice with an injury and didn't return. It's unknown when he'll return.
How much does that add up? Think back to Game 1, when the Wild couldn't get to the inside against the Blues' disciplined defense.
Now think about tonight, when the Wild got to the net with impunity, and generated tons of rush chances. Then think about this: they were able to do this on the road, against the match-ups Blues coach Craig Berube wanted.
[caption id=attachment_124750" align="alignnone" width="2250]

Courtesy of Evolving Hockey[/caption]
Does it stink for St. Louis that they may be unable to throw their best shot at the Wild? Sure does. But injury luck (like, and we're bringing this up for no reason at all, hot goaltending) is just part of the NHL playoffs. Sometimes you get it, and sometimes you get bit. Much like Minnesota did for over half the season, St. Louis now must find a way to win with a scotch-taped defense corps.
And they still might. Much like you couldn't count Minnesota out after losing at home in Game 1, you can't count out St. Louis after doing the same in Game 3. A lot can happen, including injuries to key members of the Wild's blue line.
But from where things stand, Minnesota's in a very good position, able to go up 3-1 in the series on Sunday night and potentially punch their Round 2 ticket at home in Game 5. That future may have seemed laughably optimistic a week ago, but the Wild are showing that as long as their Big Three defensemen are healthy, anything is possible.
All data is from Evolving-Hockey unless otherwise stated.