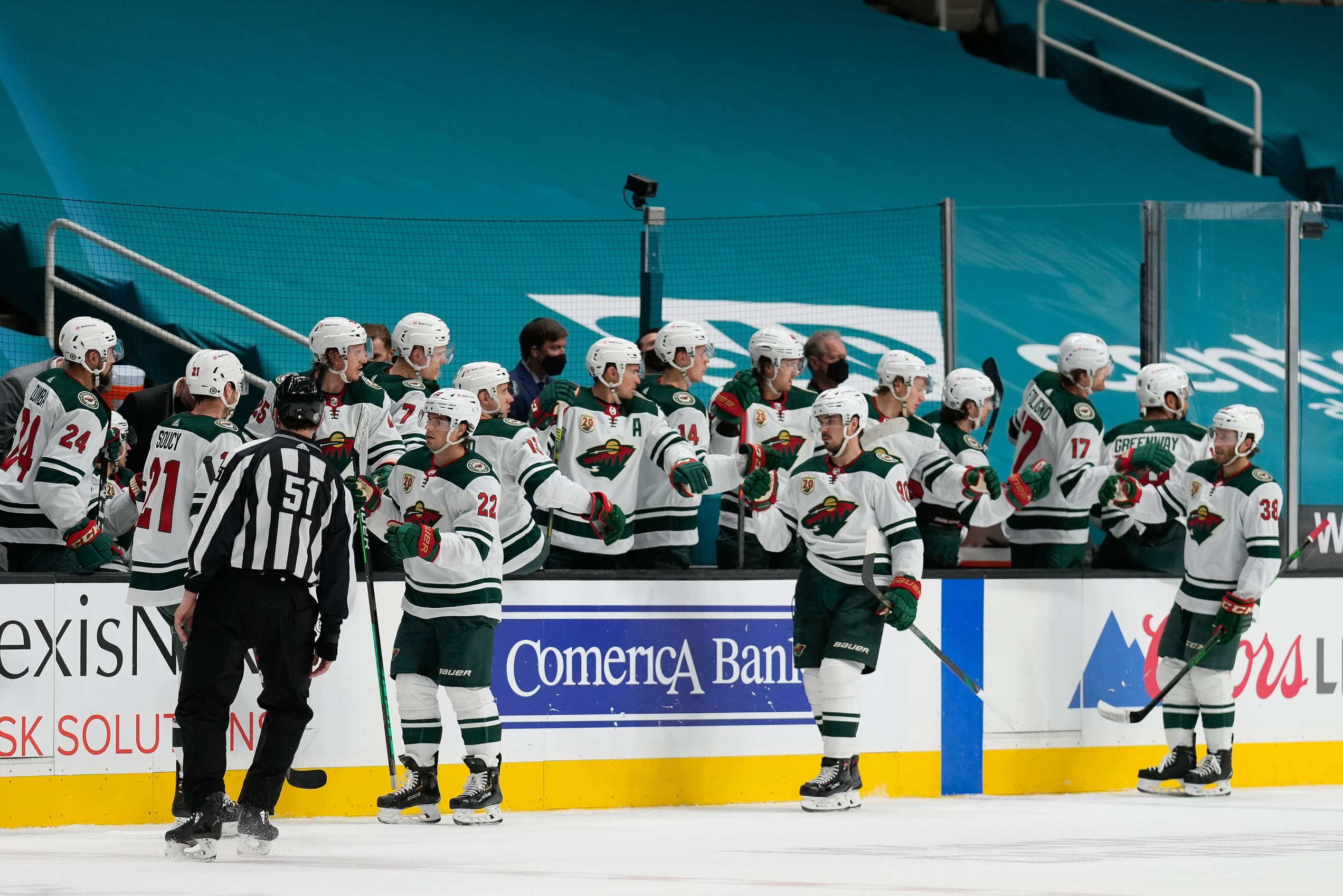 Even after significant defensive changes and not upgrading center position in the offseason, the Minnesota Wild continue to be an analytics darling. Dom Luszczyszyn of The Athletic released his Wild season preview, in which he projects Minnesota to finish ninth in the league with nearly 98 points.
Furthermore, they have a 78% chance of making the playoffs and a 59% chance of a top-three finish in the Central Division. The model predicts they'll finish second in the Central, right behind the Colorado Avalanche.
That's not just a playoff team -- that's a borderline contender.
The Wild's defensive turnover should have a minimal impact, so it's not shocking to see them projected to make the playoffs. But a ninth-place finish and second-place finish in the Central? It's surprising. Last month, I projected the Wild to finish fourth because of the leap in quality of the Central over last year's realigned West Division.
The Athletic's projections are made assuming Matt Boldy will be the lone Wild prospect on the roster. If Minnesota adds Marco Rossi, Adam Beckman, or Calen Addison to the mix, it could slightly alter the forecast.
While the Wild still evidently lack star power, they have a star in the reigning Calder Trophy winner. It wouldn't be surprising to see Kirill Kaprizov build off his magical rookie season. Minnesota also has a first-liner in Kevin Fiala, who could benefit if given better quality linemates.
The stars are nice, but Minnesota is unrivaled in their depth. Leading the way is Marcus Foligno, who has transformed into a legitimate middle-six forward since his arrival nearly three years ago. Along with Foligno, other solid bottom-six forwards like Jordan Greenway, Ryan Hartman, Frederick Gaudreau, Nick Bjugstad, and Nico Sturm.
If the Wild want to meet expectations this season, what are things that need to happen? What are could turn them into a bona fide contender?
According to Luszczyszyn's model, the tandem of Talbot and Kahkonen is projected to be the 27th best in the league, with Talbot is projected to be the 19th-best starter. That's low expectations, but that also means that if the tandem outperforms the predictions, it'll significantly improve their chances.
Talbot finished last season with a .915 save percentage, despite allowing 5.62 more goals than expected when taking shot quality into account. Goals Saved Above Expected (GSAx) is the best statistic to evaluate goaltenders, so one could assume he had a below-average season. Here's where it's essential to always look at the numbers in context.
Talbot allowed minus-10.6 GSAx over his final six games of the regular season. This drove his numbers into the ground. Before that, he was in and around the top 10 for most of the season, a massive upgrade over Devan Dubnyk. Talbot rebounded with a strong postseason, posting a .923 save percentage and saving 1.78 goals more than expected over seven games.
There's a good chance Talbot will be more valuable than the projections suggest, and therefore, help the Wild outperform their expectations.
Kahkonen is one of the biggest uncertainties going into the season. Will he display signs of growth, or will he prove the experts who project him to be a backup correct? He didn't have a good season, plain and simple. With just a .902 save percentage and allowing nearly 16 goals above expected, he rated as one of the worst goalies in the league.
That said, he had an impressive stretch during the season where he won nine straight games, posting a .948 save percentage. If Kahkonen can have more of those stretches and fewer meltdowns, he could break out this season. It's a big season for him, especially Jesper Wallstedt's arrival to the NHL on the horizon.
The Revamped Defense
A huge question going into this season will be whether the new faces on the back end can fill the shoes of Ryan Suter, Carson Soucy, and Ian Cole. Luszczyszyn's model has few concerns, as it rates Minnesota's defense seventh in the NHL.
Dmitry Kulikov and Jon Merrill should fit in nicely for Soucy and Cole. Both are defensive-minded, so it wouldn't be surprising if they become a formidable shutdown third pair.
The only major concern is whether Alex Goligoski can compensate for the loss of Suter. Those are big shoes to fill, especially for Goligoski, who hasn't exactly been great the past few seasons. According to Evolving-Hockey's player projections, the difference between the two isn't significant (1.2 goals above replacement, or about 0.4 Standings Points). Still, it will be interesting to see how it plays out because Suter was always a calm presence on the back end.
The Rest
Luszczyszyn's model has Boldy projected to be worth 0.7 wins. If he becomes an immediate impact player and outperforms expectations, it will drastically alter the Wild's chances for the better. If the other prospects don't make the team, they will likely play some significant time at some point during the season. That also provides potential value not accounted for by the model.
It appears as though Joel Eriksson Ek will get an opportunity as the Wild's top-line center with Kaprizov and Mats Zuccarello. There's no doubt that last season erased any doubts about Eriksson Ek's capabilities, but a top-line assignment will come with more significant responsibilities. It will be a test and could have a considerable impact on the Wild's season because lack of quality center play next to Kaprizov was an obvious weakness last season.
A big question mark is Frederick Gaudreau, who may be centering Fiala to begin the season. Fiala has been getting the short end of the stick, so if he can play with a quality center, he could become even more of a lethal threat. Can Gaudreau find a way to complement Fiala's game in a way Victor Rask or Hartman couldn't?
Another big question going into the season is Greenway. It's now or never for the power forward, so there's a lot that hinges on how he plays this season. If he suddenly breaks out, that could also make the Wild a deeper threat.
It's shocking to see Minnesota rated so highly by the experts. But once you take a deeper look, it's easy to see why. The Wild have a solid foundation for a team and have room to add value onto their projections. With strong performances from key areas, they could raise some eyebrows across the league this year.
All Data Via Evolving-Hockey, Natural Stat Trick & Hockey-Reference.