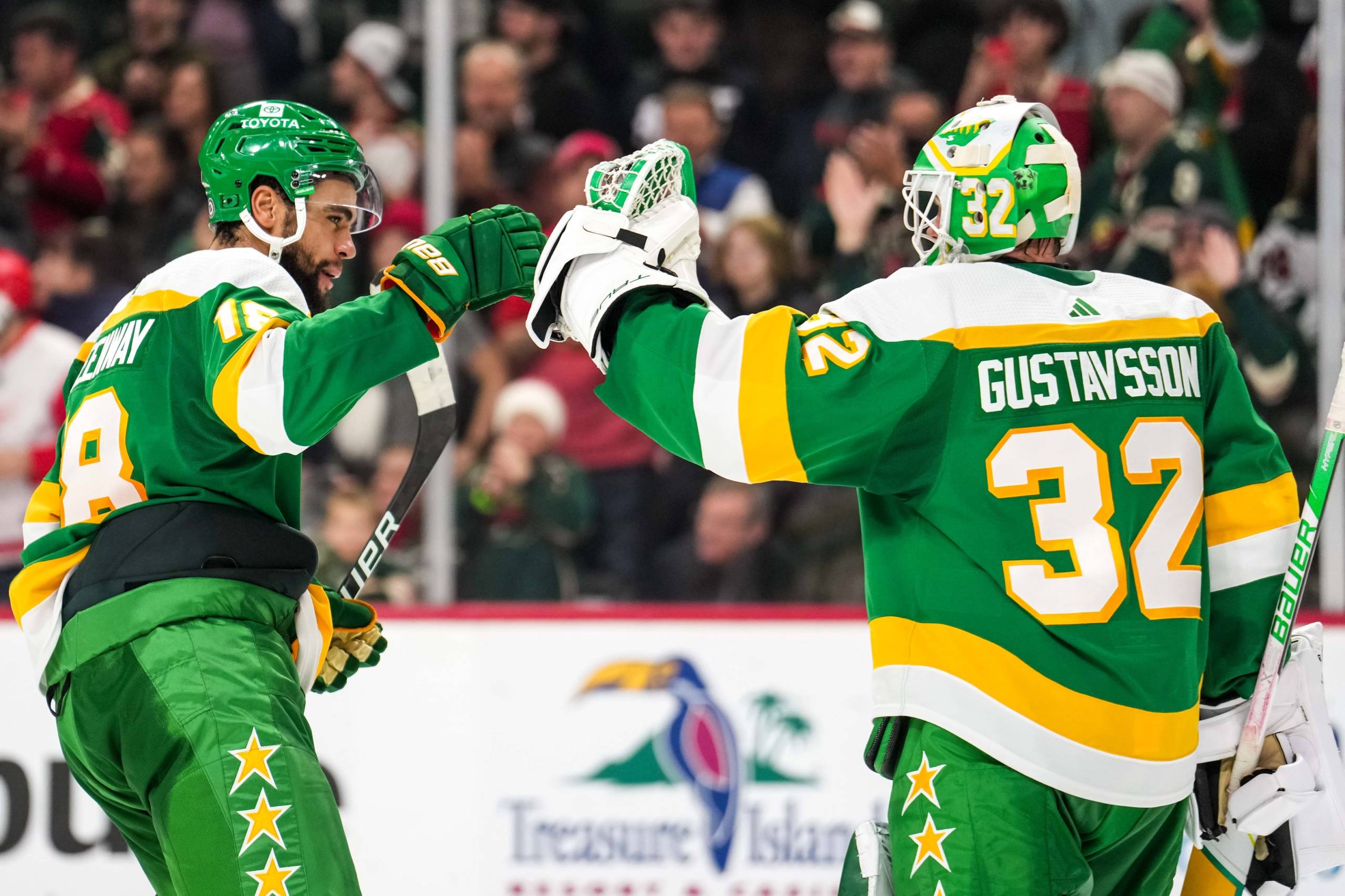 When the Minnesota Wild sputtered to a 7-8-2 start, the keyword thrown about was: identity. When asked about it, Bill Guerin said, "When we don't play hard, heavy, physical, when our compete level isn't where it needs to be, we struggle. And when we are, we're good. That's how we became good."
Dean Evason echoed those sentiments a month later. "We're not that good," he told the media on Nov. 14. "We're not that skilled. We're gritty. We're supposed to take pride in that, and I think we do."
Shortly after that, the Wild returned to winning. Starting with a dramatic 2-1 overtime victory on Nov. 19, Minnesota peeled off a 9-3-0 run. Even better, they're holding strong against playoff teams, going 5-2 against them in that stretch. They're now third in the Central Division and two points ahead of the Wild Card bubble.
So an exceedingly mediocre, rudderless team suddenly went on a tear that finally separates them from the fringe playoff competitors. What happened?
Well, have you noticed you're not hearing much about an identity crisis anymore? The Wild are back to what makes them successful. But what exactly is that?
This turnaround lines up pretty neatly with the Nov. 23 trade for the gritty Ryan Reaves. Yes, the Wild were 2-0 without him, but since coming into the lineup, Minnesota's still 7-3 with him. The Wild have been quick to point out the energy he brings to the locker room as a positive. Even on the ice, his play has been worth nearly a point in the standings in his 90 minutes of ice time.
But while Reaves is adding size, grit, and energy to the team, the thing is, those things weren't what last year's Wild was all about. And it's not what's driving their success now. Furthermore, if you look at the "gritty" stats like hits, those have gone down since the Reaves trade.
What has gone up, though? The amount of time the Wild have had the puck.
On Nov. 18, the Wild were exactly at the halfway mark in expected-goals share at 5-on-5. Not only were they 16th in the NHL, but they were at 50% on the dot. For every scoring chance they generated, they conceded another.
But since Nov. 19, they're looking a little bit like last year's Wild team. They're controlling 54.6% of the expected goals, tied for seventh with the New Jersey Devils.
Even better, they're being rewarded with actual goals. Before heating up, the Wild were out-scored 26-36 at 5-on-5. Since Nov. 19, they're in the black at 5-on-5, outscoring opponents 25-20. Finally, their special teams can complement strong 5-on-5 play rather than bail them out, resulting in Ws.
Until recently, only one Wild line could truly control play. That'd be Kaprizov's line, whose dominance 10K Rinks profiled earlier this month. One line can't carry a team, though, no matter how good, and it wasn't carrying Minnesota to anything but .500.
They needed more, and they finally got what Evason calls his team's "Identity Line" back. Jordan Greenway returned to the lineup after being injured for most of the season on Nov. 24. He was reunited with regular linemates Joel Eriksson Ek and Marcus Foligno on Nov. 27.
Ever since, they picked up where they left off the last two seasons as one of the NHL's most dominant shutdown lines. Of the 138 forward lines that have played an hour or more together at 5-on-5, they lead the NHL in limiting opportunities, conceding just 1.28 expected goals per hour. They're dominating the flow of the game, even if the scoring hasn't come quite yet.
Even better, the problems plaguing Matt Boldy's line are getting solved. Boldy struggled with being the only highly-skilled player on his line, which caused both his scoring and on-ice play to suffer. Now he's starting to click again. Playing with 4A AHLer Nic Petan stabilized him and Freddy Gaudreau a bit.
But Sammy Walker has made Boldy look like last year's model over the past few games. It's beyond unreasonable to expect Walker to duplicate Kevin Fiala's role with Boldy last year. Still, Walker has the speed and stick skills to get into the offensive zone and create alongside Boldy. Those elements have been missing on Boldy's line all season.
We have to beware of the small sample size, but the Boldy-Gaudreau-Walker line is controlling 71.5% of the expected goals in 21 minutes of 5-on-5 time. You can't base anything off this, really, except as proof of concept that the combination can work.
If it works out, watch out because the Wild will have recaptured their true identity from last season. It wasn't their grit, toughness, or even their barrage of scoring. Their identity was a team that could roll three skilled lines at you, all of whom could dominate play. That's what made them dangerous last season.
Maybe a team could shut Kaprizov's line down one night. No problem, the "GREEF"s would forecheck you into submission and rack up a couple of goals along the way. And if not that, Boldy's line would explode for a night. As a defense facing them, you don't get any breaks or easy minutes, and a mistake at any time can burn you.
If the Wild have that from this point forward, they will have an advantage over the rest of the Western Conference. The Los Angeles Kings and a healthy Colorado Avalanche can match the Wild with three lines; every other team out West has holes in their Top-9.
Things still need to break well for the Wild for them to make noise this season. Their goaltending needs to stay roughly in the middle of the pack, as they have since Nov. 19. Ryan Hartman returning to bolster the scoring depth would be huge. Maybe they need another Top-6 option to bring things all together.
After a slow and painful start, we're seeing a Wild team starting to play like last year's 113-point squad. They've got a ways to go before getting near 113 points, but at least there's a direction and identity for this team to build on.