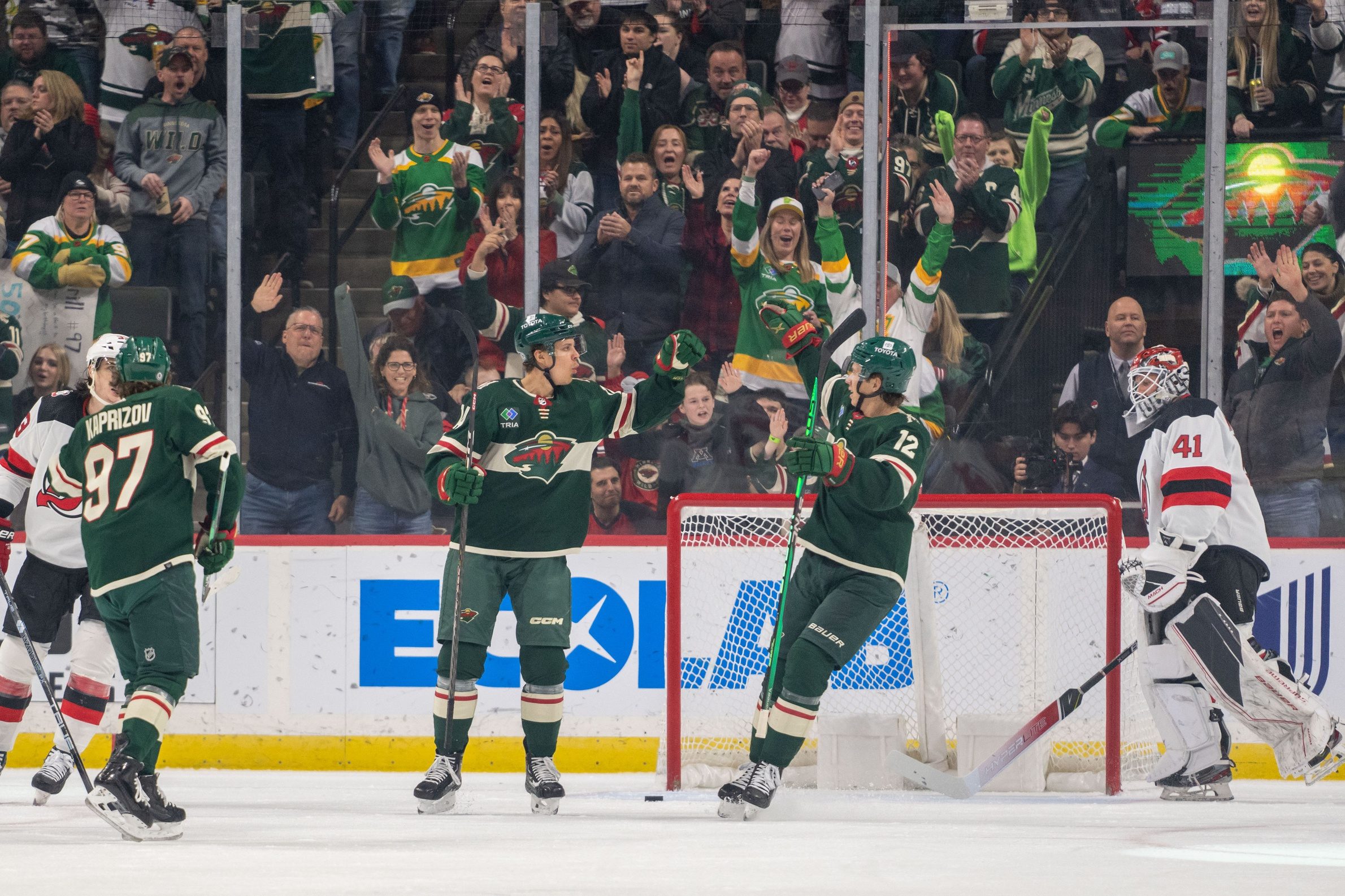 Together, Marcus Foligno, Jordan Greenway, and Joel Eriksson Ek formed the GREEF line. On a team with Kirill Kaprizov on it, this was the line that gave the Minnesota Wild its identity. They dominated on both ends of the ice and were known for smothering defensive effort. However, that has not been the case for two members of that infamous line this season. Foligno's top-tier shooting from last year disappeared. Greenway's injuries and inconsistencies forced the Wild to trade him to the Buffalo Sabres.
However, the last cog on that line did not follow that trend.
Eriksson Ek is having the best season of his career thanks to Minnesota finally acknowledging his offensive ability.
Eriksson Ek has the same amount of points (49) through 63 games as he did in 77 last year. He's on pace to shatter his career marks in assists and points and come close to cracking 30 goals. Eriksson Ek's 22 goals (and 11 on the power play) both rank second on the Wild. If he reaches his projected 64 points, it would be a career-high for him and one of the best offensive seasons ever by a Wild centerman.
Most Points By a Wild Center, Single-Season
Eric Staal, 2017-18: 76
Mikko Koivu, 2009-10: 71
Koivu, 2008-09: 69
Ryan Hartman, 2021-22; Staal, 2016-17: 65
Eriksson Ek, 2022-23 (projected): 64
Eriksson Ek had 19 goals in the 56-game COVID season while playing a much more defensive role. The Wild rewarded him with an eight-year deal in the summer of 2021 that will pay him $5.25 million annually until he is 32 years old. That deal is an absolute bargain for the Wild, as Eriksson Ek instantly rolled off a 26-goal season in a defensive role, and is topping that this season.

The man his teammates call "Ekker" is providing the Wild with a projected $2.8 million surplus value. He's outproducing other centers like Nazem Kadri and Jack Eichel, and they make $7 million and $10 million per season, respectively. The Wild have a bonafide Top-6 play-driver for the long haul.
With an increased role, time on ice, and more offensively-inclined linemates this year, Eriksson Ek's production has increased, too. He has always been responsible on his end of the ice. But he should be more effective offensively playing with Matt Boldy and Marcus Johansson on the second line.
Boldy and Johansson are much more capable offensive players than Greenway and Foligno are. So far, the decision not to pigeonhole Eriksson Ek as forechecking third-line center has paid dividends. Since the start of the new year, Eriksson Ek is second on the Wild in points and expected goals while being third in individual Corsi For (shot attempts generated while on ice).
"We're all moving our legs. Moving the puck. And any of us can play anywhere," Johansson said. "So we don't have to look for the right position. We can all just go fill in for each other."
That's great news for a Wild lineup lacking scoring depth.
Eriksson Ek has not only been driving play and become a force offensively for the Wild; he's among the top performers in the league. Ekker is 15th in the league in expected five-on-five goals, and he's at the bottom of the league in goals above expected. That means he hasn't reached his full goal-scoring potential. Eriksson Ek's expected goal numbers rank above the likes of Leon Draisaitl, Auston Matthews, Tage Thompson, and Nathan MacKinnon.

Eriksson Ek is Top-10 in the league, one spot behind Kaprizov at shooting from high-danger areas. He's ninth in the NHL in high-danger expected goals, and he's made his living scoring goals from the area right out front of the net. He's also benefitted from his role on the powerplay and now his role on his regular line. Mats Zuccarello, Boldy, and Johansson are all more perimeter players who don't necessarily prefer to play physically in the crease area.
Eriksson Ek has been doing that his whole career and is excelling at it now.
Just look at the heat map of his goals so far this year. All of those goals are from below the dot and in between the circles.

Courtesy of Icydata.Hockey
Adding Eriksson Ek into the top six of the Wild has transformed his game and allowed him to reach another level of production. Penciling Ek into that 3C role always left a bit of a void in Minnesota's Top-6 centers. Players like Sam Steel, Hartman, and Freddy Gaudreau are not suited to be Top-6 centers. Continually playing them there and leaving Ek on the third line wasn't doing anyone any favors. The decision to move Ek up has helped all parties involved.
Although his linemates' play has tailed off since last year, Eriksson Ek is continuing his upward trajectory. He's establishing himself as one of the best two-way centers in the league, and it's come at a time when the Wild desperately need that from him. Look for Eriksson Ek and his new linemates to continue dominating down the stretch as they help lead the Wild into the playoffs.
All stats and data via Moneypuck.com & Evolving Hockey unless otherwise noted.