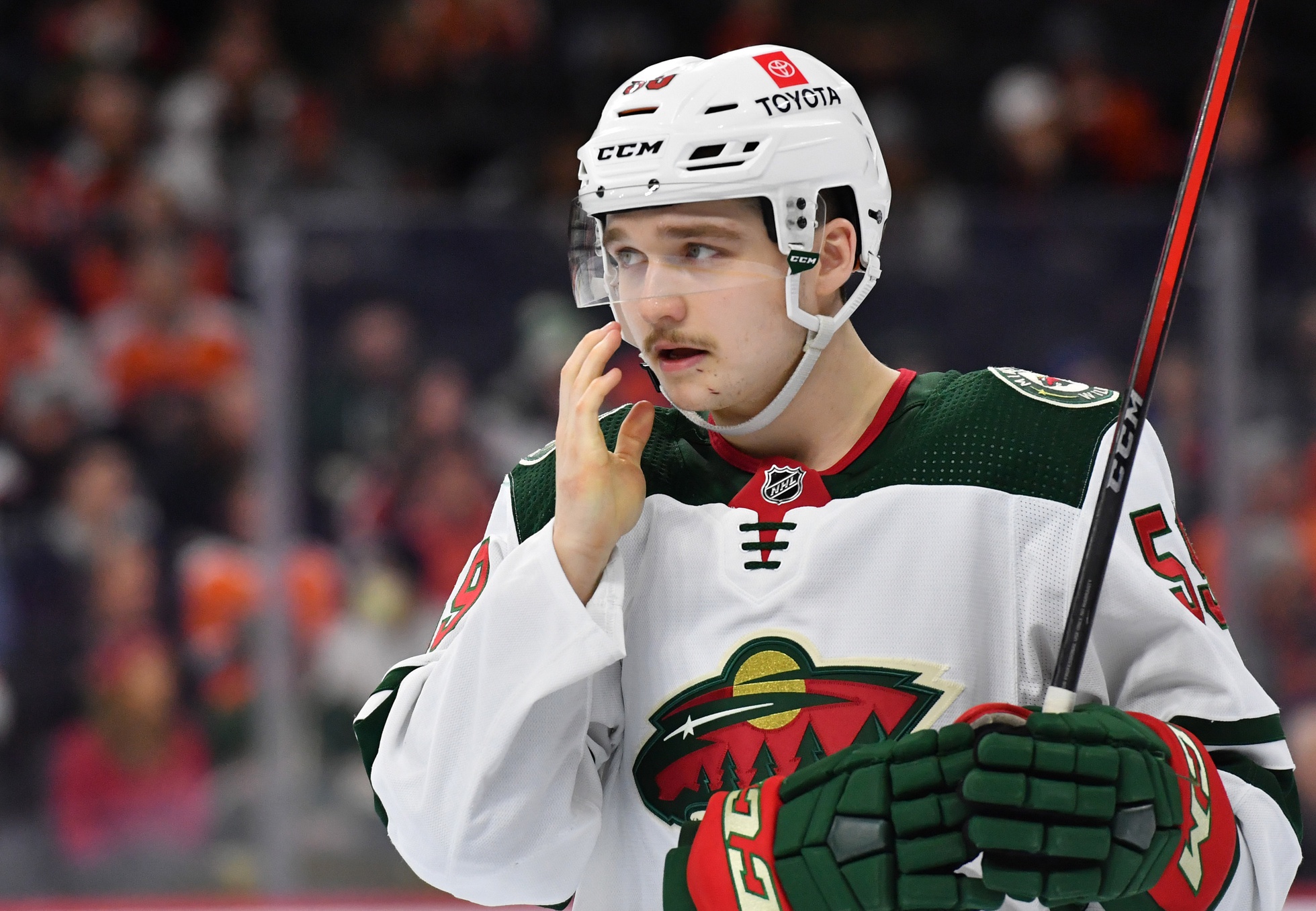 If the preseason is any indication of how the Minnesota Wild and their young players will perform this season, they're going to be just fine. The Wild seamlessly went 6-1 in preseason play. While it's not the regular season, the major takeaway from the team's play is that they might be better than some thought initially. Their first true test will be against the New York Rangers on Thursday in the season opener.
Dom Luszczyszyn's model at The Athletic projects the Wild to have a 105.5-point season. The model also gives the team a 94% chance of reaching the playoffs and a 9% chance of winning the Stanley Cup.
For the Wild to have a successful season, however, their young players must produce. After finishing their historic 113-point 2021-22 campaign, Minnesota sent offensive star Kevin Fiala to the Los Angeles Kings for Brock Faber and a first-round pick. They've been relatively silent ever since and never made a significant splash to try and replenish their top-six forward group. It's a bit surprising with so much at stake this season. Therefore, it will be difficult for the Wild to match that point prediction, let alone replicate what they achieved last year.
If they want to, Minnesota's trio of young forwards signed beyond next year -- Kirill Kaprizov, Joel Eriksson Ek, and Marco Rossi -- will need to be their anchor. The organization can expect another electric season from Kaprizov, of course. He scored 47 goals last year. Eriksson Ek continues to be an impactful two-way player down the middle. Perhaps Jordan Greenway can take the next step, too.
The Wild are also getting a massive boost with the addition of Rossi, who is signed for three more years. The 21-year-old rookie center led the league in preseason scoring with nine points. While he is starting the season on the fourth line, it's difficult to believe he won't make his way up the depth chart as the season progresses.
They will also rely on many players under the age of 25 to take the next step. Six of them will be restricted free agents next summer, and are playing for their futures with the Wild. Those players are Calen Addison, Matt Boldy, Brandon Duhaime, Filip Gustavsson, Tyson Jost, and Sam Steel.
Let's start with Matt Boldy, whose future on the Wild is most secure. The only question with him, really, is how much money can he get. Boldy is coming off a fantastic rookie campaign. But he will be without Fiala and must display what type of player the Wild can expect moving forward. The 21-year-old is looking to build off last season and avoid the sophomore slump. Fortunately, he finished the preseason with five points in three games, which is an early sign he can be the same player without Fiala. If this keeps up, he'll be in line for a handsome payday.
Addison, 21, is finally in a full-time role this season after call-ups the past two years. He chipped in four points in the preseason and will play an important role this season, especially on the power play. With so many defense prospects incoming, his future with the team is subject to speculation. This year, he has very little competition from the likes of Faber and company. This is his chance to grab a roster spot and not let go.
Duhaime will be on the fourth line with Rossi to start the year. The combination looked good in preseason, with Duhaime notching two goals in four games. He'll need to get back on track, as his game seemed to come in spurts in the second half of last season. With energy guys like Mason Shaw, Sammy Walker, and even Mikey Milne behind him, he'll need to establish himself as part of the Wild's future.
Gustavsson saw action in three preseason contests, saving 74 of 81 shots for a .914 save percentage. The Wild will need the 24-year-old to be a calm presence between the pipes this season to take the load off Marc-Andre Fleury. As for him, he'll need to show Minnesota he can be an effective partner for Jesper Wallstedt beyond this season. This season is his audition.
Jost and Steel are arguably the two biggest question marks for the Wild right now. They were also two of the most pleasant surprises during the preseason. The Wild didn't give Jost much of an opportunity in an elevated role after trading for him last season. As such, he was underwhelming last year, with six points in 21 contests.
But now he's getting a chance, filling in for Greenway alongside Eriksson Ek and Marcus Foligno. They also fed him major opportunities in the preseason, where he recorded three goals and seven points. Perhaps there's some untapped potential that the Wild could release if he's put in the right spot.
The Wild signed Steel at the end of August, and he couldn't have made a better first impression in the preseason. Steel scored three goals and five points and will need to continue that. He'll be on a line with Boldy and Frederick Gaudreau early in the season while Greenway is out. Most of these players have long-term implications for their play this season. Steel's is most immediate, as Rossi will surely push for his exact spot.
These young players have a lot at stake, considering they'll be looking for contract extensions. However, it would be a major boost for the Wild if these players can perform like they have in the preseason.
The Wild must make some decisions next summer about who is in their long-term plans. For a few of these players, it's a trial run for job security. That's especially true with the buyout penalties rising to nearly $15 million next season. Minnesota won't be able to match last season unless these six players, with so much on the line, play as if their futures depend on it.