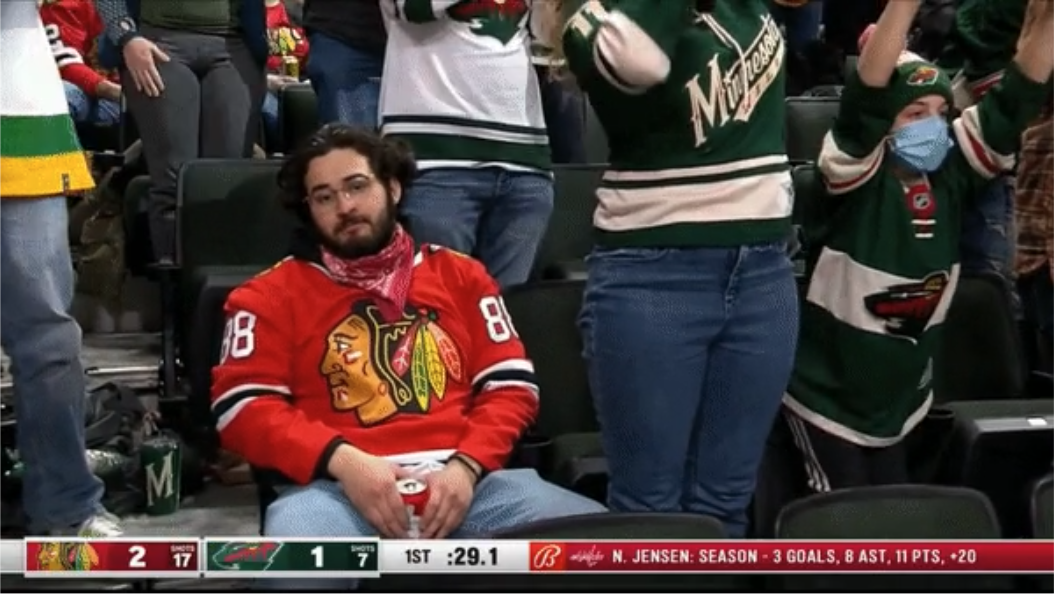 When Charles Dickens wrote, "It was the best of times, it was the worst of times," he wasn't thinking about Minnesota hockey. However, the worst of times is an apt phrase to describe the mood in the packed house at the Xcel Energy Center on May 7th, 2015. The hated Chicago Blackhawks knocked the Wild out of the playoffs for the third time in as many years. To add insult to injury, it was a sweep. The Blackhawks won their sixth Stanley Cup that year, and the thousands of the Wild faithful, who would have given anything to see Zach Parise and Ryan Suter make it to the Stanley Cup Finals instead, went home dejected.
Seven years later, the roles have flipped. The Hawks are sitting 24th in the league with a brutal .433 points percentage, with only the Arizona Coyotes' relocation keeping them from the Central Division cellar. Conversely, the Wild are tied for 10th in the league with a .713 points percentage.
The Wild have two point-per-game forwards, Kirill Kaprizov and Mats Zuccarello, an 18-goal scorer making $1.7 million AVV (Ryan Hartman), and an offense ranked third in the league in goals per game.
The Hawks are getting the usual point per game production from Patrick Kane and a freakish 26 goals in 45 games from Alex DeBrincat. But beyond that, they are scoring at an anemic 2.45 goals per game, good for 28th in the league.
What happened? In short, mismanagement. Over the last seven years, the Blackhawks made risky salary cap decisions forcing the management group to make myriad mistakes. In contrast, while the Wild haven't made any deep playoff runs since 2003, there aren't many expensive long-term mistakes on the books.
The original sin of today's Hawks is the massive commitments made in 2015 to three of their core four players: Kane, Jonathan Toews, and Brent Seabrook. From Bartlett to Bollingbrook, all of Chicago was celebrating after the 2015 Stanley Cup win. But Pat Brisson, Kane and Toews' agent, was perhaps the happiest of all. He landed his clients matching 8-year, $84 million deals. Each contract surpassed the AAV of Alex Ovechkin's 13-year, $124 million 2008 mega-deal, becoming the largest cap hits in the league.
The cap in 2015 was $71.4 million, and both Kane and Toews were eating 14.7% of the available space! Add in the signing of Seabrook to an 8–year, $55 million deal that kicked in at age 31, also inked that summer, and Duncan Keith's existing 13-year, $72 million contract the Hawks were paying two defensemen and two forwards 49.5% of the cap. These expensive long-term deals handcuffed the Hawks.
Chicago's brutal cap situation hindered its ability to retain top assets. The most glaring example of a cap casualty was Artemi Panarin. In the summer of 2017, the Hawks had Panarin on a 2-year, $6 million bridge deal – a reasonable number for a Calder Cup winner coming off a 30-goal season. Instead of retaining this budding star and making a playoff push, Blackhawks' general manager Stan Bowman packaged Panarin with a 6th round pick and Tyler Motte for Brandon Saad, Anton Forsberg, and a 5th round pick. The verdict of fans and analysts has not been kind to the move. The trade provided Chicago with cost certainty, but with all due respect to Brandon Saad, he's not the game-breaker Panarin is.
In trying to fix this, Chicago made things even worse. At the 2021 draft, the Blackhawks traded top prospect Adam Boqvist, their first and second-round picks in 2021 (Nos. 12 and 44), and top-two protected 2022 first round pick (which becomes unprotected in 2023) to the Columbus Blue Jackets for Seth Jones, the 32nd overall pick), and a sixth-round pick. The Hawks immediately gave Jones an 8-year, $76 million contract.
Jones has been the subject of much debate over his career. The analytics community harshly criticizes his advanced stats and inability to make the first pass from his blue line. However, the traditional hockey community values his endurance, motor, stamina, and grit.
But even if the analytical community is totally off base, giving him $9.5 million per year and surrendering a king's ransom of future assets doesn't look great right now. Bowman was managing for his job and not looking to the long-term future of the roster. Potentially losing a high draft pick will set them back even further. As a result, the Hawks appear to be condemned to the basement of the Central until they can restock their barren cupboard of prospects.
This mortgaging the future to desperately try winning now with a sunsetting core evokes the Wild under GM Chuck Fletcher. Fans would watch Fletcher trade away future assets each trade deadline to acquire non-impact forwards, the infamous Martin Hanzal trade being the quintessential example.
However, the Wild started changing that approach since the 2018 hiring of Paul Fenton. Gone are the days of trading a first-round pick for an injury-prone and declining 3rd line center. Fenton came in with fresh eyes and identified critical issues with the Wild's roster construction. He saw several late 20's forwards on large deals who didn't have the speed or skill to bring Minnesota a Cup.
In short order, he traded out fan favorites: Nino Niederreiter, Mikael Granlund, and Charlie Coyle. In return, he received prospects, picks, and speedy young skaters like Kevin Fiala. The moves were often bizarre, but the overall result was a younger roster with more cap flexibility.
Bill Guerin continued to flip underperforming players to build an uptempo, speedy, and high-skill roster. Guerin moved out Jason Zucker netting top defensive prospect Calen Addison and a 2021 first-round pick. He swapped RFA Luke Kunin for a 2020 second-round pick, a 2020 third-round pick, and Nick Bonino on an expiring contract. In addition to cap flexibility, these moves helped Minnesota build up an impressive prospect system.
From 2018 to 2021, the Wild have picked in the first round five times, landing future core forwards Marco Rossi and Matt Boldy. The Wild have also found late-round talents such as Connor Dewar, Adam Beckman, Ryan O'Rourke, and Jack McBain (who is on the Canadian Olympic roster). This wealth of talent will be filling the roster, and Guerin is using these young players to fill in the bottom six with low-cost ELC deals. Gone are the days of Matt Cooke making $2.5 million a year to get caved in on the fourth line.
The Wild have navigated their cap challenges well under Guerin. Unlike Chicago, Guerin did manage to lock down their Russian superstar in Kirill Kaprizov, who he signed to a 5-year, $45 million contract – $1.5 million cheaper per year than an ancient Kane and Toews. Minnesota has also signed Jonas Brodin and Jared Spurgeon to long-term deals.
Yes, the Parise and Suter buyouts will devastate Minnesota's cap situation in Years 2-4. However, those are necessary evils and problems inherited from two GM generations prior. Luckily, Guerin is developing a reputation for finding effective, affordable bottom six and third-pair skaters. Having skaters like Nick Bjugstad, Jon Merrill, Brandon Duhaime, and Nico Sturm chip in on the score sheet makes this team tick.
The Parise and Suter buyouts present serious challenges, but Minnesota's stocked pipeline gives them a shot at navigating cap hell. More importantly, the Wild have a serious chance at making a deep run in the playoffs this year due to a red-hot offense and depth throughout the roster. As hard as it was to imagine seven years ago, the Wild appear to be in the best of times, and Chicago has some worst of times ahead.