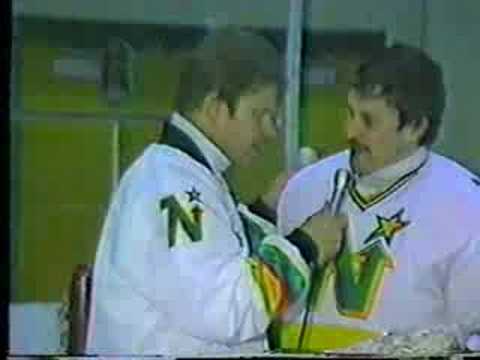 The top goalie mask series rolls on.
See the Top 50-41 masks here.
40. Linus Ullmark, Buffalo Sabres
http://4.bp.blogspot.com/-H4ya-fydHms/VlkoYJInStI/AAAAAAAAVmk/T8ModOnkbaU/s1600/ullmark1.jpg
The show-stealing minions from Despicable Me have appeared in every which way since the original movie came out, even getting their own movie. Linus Ullmark is apparently a huge fan of theirs, since he's incorporated minions into not just one mask that happens to match the Sabres' color scheme, but several. Ullmark even went so far as to don his masks, with his wife, after their nuptials last year. Before that, Ullmark had some sweet Mario-inspired masks, but the minion masks really do suit the Buffalo color scheme well, and they're so versatile that they really lend themselves to more mask shenanigans.
39. Mikael Shtalenkov, Mighty Ducks of Anaheim
http://www.goaliesarchive.com/files/masks/masks/shtalenkov.jpg
Mikael Shtanlenkov is throwback name that you'll only remember if you were a pretty serious hockey fan during the 90's. Mostly serving as Guy Hebert's backup, Shtanlenkov opted for a more detailed and Duck-centric mask than Hebert.  Shtanlenkov's mask is pretty cool, featuring the famous goalie mask-wearing duck known as Wild Wing, the Mighty Ducks mascot, before they took him out back and shot him when they wiped all of the history from their team.
38. Curtis McElhinney, Calgary Flames

Now, flames and skulls are some serious decorative fodder for many a biker or other rebellious motorhead, but they're seldom seen on a goalie mask and that's probably a good thing. However, when you play for the Calgary Flames, you have carte blanche to show off your airbrush guy's best inferno skills, and Curtis McElhinney did just that. Now flames on a Flames mask don't automatically make it cool, see here or especially here, but these are really top-notch, as good-looking as you'll see at any local car show. I'm not bananas about the seemingly random revolver-wielding skeleton, but given Calgary's cowpoke history, it does fit in nicely.
37. Ron Tugnutt, Quebec Nordiques
http://www.inthecrease.co.uk/masks/que-tugnutt.jpg
As you may have noticed, I'm a big fan of simple but effective designs, and a young Ron Tugnutt's Nordiques mask fits that mold. Tugnutt took the Fleur-de-lis and the simple Nordiques logo and made into a beautiful mask. Later in his career, he fell in love with a paint-splatter type look, but luckily for us, had a very jersey-friendly design to go with a very good-looking jersey during his time in Quebec.
36. Marc-Andre Fleury, Pittsburgh Penguins

Marc-Andre Fleury had a storied history with the Penguins, but his mask history with them was a little more spotty. To his credit, Fleury has had a few good masks with the Pens too, including this Tom Barrasso tribute and this cool Steelers-themed lid. But this season, with the Penguins (finally) ditching Vegas gold and going back to their beautiful throwbacks, Fleury got not one, but two great masks to celebrate these great new jerseys, in black(pictured) and white. Fleury was then (somewhat ceremoniously) dumped off on the Vegas Golden Knights, where he debuted a mask that got rave reviews from some (but not me).
35. Nikolai Khabibulin, Phoenix Coyotes
http://www.voodooair.com/old/gm1.jpgNikolai Khabibulin has had some sweet masks in his day, but his debut mask with the Phoenix Coyotes. The beautiful deep purple backdropped the logos of the Coyotes perfectly, but the arrangement was really the key. Just throwing Coyotes logos on a mask wouldn't necessarily look good, but the position of the moon logo along with the kachina coyote logo on the flip side were perfect. In many ways that the first starting goaltenders mask becomes iconic for an expansion team or a rebranding, this mask did that exactly for the Yotes and Khabibulin.
34. Grant Fuhr, St. Louis Blues
http://i157.photobucket.com/albums/t56/irishgoalie2007/7003d028b28b0db02b7f0dc7389c456f.jpg
Grant Fuhr is a legend thanks to his time with the Edmonton Oilers, but many of us younger types only knew him as a St. Louis Blue, during what may be affectionately known as 'The Gretzky Era'. Featuring beautiful piano keys cascading down the side of the mask, along with several cues from the Blues jerseys of that era, as over-produced as they may have been.
33. Gilles Meloche, Minnesota North Stars
http://www.centericecollectibles.com/scans/219091e.jpg
Sure, you might be expecting Gilles Meloche's beautiful North Stars mask of the eye-holed and face hugging variety, so beautiful that he reprised it in the North Stars Alumni game. But I like his helmet that came after the fact for one very specific reason. Remember when I said Jocelyn Thibault was *almost* the first goalie to wear a modern goalie mask that looked like an old-school mask? Well, I think that's the look Meloche was going for here, making him the innovator of the look immediately after the old school masks went the way of the dodo. It just adds layers onto how cool Meloche's masks were -- he innovated a very modern look long before it was probably even considered by anyone else.
32. Jonathan Quick, Los Angeles Kings
http://hockeybydesign.com/wp-content/uploads/2015/02/Quick.jpg
Jonathan Quick has used several different versions of his knight's helmet mask, and they're all a pretty good look(except for with Team USA, when it didn't make much sense). He even supposedly had a Forum Blue and Gold version a few years back. Quick also has sported some great retro masks, including a cool Rogie Vachon tribute, but the classic black and silver knight helmet still rules the day. While it loosely fits the Kings nickname, it makes enough sense, and the color scheme lends itself to it very well.
31. Gary Bromley, Vancouver Canucks

Gary Bromley isn't a name you'll find in many record books, but his mask surely is something to remember. While putting a skull on a mask doesn't seem super original, but Bromley was essentially the first to do it notably, because the skull on his mask looked pretty fantastic. Was it a great fit for the Canucks? Maybe not, but anything to liven up those old V Canucks jerseys was probably a welcome bit of personality.
---
Never Miss an Episode of Giles & The Goalie!