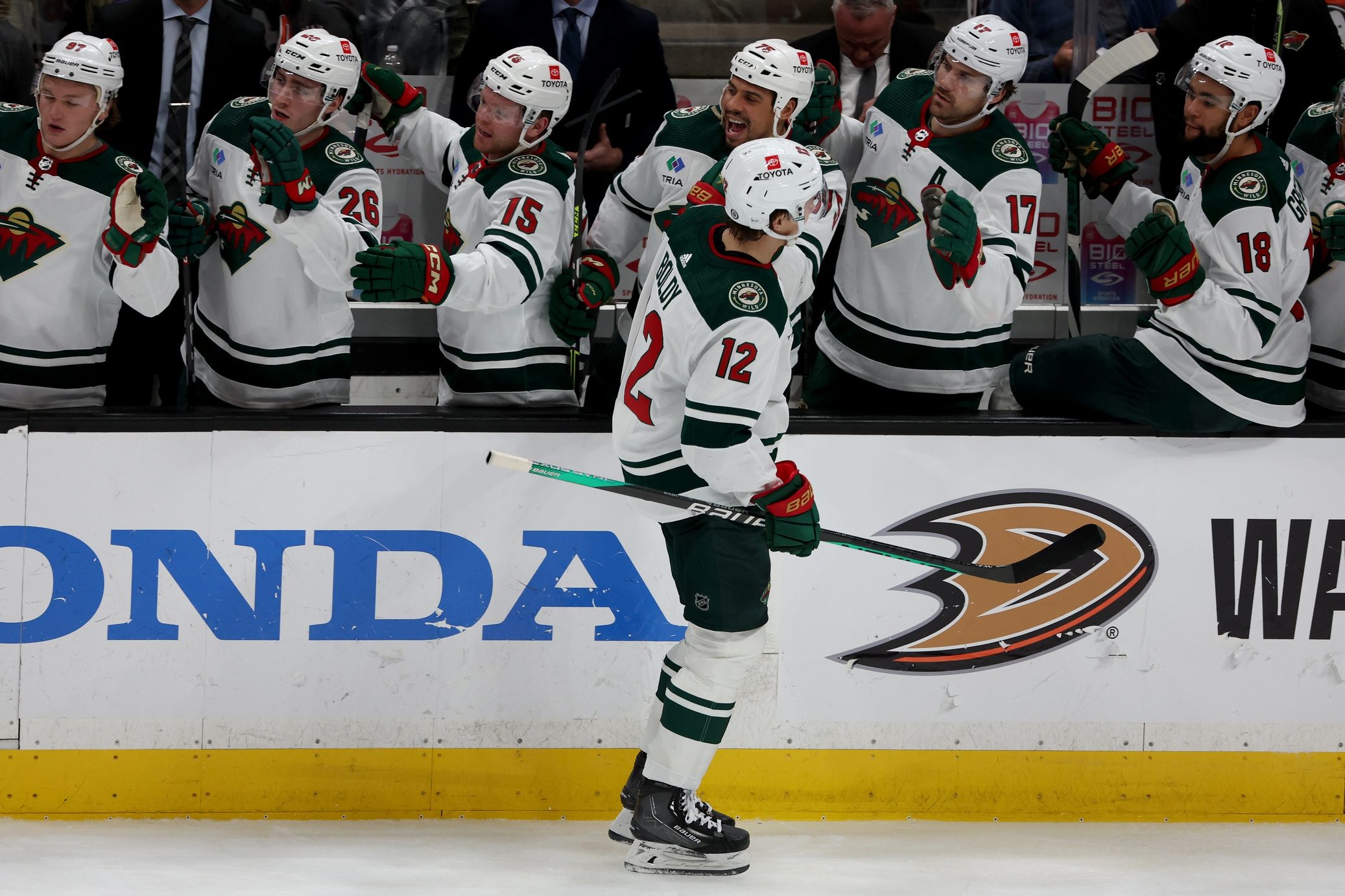 The Minnesota Wild are 12-4 over the past 34 days, going from below-.500 to a 19-12-2 record. But is this team for real? After all, mediocre and bad teams can go on hot streaks -- especially when they get good goaltending, which the Wild have. But there's been one change that hints that, yes, this good version of Minnesota is the "real" Wild.
From the first game of the season against the New York Rangers to Minnesota's loss against the Pittsburgh Penguins on November 19th, the Wild were 18th in the league in Corsi For % (CF%) at 49.4. That means the Wild possessed the puck less than half the time relative to their opponents.
Since November 23, though, the Wild sit at fifth in the NHL in CF% at 53.8% at even strength. Now instead of being in the lower half of the league, Minnesota is back to middle-of-the-road when it comes to Corsi percentage. They are at 15th with a Corsi percentage of around 51%, with things trending upward.
Simply put, the Wild have possessed the puck more over the past month, and they're winning more games because of it. Minnesota has been a better possession team than the Toronto Maple Leafs, Winnipeg Jets, and New Jersey Devils. They trail only four teams: the Carolina Hurricanes, Calgary Flames, Boston Bruins, and Seattle Kraken.
This has been the key to flipping their goal differential on its head. Before November 23rd, the Wild had a negative-11 goal differential. Now, they are top-10 in the league over that month-long span with a plus-9.
Weirdly, this lines up nicely with another event that happened on November 23rd. Regardless of the underlying numbers that work against Ryan Reaves, he seems to have brought a jolt of energy and swagger to the Wild lineup. Reaves has made an impact playing on the fourth line with Mason Shaw and Connor Dewar. However, Brandon Duhaime is returning soon, so we'll have to see how that shakes up the fourth line, whether Dean Evason kicks out the younger Dewar or Shaw.
Their defense has gotten much stingier. Minnesota went from 21st in goals against, allowing almost 2.75 goals a game, to just less than two. In terms of shot suppression, the Wild lead the league, smothering opportunities for opponents. They were in 12th on 0 BRT (Before Reaves Trade) and are now in the first since the trade.
What about Minnesota's backstops? How has increased possession affected them? The team save percentage is up to 12th from 24th, thanks largely to Filip Gustavsson being red hot. As the team's kept things calm for him, he's also responded by raising his game.
There are still issues with the team. Despite improving their puck possession, they're still not generating shots, going from 25th to a still-mediocre 20th. Breaking it down on a deeper level doesn't show there's any one thing they're doing significantly better. Scoring chances have gone up slightly, and high-danger chances have even gone down.
While they may not be producing significantly more shots or chances, they are shooting the puck at a much better rate ART (After Reaves Trade). The Wild were at the bottom of the league before Reaves' arrival, sitting at the 31st. However, they are 11th in the league since the Ryan Reaves trade.
The players' individual efforts should not be lost in this, either. Kirill Kaprizov, Mats Zuccarello, Joel Eriksson Ek, and Matt Boldy have all produced roughly the same as they did before Reaves showed up. The Wild's stars have come as advertised. But the Wild's depth? They're benefiting greatly from possessing the puck more.
That could be due to the physicality Reaves brings on the ice. We all see his railtrain of a hit on Detroit's Filip Hronek. Reaves KO'd Hronek like he was playing Super Smash Bros. during family Christmas. Hits like that bring up energy and tenacity, and maybe the Wild play more confidently because of it.
Whatever the reason, over the last month, the Wild has looked increasingly more like the team that we saw last year. They are playing more to the identity of what we know Wild hockey to be – playing hard, physical, high-energy, high-effort hockey.
Even that small jump in puck possession has drastically impacted Minnesota's success. Shooting better, allowing fewer shots and goals, and finally getting good goaltending. All these things connect and work as one to make them more successful. It's about winning, and the Wild have been doing a lot more of it since they started possessing the puck better.
All stats via Evolving Hockey and Natural Stat Trick unless otherwise noted.