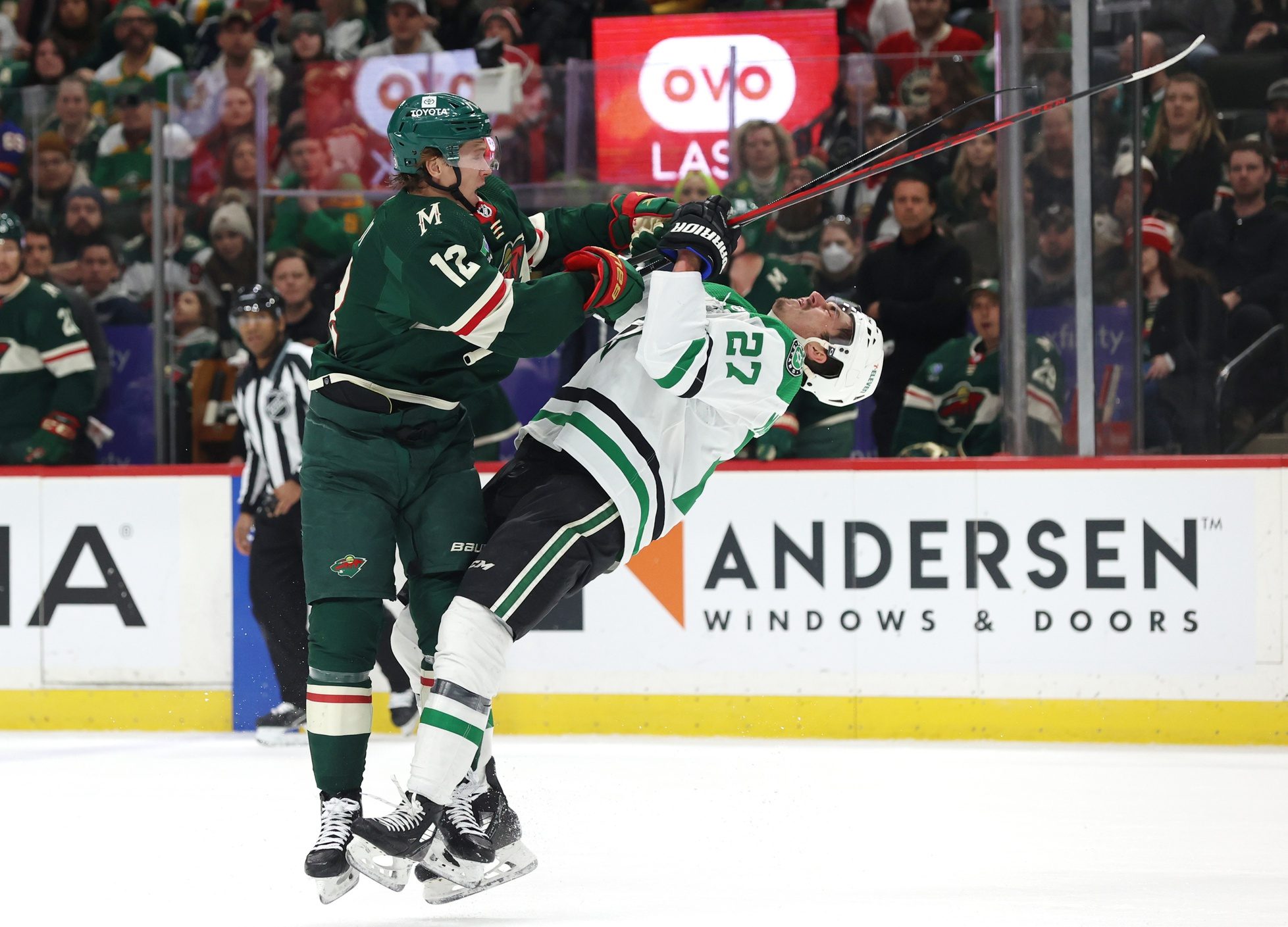 The sky was the limit after Matt Boldy burst onto the scene in his rookie year. The Minnesota Wild's 2019 first-rounder lived up to the hype and more, scoring 15 goals and 39 points in 47 games. Together with Kevin Fiala, he formed a deadly secondary scoring line that made the Wild offense an incredible force.
After losing his linemate in the offseason, Boldy had to make it as a solo artist if Minnesota's offense was going to stay afloat. Unfortunately, that didn't happen. The Wild rank 31st in 5-on-5 offense, and Boldy's a major culprit in their scoring woes.
Boldy scored 2.99 points per hour in his rookie season, ranking 16th among forwards with 500 or more 5-on-5 minutes. It was one of the best rookie seasons we've seen since 2007-08, which is how far back most advanced stats go.
This year, Boldy is the 15th-worst 5-on-5 scoring forward, getting points at a clip of just 1.02 per hour. And that's after Saturday night's game, where he registered a goal and assist at 5-on-5.
You can't really pin all the blame on him. After all, he didn't trade Fiala. It's very unlikely he's doing something to make his teammates shoot 5.6% at 5-on-5, the ninth-worst rate in hockey.
But there's no denying it: We're seeing the dreaded sophomore slump.
After seeing him fall from last year's heights, it's easy to wonder, Was this guy ever that good? Was he just a product of Fiala? Is he going to be worth the 7-year, $49 million contract the Wild gave him this year? 
The answer to that question is: Yes. Boldy isn't playing like the offensive dynamo he was last year, but there are many signs that he will be fine. And in some ways, he's doing better than that. He's improving.
Scoring is the immediate concern with Boldy. He has only 17 goals and 42 points in 63 games. That's barely more than he had last year, with 16 more games and three more minutes per game. It's disappointing, especially with some of the extended slumps he's endured this season.
From November 3 to November 19, he posted only one assist in eight games. In nine games from December 29 to January 17, he had just two assists, both in the same game. Most recently, he scored no goals and four assists in 15 games from January 28 to March 2. That's a whole month of not scoring.
Despite that, he's still got pretty good raw numbers. He's tracking to play in all 82 games and score 55 points on the season. That point total would put him 38th all-time in Wild history. We're talking one point below Charlie Coyle's career-high; two behind Nino Niederreiter's. Heck, even someone like Zach Parise only ever maxed out at 62 points with the Wild.
Boldy is going to approach those totals in a bad season. If a 22-goal, 55-point pace is what Boldy's going to get in a season where he A) shoots below 9%, B) has not-much scoring help alongside him at 5-on-5 that C) also shoots for a ridiculously low percentage, what's a good season going to look like?
Besides, scoring wasn't all of Boldy's game, anyway. His 6'2" frame and sublime hands that protected the puck and won board battles made him so intriguing from the jump. Boldy dominates possession, and in the meantime, drastically reduces the scoring chances going the other way.
Boldy's not just a solid defensive forward for his age. He's not even just a solid defensive forward. Rather, the way he's playing defense should have him in the conversation for Selke Trophy votes. Right now, Boldy's even-strength defense is worth 4.1 Goals Above Replacement, per Evolving Hockey. That's tied for seventh in the NHL alongside Brandon Tanev.
[caption id=attachment_145538" align="alignnone" width="728]

Courtesy of Evolving Hockey[/caption]
If you want to find young players primed to break out, looking at how well they defend is a pretty good start. Boldy's defensive impact is up there with the best 21-and-under players in recorded history. On a per-hour basis, his even strength defense is the fifth-highest of any forward with 1500-plus minutes before turning 22.
Who else is on this list? The Top-15, in order, is Nick Suzuki, Joel Eriksson Ek, Colin Wilson, Jaden Schwartz, Boldy, Martin Hanzal, Ryan O'Reilly, Seth Jarvis, Brayden Point, Fiala, Logan Couture, Teuvo Teravainen, Jamie Benn, Gabriel Landeskog, and Arthur Kaliyev.
Three of those 15, including Boldy, are still developing. After that, seven of those 12 have had seasons with 70 or more points, with nine of them having 60-points in a season or more. Joel Eriksson Ek might just make that 10 of 12 players this year, leaving Wilson and Hanzal as the only odd men out.
If you're good at defense when young, there's a really good chance you're going to be elite at other things, too. And Boldy is already showing that, despite his struggles this year, he already is.
Let's use Stathead to stack up how Boldy's scoring fares against the best of the best on this list of great-defending young players. It might shock you that Boldy's been the best of this bunch in terms of points per game.
[caption id=attachment_145540" align="alignnone" width="695]

Courtesy of Stathead[/caption]
This isn't to say that there haven't been issues with Boldy's game. His 5-on-5 scoring needs to get back on track, no doubt. It probably will. Since 2023 started, Boldy is getting 10.4 shots per hour at 5-on-5, which ranks 27th in the NHL. His current linemate, Eriksson Ek, is also shooting more than 10 times per hour. In that time, Boldy's shooting 3.6 times per game. It's got to break through.
When it does, watch out. Not even a sophomore slump and bad luck can make Boldy a sub-par player. It should terrorize the league to think what he can do with more experience, help, and good fortune.