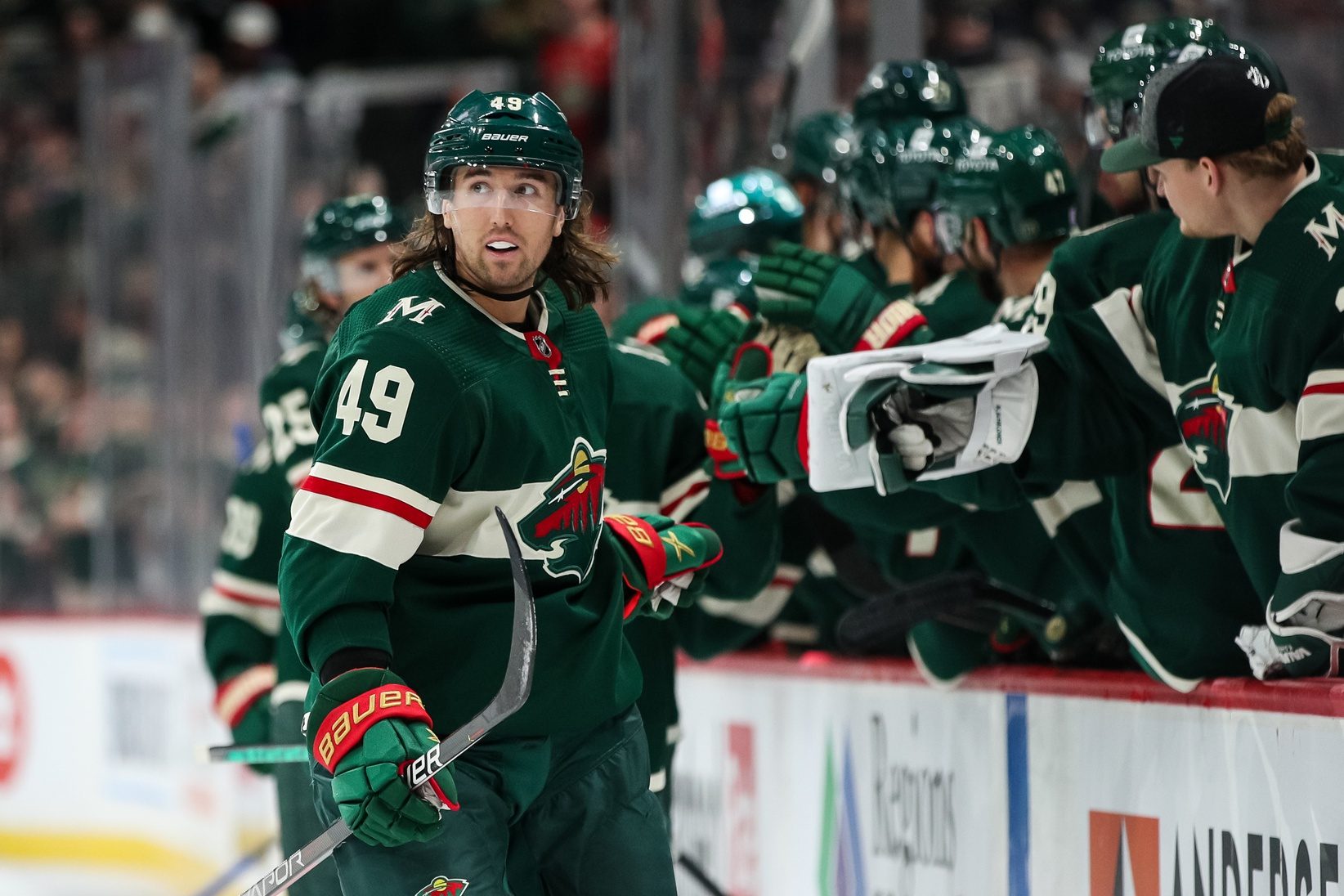 Victor Rask outlasted almost every player on the Minnesota Wild roster when Paul Fenton traded for him three years ago. Rask arrived during Fenton's youth purge when he traded away fan favorites Charlie Coyle and Mikael Granlund.
The turnover was just beginning. First Fenton got the axe, then Bruce Boudreau, who had Rask prominently featured in his doghouse. In came Bill Guerin and Dean Evason, and out went Eric Staal, Jason Zucker, and Mikko Koivu. Finally last summer, the Wild bought out Zach Parise and Ryan Suter's unmoveable contracts.
Several core players remained, of course. But the Rask trade birthed the new Wild and became much more consequential than a trade for a center playing 12 minutes a night had any right to.
Clearing out Nino Niederreiter, though deeply unpopular at the time, made room for Marcus Foligno's emergence. Foligno was buried in a fourth-line role then, seen as just a grinder, and Niederreiter's departure was the first step to clearing up a left wing logjam. Three years later, Foligno is one of the most important players on the team.
The fan backlash at the trade was so intense that it had to play some role in Fenton's ousting. Would Fenton have lasted 15 months had his first trade not poisoned the well against justified-in-hindsight moves like the Kevin Fiala trade, or the Mats Zuccarello signing? No one can say for sure, but that certainly didn't help.
The fact Rask had that much staying power is remarkable. Fans panned the trade upon arrival, but the negativity intensified when they saw his play. Rask's 3 points in 23 games made even people taking a "wait-and-see" approach feel underwhelmed.
In fact, Fenton — who famously and egregiously neglected to scout Rask before the trade — tried to fix his mistake right away. In the reported Phil Kessel trade, Rask and Zucker would've headed to Pittsburgh. Kessel vetoed the trade, leaving Rask to play another year.
Rask would spend much of the next three years on the trade block, but Minnesota never found a taker for his $4 million cap hit. In the meantime, Rask played sporadically and scored some big goals off the bench. He notched a game-winning goal on the road against the Colorado Avalanche in December 2019. After two weeks, he came off the bench to spark a third-period comeback against the Anaheim Ducks in March 2020.
Those performances earned Guerin's respect. "When [he] got here, he was given no chance. He was buried, they wouldn't play him, and this is a guy who had 50-something points in the league," he said in a May 2021 interview. "[We said] we have to get something out of this. We're paying him $4 million a year. Let's give him a shot."
They did, in a roundabout way. Minnesota may have planned to slot 2020 first-round pick Marco Rossi into a center role last year. That fell through after trainers discovered he had myocarditis. Without Rossi, Minnesota scrambled for a contingency plan at center.
Evason found it in Rask last February, when Evason paired him with Kirill Kaprizov and Zuccarello. Minnesota held a clear scoring advantage with that trio at 5-on-5, out-scoring opponents 18-12. Still, there was always a sense, fair or not, that Rask held back that line.
Guerin didn't have time for that, at least publicly. "He's been awesome for us this year. He's produced. When he went on our top power play unit, it turned around. I'm sick and tired of people crapping on [him]. He's a good hockey player and he's done a lot of good things for the Minnesota Wild this year."
But despite the public backing, Rask's role diminished this year. Despite success in the rare moments reunited with Kaprizov and Zuccarello (a 4-2 goals advantage for the trio), Evason's only played them for 18.6 5-on-5 minutes.
A five-game losing streak with Rask coming in and out of the lineup and Rossi's readiness ultimately ended Rask Era. He wasn't claimed Wednesday, and will report to Iowa. Theoretically, he can (and likely will) be recalled to play more games for Minnesota. But the fact the Wild risked losing him signals that if the end isn't here, it's coming very soon. And so will end the tenure of one of the most polarizing stints in Wild history.
It was easy to focus on the things Rask didn't do well, because his flaws were obvious. He isn't a good skater, and it was glaring whenever he couldn't handle a Zuccarello or Kaprizov pass. But on the whole, Rask was a positive for the Wild in a limited role. Evolving Hockey has him as adding 4.3 standings points for Minnesota in three years. Was it frustrating to watch at times? Yes. Did he get good results for someone in a limited role? Also yes.
But his legacy in Minnesota is bigger than a handful of standings points of value. His story is bigger than himself. He came in as the first wave in a sea change for the Wild. When Kaprizov took the NHL by storm en route to a Calder Trophy, there was Rask skating alongside him.
Now he's completing Minnesota's journey to a new-look exciting team by moving on so Rossi and Boldy can take his place. Would things have played out the same way if the Rask trade never happened? Possibly. But his presence appears to be an unlikely catalyst for three years of turnover. When the Wild emerge as contenders, Rask will absolutely be part of the story of how it happened.
All data from Evolving Hockey unless otherwise noted.