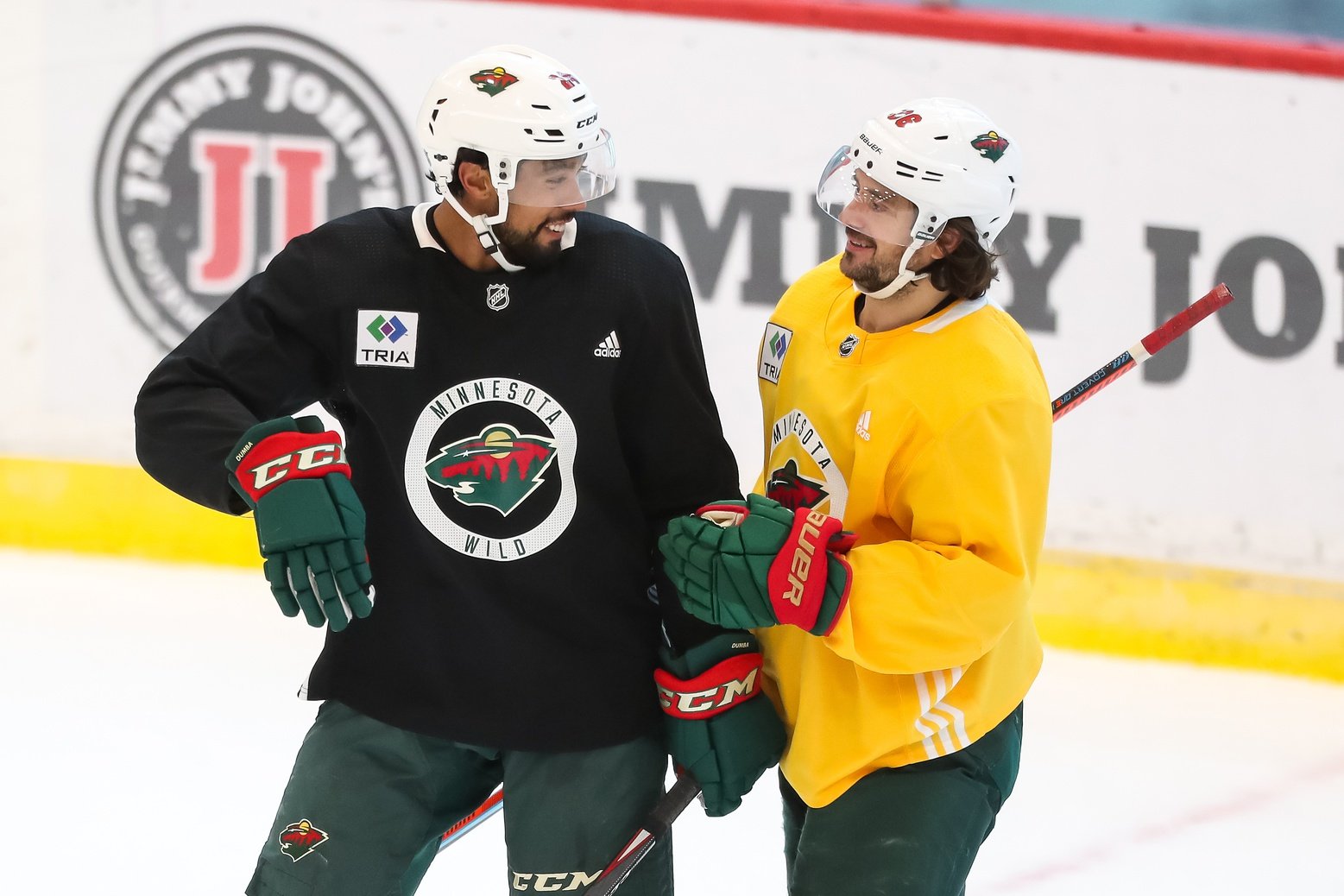 Last week, the Minnesota Wild made two tough decisions concerning fan favorite veterans. First they traded Eric Staal, who scored 111 goals in four seasons, to the Buffalo Sabres in exchange for Marcus Johansson. Two days later they formally announced that Mikko Koivu, franchise leader in most every meaningful category, will not return.
Suddenly in the State of Hockey, media and fans are starting to mumble a long-forbidden word: rebuild. The Wild took two prominent veteran voices out of the locker room, and may potentially move a third. It's a new team! Younger! Faster! Better!
The Wild roster has experienced quite a bit of turnover over the previous two years: Of the 18 skaters that suited up for 2018-19's Opening Night, only nine remain. By the start of next season, it could be as low as six.
What isn't true is calling what Minnesota is doing a rebuild. A rebuild would require a focus on trading current assets for future assets, a willingness to sacrifice wins in return for getting younger, faster and better. Whether they're actually accomplishing any of that is questionable.
Younger?
Two seasons ago, the Wild entered the year with one of the oldest teams in hockey. The 18 skaters playing on Opening Night had an average age* of 28.5. Having Staal, Koivu, Zach Parise and Ryan Suter were a big part of this, as was having veterans like Matt Hendricks and Eric Fehr on the fourth line.
Former general manager Paul Fenton shook up the roster, but didn't touch the veteran core. Rather, he traded a trio of 26-year-old forwards to get slightly younger, while adding 32-year-old Mats Zuccarello in the offseason. After the shuffling, the Wild entered next season with their 18 skaters an average of 28.1 years old.
Enter Bill Guerin. His major move of last season was to trade Jason Zucker for futures, a genuine rebuild-type trade. Other than that, none of his moves are directed towards the future.
True, Johansson is younger than Staal, but Johansson turns 30 in three weeks. Koivu was essentially replaced with a 28-year-old Nick Bjugstad. Younger, perhaps, but too old to be a viable part of Minnesota's future. Locking in Jonas Brodin and Jared Spurgeon to massive extensions locks in an aging defense for almost a decade.
Guerin's next moves aren't likely to make the team younger. Trading Parise, 36, won't aid a youth movement if he's traded for 33-year-old Andrew Ladd. Moving Matt Dumba for a 20-something forward doesn't make them significantly younger. Neither does a Marcus Foligno extension that lasts well into his 30s.
The Wild are projected to enter the season with an Opening Night lineup that averages 28.2 years old. There's time to make changes still, but it's hard to see Minnesota not being one of the older teams in the league again.
Faster?
Getting faster should absolutely be a priority for the Wild. Their identity for years has been to grind down the pace to a halt, partly because they're an older, slower team. There have been exceptions: Erik Haula, Zucker, Brodin and Dumba come to mind. But generally, Wild skaters have ranged from competent (Mikael Granlund, Charlie Coyle) to… let's say "deliberate" (Koivu, Suter).
Minnesota got an injection of speed with Kevin Fiala, but that was canceled out by trading Zucker. They missed that speed in the playoffs, when a faster Vancouver Canucks team handled Minnesota easily. Fiala was fast enough to create chances, but no one could keep up with him.
Dropping Koivu and Staal made Minnesota faster almost by default, but was it enough to make an impact? Guerin sold Johansson as fast last week, but if he continues to struggle at center like in he did in Buffalo, he will be near the bottom of the lineup. Bjugstad is like Koivu and Staal in that he uses his big frame and wingspan rather than foot speed to cover ground.
As for the young players the Wild have collected, they're a mixed bag when it comes to speed. Kirill Kaprizov should skate well, and Jordan Greenway brings speed to the bottom-6, but it isn't a strength for Luke Kunin, Joel Eriksson Ek and Ryan Donato. There's not a ton of speed in the pipeline, either, with Matt Boldy, Alex Khovanov and Adam Beckman rating as average skaters.
It's hard to get faster, and it's not Guerin's fault he inherited a team and prospect pool light on speed. But despite adding Kaprizov and dropping two aging, slow centers, Minnesota will almost certainly lack the team speed to keep up with the younger, faster teams in the league.
Better?
Guerin's plan isn't too hard to decipher. Having let go of two centers and all but taping a "For Sale" sign to Dumba's locker, it's easy to see that Guerin wants to flip Dumba for a credible top-6 center. One can assume he also wants to shore up his 29th-ranked goaltending.
With those two accomplished, it seems the plan is to go into next season with a similar team, hoping to build off Fiala's breakout and Kaprizov's arrival. In some ways, this is probably a formula to return to the playoffs. The Wild were on the playoff bubble with little center depth and horrid goaltending. Improvements to both probably put them in the Western Conference's top-8.
Is that enough to truly contend, though? Unless Fiala and Kaprizov play out of their minds, the answer has to be "No." They won't have the forward depth to match Colorado, St. Louis or Vegas. They don't have the high-end stars Vancouver and Edmonton have.
It's hard to speak definitively now about how Minnesota will stack up against the rest of the West next year. The offseason isn't over, Guerin could make a move for a star we don't yet anticipate, etc. But as of right now, Minnesota doesn't look like they'll be much better than your average Chuck Fletcher team. If owner Craig Leipold wanted that, he should have stuck with Fletcher.
Instead, two GMs have come in to "tweak" the organization, rather than pounce on a golden opportunity to rebuild. Flipping top trade assets in Granlund, Spurgeon, Brodin, Dumba, Zucker, Staal and Foligno could have brought enough picks and prospects to build a bright future in Minnesota. For some reason, the Wild never want to hit that button. The result is an incoherent managing of these assets. Some were traded for futures, others were sold for confusing returns, and some were (or will be) signed into their mid-30s.
After trading Staal, Guerin told the press "If I don't make moves, we're just going to stay the same." It's true. The Wild weren't going to get where they want to go by bringing back the same team. Maybe Guerin will be able to execute his plan and fix his holes at center and goalie. If he plays his cards right, he could get his team to the playoffs for the next few years.
But that level of success won't be enough. Guerin has a small margin of error to work with in trying to quickly build his team into a contender. Even a small miscalculation leave Minnesota with a different roster, but the same destiny of being an early out in the playoffs.
If that happens, they'll perhaps regret trying to go for quick fixes rather than take a slower path to truly get younger, faster and better.
*Ages as of February 1st, per Hockey-Reference