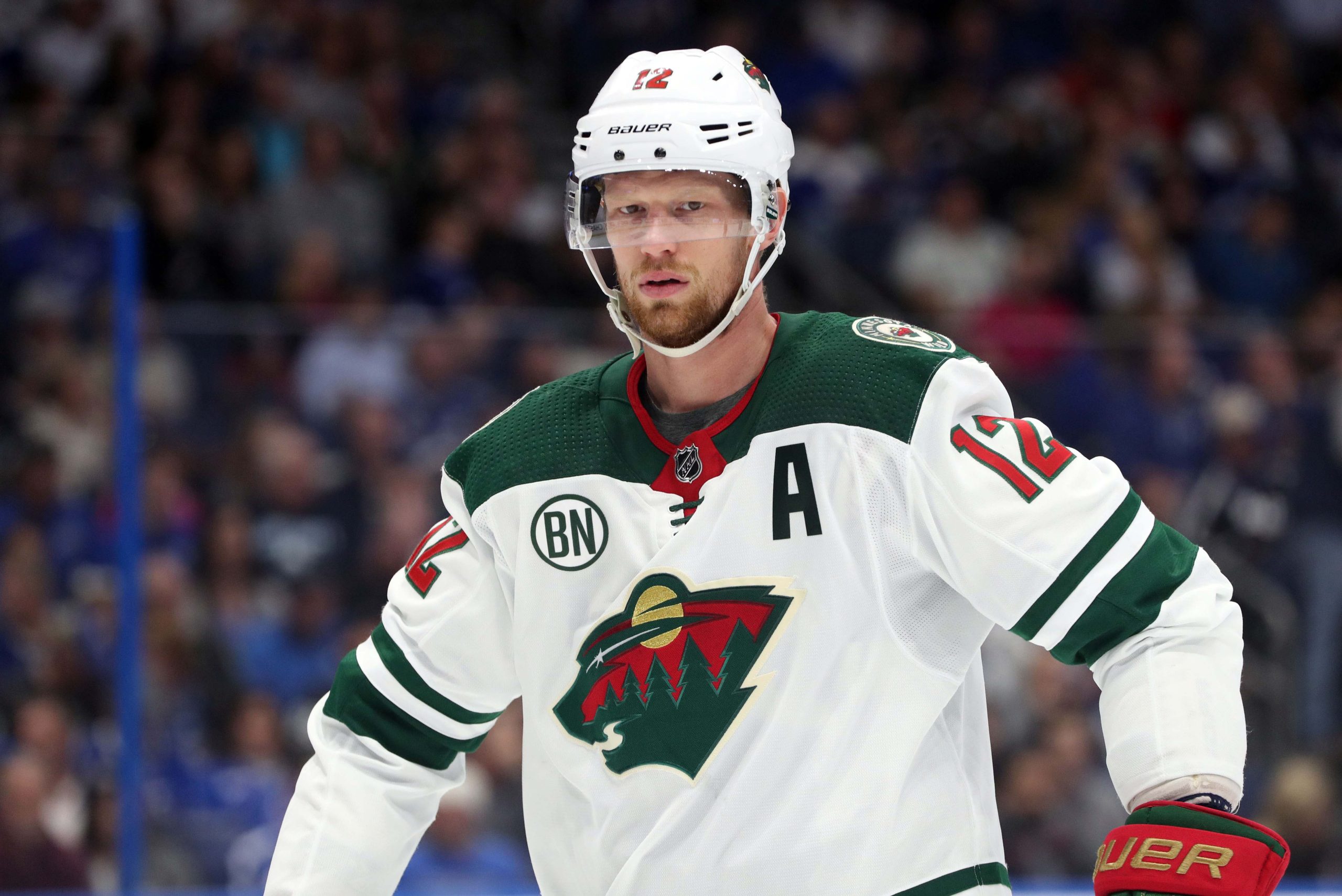 The free agency period brings a lot of good and (mainly) bad contracts into the league. More often than not you will find NHL general managers trying to maneuver their way out of the deals they sign players to on July 1 just a couple of years into those long-term deals.
Taking a trip down memory lane, there have been plenty of good and bad deals signed by the Minnesota Wild over the course of their nearly 20-year history. Let's review some of the more notable good and bad deals signed.
The Good
Signed: July 8, 2004
Contract: Three years, $9.6 million with an option for a fourth year
The 2004-05 season was lost to a lockout, so the Wild only were able to get Rolston for just the three years, but it still turned out to be one of their best contracts. In three seasons with Minnesota, Rolston scored 96 goals -- which is currently eighth in team history -- and added 106 assists. His signature slap shot became a staple of the Wild offense, as his memorable penalty shot goal lives in Wild lore. Rolston helped Minnesota appear in the postseason in two out of those three seasons before moving onto New Jersey where he never got anywhere close to the production he had in Minnesota.
Signed: July 1, 2006
Contract: One year, $750,000
After trading Dwayne Roloson the year before, Minnesota was in the market for a backup goaltender to Manny Fernandez in the summer of 2006. They turned to Finland where they nabbed Backstrom to a one-year deal to see if he could translate his success over to the NHL. Backstrom did just that as he had to step in for an injured Fernandez in 2006-07 and posted a .929 save percentage in 41 games while helping the Wild reach the postseason for the first time since 2003. The Wild would give Backstrom an extension that following offseason and he would go on to be the Wild's backstop through 2013. He currently still leads the team in all-time wins, saves and shutouts.
Signed: July 1, 2016
Contract: Three years, $10.5 million ($3.5 million AAV)
Needing to fill a spot at center in the top six, the Wild signed Staal to a three-year deal prior to the 2016-17 season. The deal came at a bit of a risk for Minnesota, as the then 31-year-old was coming off a horrid season between Carolina and the New York Rangers where he only scored 39 points in 83 games. However, Staal found the fountain of youth in Minnesota as he scored 92 goals and 193 points in the three years of that contract, including a 2017-18 season of 42 goals and 76 points. That season is one of the best offensively in Wild history with the 42 goals tying Marian Gaborik for most in a season and the 76 points only trail Gaborik's 83 points and Rolston's 79 points for most in team history. It is hard to find a better contract in team history than Staal.
Signed: September 23, 2010
Contract: Three years, $1.58 million (entry level)
The New York Islanders drafted Spurgeon 156th overall in the 2008 draft, but the Isles did not give Spurgeon a contract. In 2010, Spurgeon became a free agent and was signed by Minnesota to an entry-level contract after attending training camp. Spurgeon just spent 23 games in the AHL that first season, and then has been a mainstay in the Wild lineup ever since. Despite his smaller frame -- five foot, nine inches -- Spurgeon has become one of the best blueliners in team history with his solid ability to be in the right spot and increased offensive production year after year. After cashing in on a four-year, $20.75 million contract in 2015, Spurgeon is expected to surpass that with his next contract as he will be no doubt seeking a deal north of $7 million annually.
The Bad
Signed: July 1, 2009
Contract: Six years, $25.5 million ($4.25 million AAV)
With Gaborik out the door, the Wild needed to fill a void offensively for the 2009-10 season. They went hard after and eventually signed Havlat, who was coming off a 77-point season with the Chicago Blackhawks. In two seasons, Havlat scored 54 and 62 points respectively for the Wild. But he reportedly clashed with team captain Mikko Koivu, and in a desperate effort to free the locker room of his presence Chuck Fletcher traded Havlat to San Jose for Dany Heatley. San Jose eventually bought out the final year of Havlat's contract, but his time in Minnesota is often not looked at in a fond light.
Signed: July 5, 2013
Contract: Three years, $7.5 million ($2.5 million AAV)
After scoring big a day before with Zach Parise and Ryan Suter, Chuck Fletcher went back into the free agent well and signed Cooke to a three-year deal to get him away from the Pittsburgh Penguins. Cooke had averaged 30 points a season in the five previous seasons with Pittsburgh, but his gritty qualities were what more the Wild were looking for in signing him. However, Cooke had a previous history with the Department of Player Safety, as he often rendered hits that should have had him suspended much longer than he did. Cooke's most notable moment in Minnesota came in the 2014 playoffs when he kneed Colorado's Tyson Barrie and was suspended seven games. After just 29 games in 2014-15, Cooke was bought out by the Wild and never played again in the NHL.
Signed: July 1, 2012
Contract: Three years, $5.7 million ($1.9 million AAV)
Chuck Fletcher had a knack for giving bottom-six forwards multi-year deals, and it is no surprise that two of them ended up on the bad list. Mitchell was coming off a 19-point season with the Sharks and yet he still somehow managed to secure a three-year deal from Minnesota. Mitchell just scored eight points in the lockout-shortened season of 2013 and then just nine points the next year before he had asked to be traded after falling out of favor with the head coach Mike Yeo. Mitchell's request was accommodated as he was sent to Buffalo at the trade deadline in 2014.
Signed: July 1, 2006
Contract: Five years, $13.25 million ($2.65 million AAV)
Then general manager Doug Risebrough wanted to make a big splash in free agency prior to 2006-07 and he did so as he brought home Bloomington native Parrish on a five-year contract. Parrish's net-front presence game was something the team needed, as he had scored 20-plus goals in five of the previous six seasons before signing with the Wild. Parrish scored 19 and 16 goals respectively in two seasons with the Wild, but his production was far from where the team had hoped it would be. Parrish was bought out in July of 2008 with four seasons left on his deal. He would go on to play parts of the next three seasons in the NHL before eventually calling it a career.
Never Miss an Episode of Giles & The Goalie!
http://zonecoverage.com/wp-content/uploads/2016/05/itunes.jpghttp://zonecoverage.com/wp-content/uploads/2017/05/Podcast-header-Image-City-1.jpg