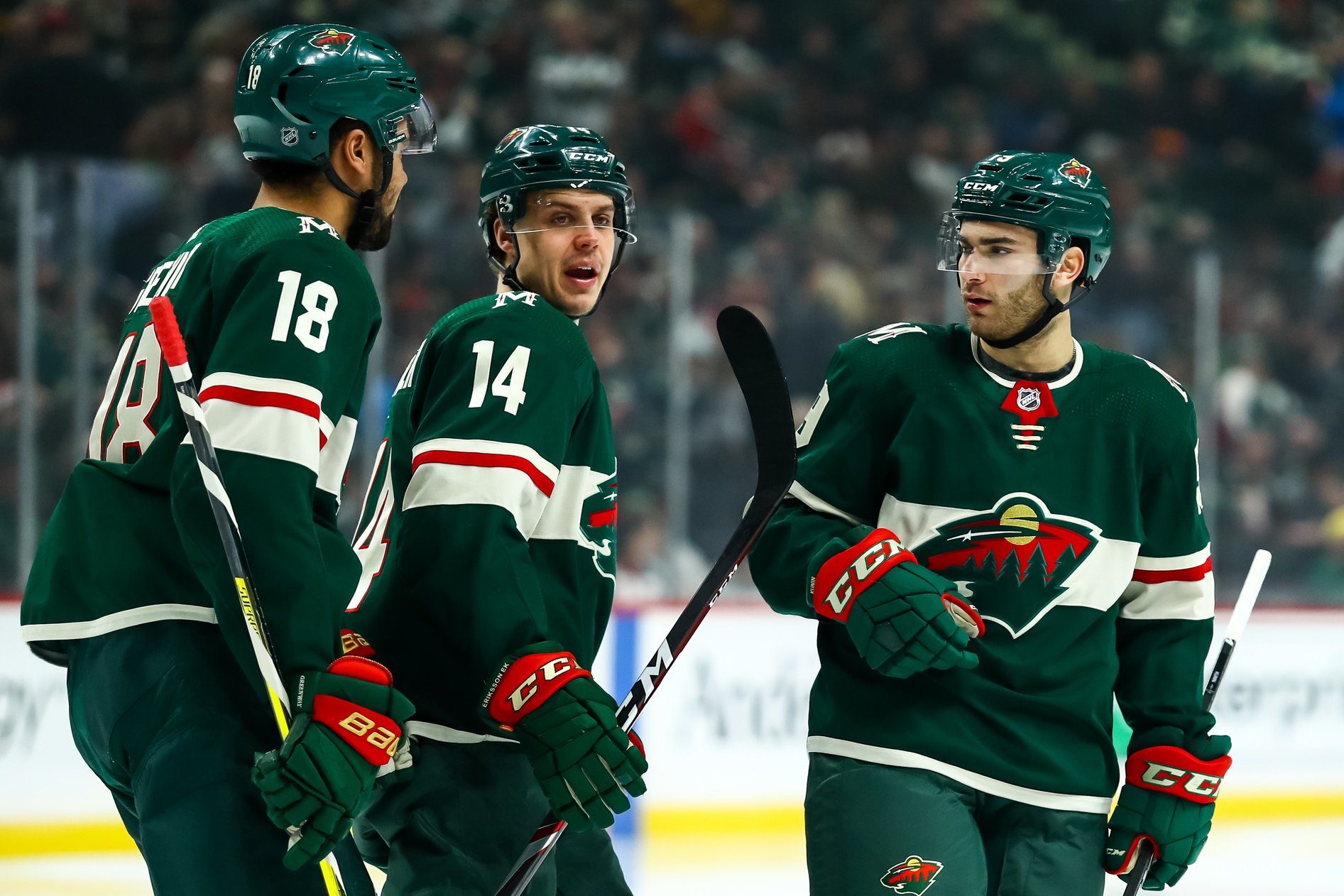 It's been three years since the Vegas Expansion Draft rocked the NHL. The Minnesota Wild and its fans still feel the impact it today. You can read more about that, but long story short, it cost them a fine young player in Alex Tuch.
So… who's ready for Round 2?
Seattle will join the league for the 2021-22 season, meaning we're a year away from another Expansion Draft. Minnesota will be losing another player to an upstart expansion team. The good news for the Wild is that they won't likely be facing quite the same crunch as they did with Vegas.
There's a flip side to that good news, however. Minnesota doesn't boast nearly as much talent as they did back in the summer of 2017. The Wild boasted nine players with 40 or more points then. They only had four players crack the 40-point mark this season. Even if coronavirus hadn't shortened the season, Minnesota would have likely had just five such players.
But that doesn't mean Minnesota won't have a tough decision. They just aren't likely to have an impossible one. But even that could change. Between free agency, trading and players in the organization developing, things could be radically different next year. Remember, Eric Staal, Mikael Granlund, Charlie Coyle, Nino Niederreiter and Jason Zucker all emerged as irreplaceable in 2016-17.
It's never too early to plan, though, so we'll take a look ahead to next year. We'll try to see who is on the inside track to be protected, who may be exposed, and who could be attractive to Seattle.
Who WILL MINNESOTA Protect?
Minnesota has the option of protecting seven forwards, three defensemen, and a goalie or eight skaters at any position and a goalie. They have nine forwards, three defensemen, and two goalies on the NHL roster who are eligible to be exposed and are under contract or team control through the 2021-22 season.
Let's start with the easiest decision -- the goaltenders. The only goalies in the mix are Kaapo Kahkonen and Alex Stalock, unless Seattle wants pending free agent Devan Dubnyk. This is a no-brainer: Kahkonen is 23 years old and the closest thing Minnesota has to a "Goalie of the Future." It makes much more sense to expose the 32-year-old Stalock. The only thing that could change the calculus of this decision is if Minnesota acquires a goalie this offseason.
The decision on the blue line is pretty straightforward, at least for now. Ryan Suter and Jared Spurgeon have no-move clauses, which obligates Minnesota to protect both. Matt Dumba is the only other NHL defensemen currently under contract, which makes him an easy call to protect.
Zach Parise and Mats Zuccarello's contracts contain no-move protections that force the Wild to protect them. This leaves Ryan Donato, Joel Eriksson Ek, Kevin Fiala, Jordan Greenway, Ryan Hartman, Luke Kunin and Victor Rask.
Hartman and Rask have significantly less upside than the rest of that group, so they would appear to be the odd men out. But what if Minnesota re-signs Marcus Foligno, a possibility we discussed last week? That makes things much more interesting.
Foligno is a fan favorite because of his gritty defensive play and leadership qualities. But he's also a very good player. Foligno has been worth 6.5 standings points over the last two years. The only two players to out-perform him? Spurgeon and Staal. Foligno will be 29 at the end of next season, but his play certainly indicates Minnesota should protect him.
There will be six players in the mix for five protection spots if Foligno is in the mix. Let's see how they stack up in Evolving Hockey's Standings Points Above Replacement over the past two seasons.
Fiala's breakout this season ensures he'd be a lock to protect, even with his disaster 2018-19 season dragging his two-year numbers down. Foligno and Eriksson Ek are comfortably ahead of the pack, indicating they'd be easy choices to protect.
This leaves Donato, Greenway and Kunin on the bubble. Greenway's defensive play is well ahead of his offensive game, but the overall package profiles him as a solid role player. Donato's strong offense hasn't been enough to get him significant minutes, which could leave him on the outside looking in. Kunin's defense has hurt his value, but some of that could be remedied by taking him off the penalty kill.
It's a matter of preference, but we'll expose Kunin for now. There's time for him to change the conversation next year, but he's got to prove he belongs.
Does Minnesota Take the Eight Skater Route?
Were Minnesota to extend Jonas Brodin, this process becomes infinitely more interesting. It brings back the central conflict as the last round of expansion: Both Brodin and Dumba merit protection, but there aren't enough defense slots to protect both.
There are a couple of ways out of this jam, however. The Wild could dangle Dumba in a trade to get value for him, but this could be complicated by coronavirus. The lost revenues due to the shortened season will surely hinder any growth of the salary cap. This means many contending teams will not have room to take on Dumba's six million dollar cap hit. His value would be at least somewhat depressed.
Alternately, Minnesota can opt to protect eight skaters, rather than go with the seven forward, three defenseman route. This would ensure the top-four defensemen that make the backbone of the Wild remains intact.
Of course, this would hurt Minnesota's ability to protect their forwards. They would only be able to protect Parise, Zuccarello, and two more skaters. Fiala would certainly be protected, leaving just one slot for Donato, Eriksson Ek, Greenway, and Foligno.
Greenway's defense is very good, but both Eriksson Ek and Foligno are more impactful at both ends of the ice. Greenway would likely be exposed. Donato isn't helped by the logjam at left wing or the fact that both of his Wild coaches haven't seemed to trust him. You could make an argument that his goal-scoring ability should make him a priority to keep, but he's likely exposed in this scenario.
This leaves a decision between Eriksson Ek and Foligno. All due respect to Foligno, Eriksson Ek is significantly younger and plays a premium position while providing similar value. Eriksson Ek is the logical pick here.
Minnesota's protected list now looks like:
Zach Parise (LW)
Mats Zuccarello (RW)
Kevin Fiala (RW)
Joel Eriksson Ek ©
Jared Spurgeon (D)
Ryan Suter (D)
Matt Dumba (D)
Jonas Brodin (D)
Kaapo Kahkonen (G)
Who Would Seattle Take?
Minnesota going the eight skater route would leave a lot of interesting possibilities for Seattle. Seattle would have the flexibility to select a player who fits any plan they have to start their franchise.
Perhaps they want to be competitive right away. Foligno would offer the most present-day value. He would also have a connection to the Seattle front office. Seattle's Director of Hockey Administration Alexandra Mandrycky was on Minnesota's analytics staff when the Wild traded for Foligno. No doubt Seattle is well aware of Foligno's value.
There's also reason to believe Seattle may not select Foligno, who will be 29 when the Expansion Draft takes place. Vegas went heavy on youth in their draft, selecting just 11 (of a possible 30) players who were 29 or older. Four of those players were chosen as a result of side deals where Vegas was compensated for taking an older player.
Seattle could also get creative with Foligno, even if they don't see him as a fit on their team. They could select him and then trade him to a team willing to give back draft or prospect capital.
Mandrycky and general manager Ron Francis can also opt to take a young player with upside. They could take Kunin, a former first-round pick with goal-scoring ability. Perhaps they like Greenway, a strong defender who could become a power forward. Or maybe Donato's scoring and shot generation appeals to them. Selecting defenseman Brennan Menell, who made the All-AHL Team as a 22 year old, is another option here.
Pressuring Minnesota to make a side deal might be a viable option for Seattle. They won't be able to extract an asset like Tuch - the quality of player Minnesota would want to protect isn't as high as it was three years ago. But they can likely pick up a draft pick by threatening to select Foligno.
Deciding to extend Foligno this offseason will be a pretty big signal that Minnesota won't be keen on losing him. This is doubly true if the Wild decide to have Foligno be the successor to Mikko Koivu's captaincy. Surely Seattle should be able to get a mid-round pick in exchange for letting Minnesota protect their new captain.
Seattle could pocket that pick, then select Donato. Donato finished the season with 1.39 goals per hour at 5-on-5 play. That was tied for 8th (out of 329 forwards with 500+ minutes) in the NHL, alongside Brad Marchand and Nazem Kadri. To be able to scoop up a third or fourth-round pick with a 25-year-old with that kind of potential would be a coup.
Again, all of this could change by next year. Minnesota could not extend Brodin or Foligno, lessening the logjam at their respective positions. They might acquire a high-end center, knocking another forward out of the mix. The Wild may trade Dumba, removing the need to protect him. Someone like Donato or Greenway or Kunin or Menell could break out and force their way into a protection slot. Adding a goalie might expose Kahkonen.
But the State of Hockey need not fret over the thought of Seattle holding the Wild over a barrel. The Wild will surely lose a good player in this round of expansion. But that notion was apocalyptic last time around, when the players available to Vegas were core members of the franchise.
This time will be much easier. Maybe Minnesota will want to use a draft pick to point Seattle into a preferred direction. But Minnesota will not lose anyone they can't afford to lose, nor will they mortgage their future by giving up a premium prospect. Wild fans may be scarred from losing Tuch last time, but there is little need to fear the Kraken.