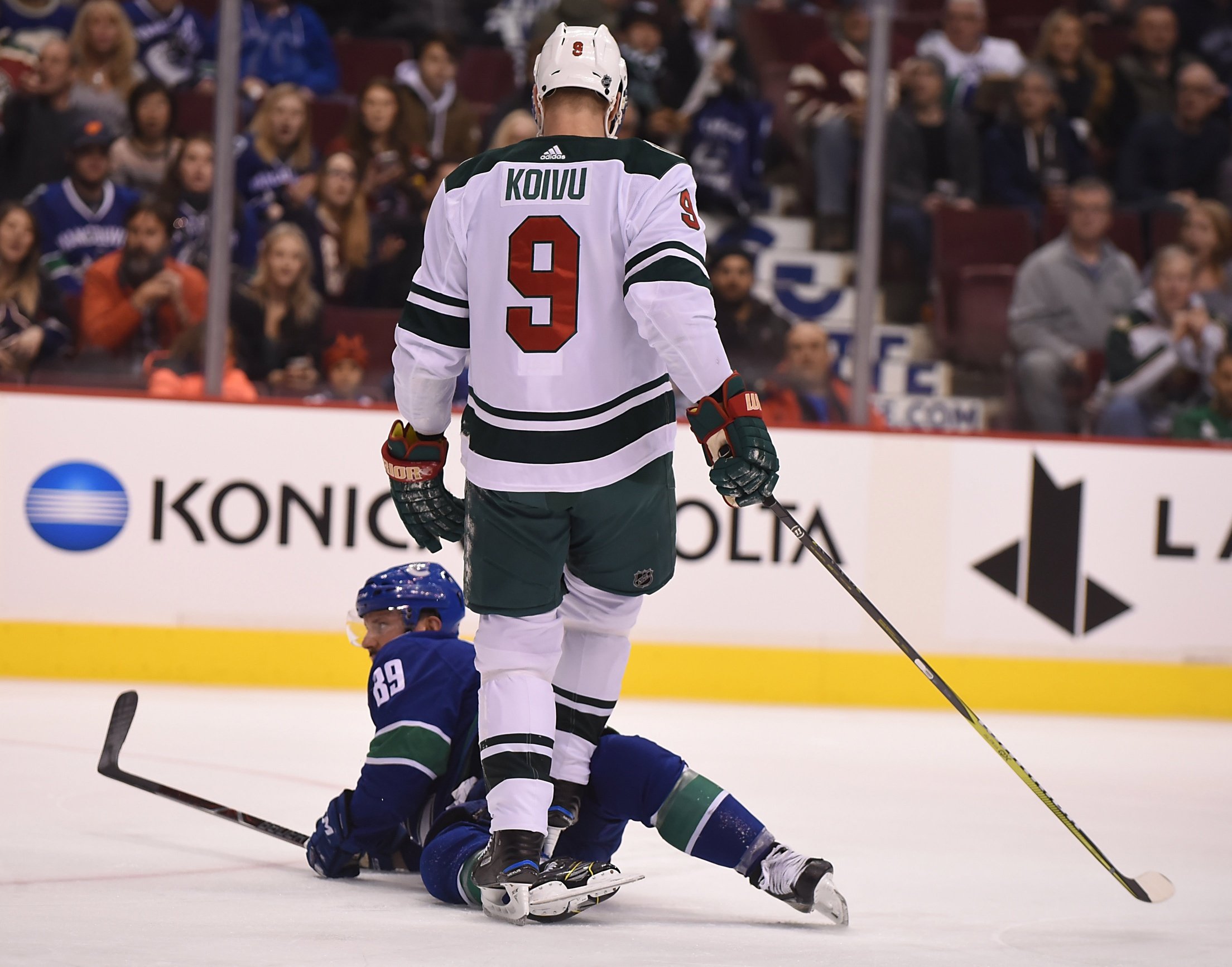 The Vancouver Canucks aren't going to be an easy team to defend against. They sport strong centers down the middle, with speed on the wings. Oh, and they all have a knack for scoring.
The top-6 for the Canucks boasts five 20-plus goal scorers, and Brock Boeser, who scored 16 in a down year. 
To contain the Canucks' firepower, the Minnesota Wild will put Joel Eriksson Ek out against the top line as much as possible. Pegged as a potential difference-maker in this series, Eriksson Ek has no easy task.
But he has the ability to deliver. Eriksson Ek finished the regular season with elite defensive numbers in areas of expected goals against and shot attempts against. Ranking third in expected goals against at 5-on-5 and a minimum of 700 minutes, he also ranks high in terms of shot attempts against per 60. This means that Eriksson Ek is downright suffocating as a defensive forward.
But against a team with two strong scoring lines like Vancouver, the Wild need vintage Mikko Koivu to return. 
Koivu was not the same player during the regular season. His offense production, while in decline already, fell off the cliff this year. His 21 points is the lowest output since his rookie season, and his four goals are a career low. In a fourth line role this time around, the Wild won't need him to provide the primary offense like in year's past. 
They need him to do what he did to Jonathan Toews years ago in the postseason. Minnesota needs to see the Koivu that was a part of arguably the best two-way line in 2017. That season, he was flanked by both Mikael Granlund and Jason Zucker and together they saw among the heaviest defensive deployments, yet offered loads of offense. Koivu took on that defensive burden and was able to drive positive play.

Now on the fourth line, it's possible to still offer two-way capability. But his role is going to be almost all defensive in nature. Even at age 36, that is still something Koivu can offer.
Koivu's offense is be diminished, but he's exactly the type of player Minnesota needs in the bottom six to match-up against Vancouver in this series.
The Wild captain has been dealing with rumors of retirement all season long. He's currently in the final season of his two-year $11 million deal.
Back in February around the NHL's trade deadline, it was reported that Wild GM Bill Guerin approached him about his no-move clause to see if he can trade him. Koivu, the franchise leader in games played and points, declined to waive his no-move to remain with the club that drafted him 19 years ago.
Coincidentally, Koivu may get a swan song with the Wild against a rival team with which he has substantial history. The Canucks were Minnesota's most hated rival of the expansion years. Games got intense with extra chirping, physicality and
.
Tensions were always high between the Canucks and the Wild. Koivu got the burden of that rivalry when Mattias Ohlund two-hand chopped Koivu's fibula in two. 
The 24 year old Koivu missed 24 games that season. He didn't return to the line-up until January 11th against Chicago. But perhaps the most memorable moment came 10 days later in his first trip back to Vancouver. Koivu took the puck all the way from the neutral zone for a dangle and score. It ended up being the game winning goal, and he let the Canucks bench know about it.The normally stoic, and reserved Koivu let out his frustration with the fly-by scream at the bench. It meant a lot to him to get back and enact revenge his way.

NHL realignment came in 2013 and did away with the old Northwest Division. Even today, Koivu and Alexander Edler remain as the only players on the roster that were there the night Ohlund slashed Koivu. So when Koivu jumps on the ice against a familiar foe, he may not be as good as he once was. The scoring isn't there anymore. That said, Koivu still provides staunch defense. That can be counted on. In order to relieve some of the burden off of Joel Eriksson Ek, the Wild need Koivu to be good once, as he ever was.
Stats courtesy of Evolving-Hockey.com & Hockey-Reference.com.