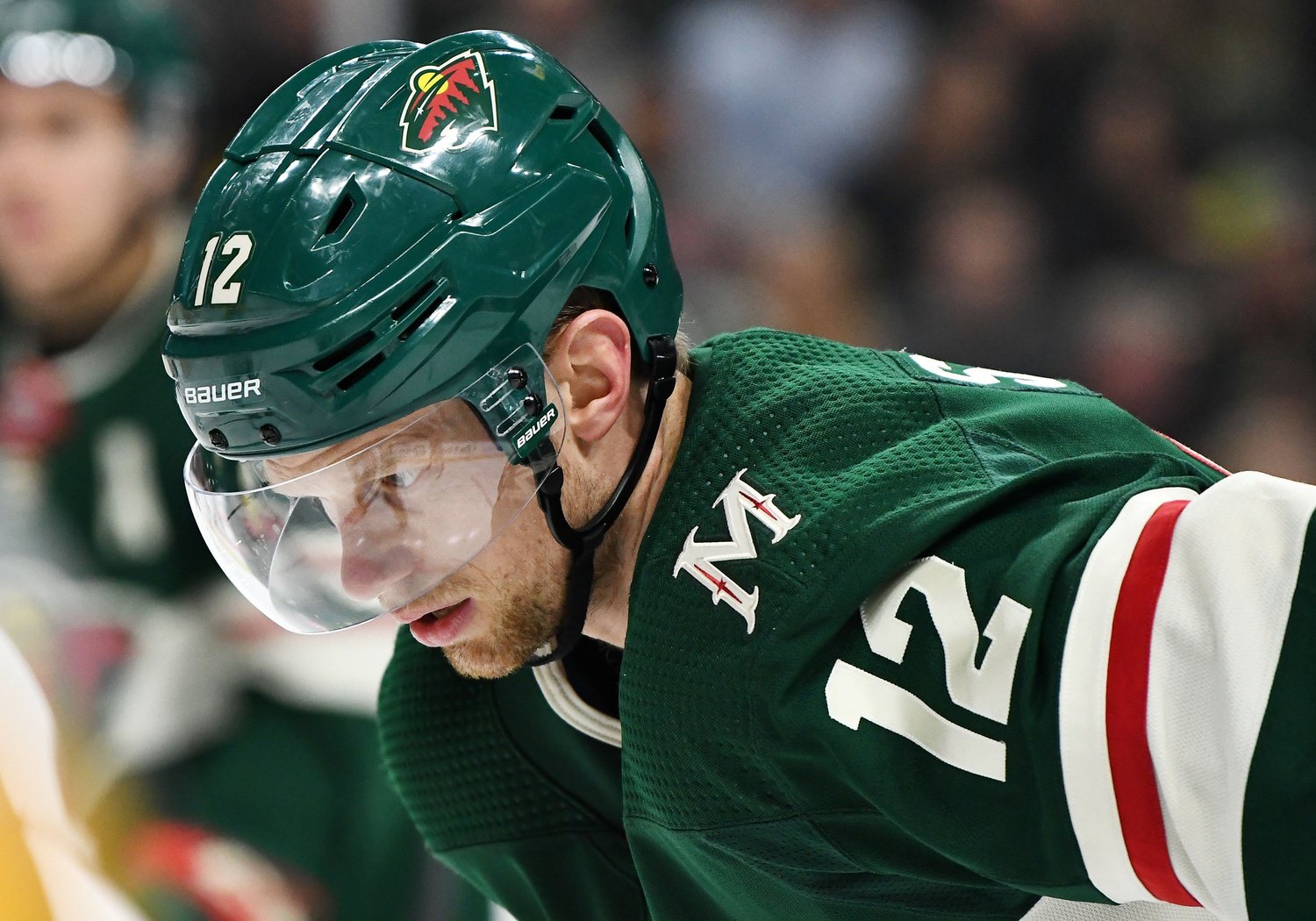 The Minnesota Wild have a lot of money locked up in their forwards and defensemen, so that means it will be difficult for general manager Bill Guerin to alter the roster easily, especially in one offseason.
While Guerin has addressed that the goaltending needs to improve, the defense is largely solid, especially in the top-four. What Guerin needs to do is somehow acquire a top center. This could be done via free agency with a lot of money, thanks to the Wild's roughly $14 million in cap space currently. It could also come from a trade with another team that is eager to get rid of their top center... but no team wants to do that.
The most likely option is Minnesota developing a long-term No. 1 center. That timeline might be incongruent with where much of the rest of Minnesota's roster is now that Kevin Fiala broke out and Kirill Kaprizov is set to have his first North American season. The Wild can find that player already on their roster, though, in Eric Staal.
Staal was at one time considered one of the best centers in the NHL. During his time with the Carolina Hurricanes he won a Stanley Cup, was a respected captain, amassed plenty of points and had a respected two-way game. From 2005-12 he had seven consecutive 70-point seasons, with a 100-point season in his sophomore campaign.
Once he got close to his 30s, his individual stats began to drop as Carolina went into rebuild mode. Near the end of his time in Carolina, he was traded to the New York Rangers to help with a playoff run but had a dismal stint there, recording only six points in 20 regular season games. His career looked to be winding down, but Minnesota signed him to an affordable three-year, $10.5 million deal to see what he could do for a team that needed a top line center.
In Minnesota he had a career resurgence with 65 points in his first season and 76 points in his second -- tying a Minnesota franchise-record in goals with 42.
After a 47-point campaign as a 35-year-old this past season, Minnesota needs Staal to find his past game to bring the Wild back to the postseason and generate any bit of postseason success that has continued to elude the franchise for more than 15 years.
Now that Fiala has become Minnesota's most dynamic winger, ideally Staal would have some chemistry with him on the Wild's top line. In the four-game play-in series against Vancouver, Staal assisted on three of Fiala's goals. The two were on a line together near the end of the regular season, and this could give Staal an advantage to produce better numbers for Minnesota as a true No. 1 center -- potentially with both Fiala and Kaprizov on his wings.
Joel Eriksson Ek hasn't shown signs of being a steady top-six center so far in his career, so Minnesota's best-case scenario this season is witnessing a resurgent Staal anchor a dominant scoring line for the Wild in 2020-21. There is potential for Luke Kunin to develop into this role, but such a breakout doesn't look imminent right after the 2019-20 season.
This solution is only a stop-gap to a No. 1 center until one can develop. Eriksson Ek's skillset and Staal's age eliminate both from the long-term contention for that bonafide No. 1 center position.
For the short term, though, Staal has proven he can be a No. 1 center for long stretches and has also proven he can rebound from down years in his career to become a dominant player once again.