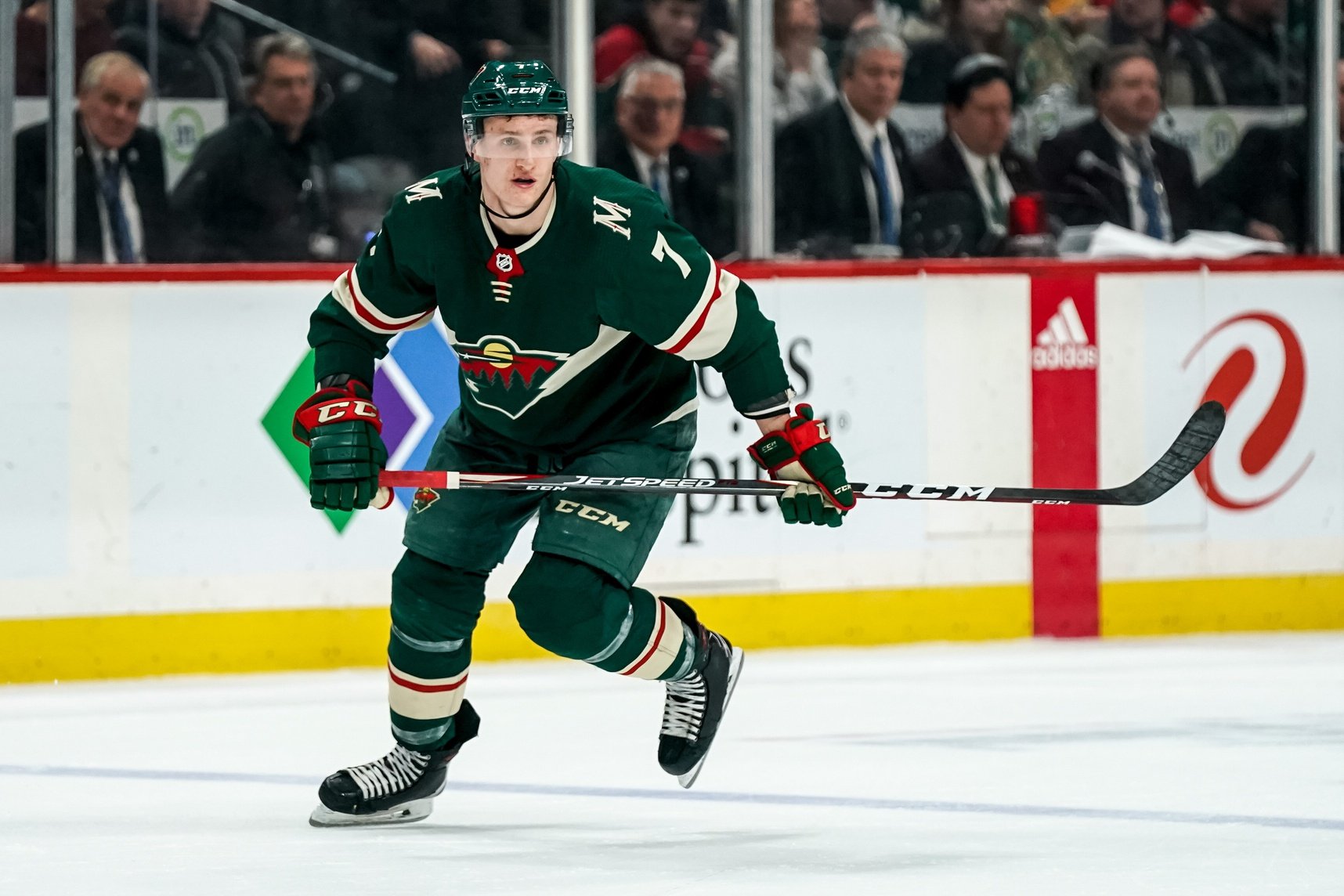 The NHL officially announced the format of play for if and when the NHL resumes play on Tuesday. For hockey-starved Minnesota Wild fans, the news that the Wild will be a part of the revamped postseason is music to weary ears. Minnesota, now cemented in as the 10th seed in the Western Conference, will face the Vancouver Canucks in a play-in style five-game series to see who advances to the round of 16. 
Among the rule changes announced for this new playoff format was that teams can carry 28 skaters and an unlimited amount of goalies.
https://twitter.com/FriedgeHNIC/status/1265447676834918400
These "Black Aces" won't just be emergency players either. 
In past seasons, rosters expanded in the month of April to allow extra players to practice and play in games before the end of the regular season. These players usually came from the minors, but could also be college free agents, or even a team's newly signed prospects. But the league has been a little less even-handed regarding the addition of prospects to the roster. For instance, the Wild can sign, but not debut, top prospect Kirill Kaprizov when play resumes. The NHL has deemed players in the same situation as "ringers" and therefore won't be allowed to partake. 
Even for players that are on a team's reserved list, they cannot play. In the same breath, the NHL is allowing junior player Nick Roberston to make his NHL debut for the Toronto Maple Leafs. The application of the arbitrary rule is one of the things that make you go, "Hmm…"
That said, the "Black Aces" could practice with the team during the playoffs, but could only be inserted into the line-up on emergency or an injury situation. The rules have been amended that those players can be called into action at any point during the playoffs.
The goalie situation has been a weak point all season. A conversation on NHL Network by E.J. Hradek noted that Dubnyk's wife, whose battle with health issues during the season and had Devan's mind pre-occupied, might have those health concerns under control.
Dubnyk had issues before the health issues popped up with his wife. That said, for a two-month run at the Cup, we've seen him play at a Vezina-caliber before for just as long. 
If he cannot find his game, the Wild can turn to Alex Stalock. Stalock steadied the ship just enough for the Wild to even be in the 24-team postseason. Some might argue his performance was good enough to be the team MVP. However, Stalock's career has been one of hot streaks with more periods of cold. As a career .909 save percentage, and this being the first season he broke 30-games played, Stalock might not be the goalie for a long stretch of playoff hockey. 
It makes sense for the Wild to call up AHL goaltender of the year Kaapo Kahkonen. In his short stint in the NHL, he appeared calm in net, and made some big saves during a period when Dubnyk had to be away from the team. His AHL numbers were very strong, and certainly worthy of the award. It kind of came out of nowhere because his performances were fairly pedestrian in Finland and last season with Iowa. 
Bring all of the goalies up.
Minnesota currently has 20 players on the roster.
Zach Parise - Eric Staal - Kevin Fiala
Mats Zuccarello - Joel Eriksson Ek - Luke Kunin
Jordan Greenway - Alex Galchenyuk - Marcus Foligno
Ryan Hartman - Mikko Koivu - Ryan Donato
Victor Rask and Greg Pateryn round out the roster. That leaves eight more spots for Iowa Wild players.
Off the top, Minnesota should want the dynamic duo of Gerry Mayhew and Sam Anas brought up. Those two combined for 59 goals and 72 assists to lead the Iowa Wild. Both players could easily hop into a middle-six role and offer offense outside of the top line. 
Another interesting player that can offer two-way center depth is Nico Sturm. Sturm scored 12 goals, added 20 assists and can play a depth center role by playing good defense. He was selected as the ECAC Hockey Best Defensive Forward when he was a center for Clarkson University.
Louie Belpedio and Brennan Menell look to be the no-doubt call-ups on defense. Both are strong skating, mobile type defensemen. Menell and Belpedio were highlighted last week by Zone Coverage as players that could fill in for either Brodin or Dumba in the event those players were traded. 
With three spots left, one should go to Dmitry Sokolov. Now that selection isn't a popular one. His skating is suspect, and his conditioning even moreso. But Sokolov has a scoring touch that current Wild prospects that could be called up, lack. He could be a power play specialist as a shooter on the second unit. Minnesota certainly could use two dangerous power play units. First, they can save some of the minutes of the first unit, and secondly, it can better take advantage of mismatches on Vancouver, or any other team, if the Wild advance.
Lastly, for some veteran presence, the Wild could bring up J.T. Brown and Kyle Rau. Brown has been mostly mediocre since arriving back in his home state. Rau, on the other hand, has a knack for playing in big games in lower levels including a Minnesota State High School championship for Eden Prairie. He also played in two Frozen Fours during his time at the University of Minnesota. Rau could be a key player for young WIld players and AHL players to look to, especially in a quick five-game series.
Minnesota would like to bring in Kirill Kaprizov, no doubt, but some reinforcements and an injection of youth to the big club as the Wild try for the Stanley Cup in a absurdly weird year can offer roster flexibility and more options for the coaching staff.