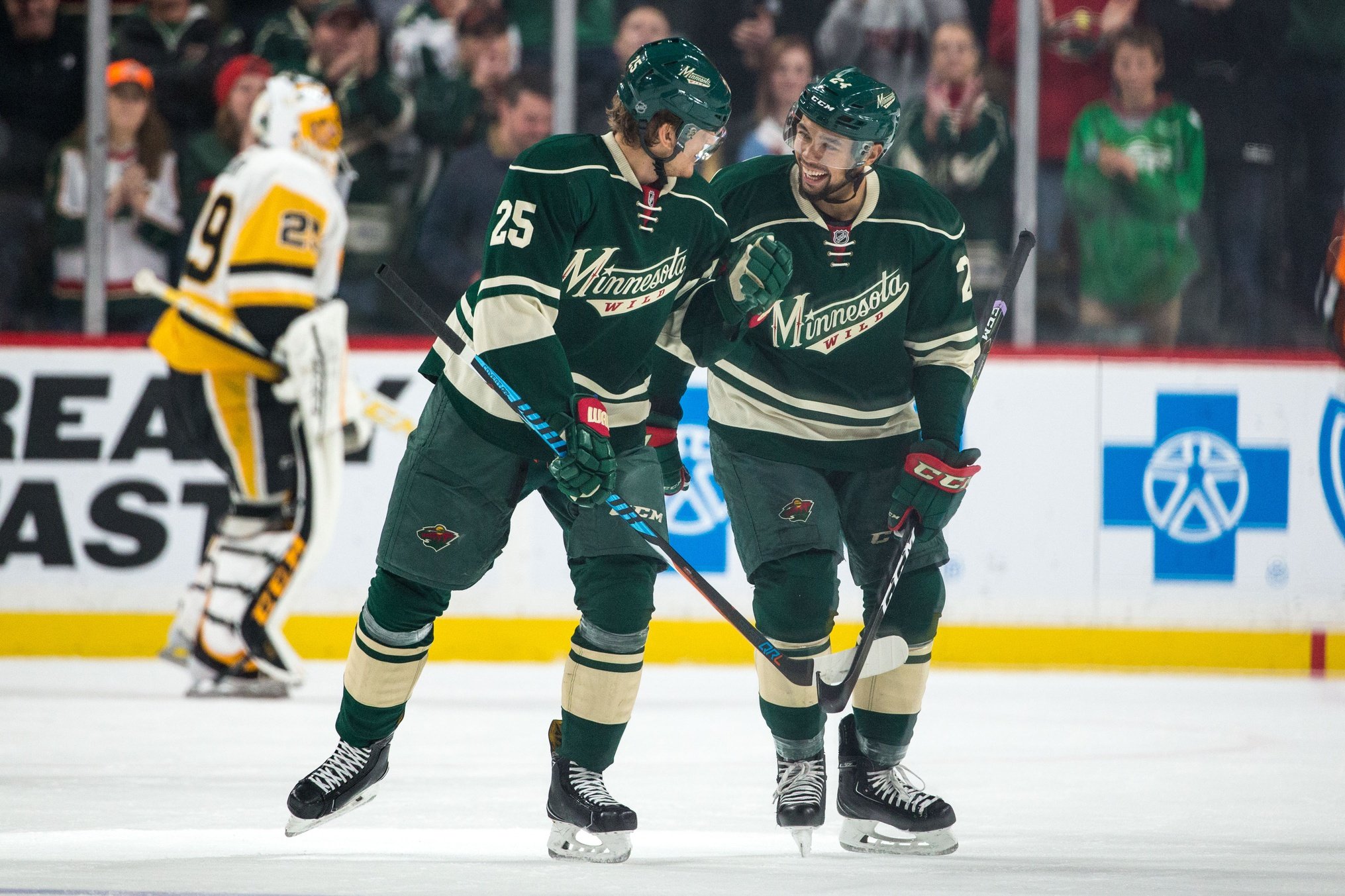 This offseason will be general manager Bill Guerin's first helming the Minnesota Wild's eternal search for a No. 1 center. Guerin just got an up-close look at what happens to teams without center depth: They get eliminated early. Often by teams that are strong up the middle.
So now what? Unfortunately, it doesn't seem much help is on the way. The Wild's organizational depth is thin down the middle, even in their prospect pool. The free agent market lacks top options, and elite centers are unlikely to fall to Minnesota's ninth overall draft slot.
That leaves us with the trade market. A flat salary cap gives Minnesota a big opportunity to add talent. Big-spending teams won't have the cap room to make improvements during the free agent market. Some won't have the funds to re-sign their high-priced youngsters.
But to get, you've got to give. Luckily, Minnesota has two great trade assets in Jonas Brodin and Matt Dumba. They're two top-pairing caliber defensemen in their primes at affordable prices. It's considered a foregone conclusion that to get a center, they'll have to part with one of them.
Does this have to happen, though? Can Minnesota trade for a difference-making center and keep their strong blueline together?
Why Brodin and Dumba are Still Needed
The Wild have a ton of flaws to be addressed. We already discussed the lack of center depth. Minnesota's goaltending was atrocious. And outside of Kevin Fiala and (hopefully) Kirill Kaprizov, the Wild don't have a lot of dynamic, creative offensive talents.
Those issues need to be fixed before taking the next step, but their defense corps is championship caliber. Some teams don't have a No. 1 Defenseman. Minnesota arguably has four.
Over the past three years, Jared Spurgeon (sixth), Brodin (14th), Ryan Suter (26th) and Dumba (30th) were all top-30 defensemen in Wins Above Replacement. No other team can boast that kind of depth.
It came in handy for Minnesota in the playoffs. Outside of Fiala, Brodin and Dumba were probably the best players on the Wild in the qualifying round. They controlled 61.1% of the expected goals at 5-on-5 and were the only defensive pair to out-score Vancouver. When Spurgeon and Suter struggled, it was Dumba and Brodin keeping them in games.
Trading one of them, even for a high-caliber center, solves a problem by creating one elsewhere. Moving Brodin means Minnesota loses their ability to roll a defensive ace for 45-plus minutes a game. The Wild's depth along the left side of the defense is thin, as well. Suter is about to turn 36 and Minnesota has no blue-chip left-shot defensemen prospects.
Dumba would be theoretically easier to replace, with either Brennan Menell or Calen Addison playing right defense. But can his skill set be truly replaced? Dumba is the only Wild defenseman who truly drives offense at 5-on-5. No one can match his shot and dynamism, meaning his departure loses the team a much-needed X-factor.
Besides…
Is the Price Right?
Both defensemen on Minnesota's second pair are brilliant players and clearly two of the best assets the team has. Does that mean either will be able to bring back a potential No. 1 center?
Brodin is one of the best shutdown defensemen in the league, and is coming off a career-high 28 points. His contract would be easy to accommodate, with just one year remaining and a $4.17 million cap hit. But even with those pluses, it's hard to see Brodin being the centerpiece to a trade involving a star center.
While Brodin is a great defenseman, his point production will always be a knock on his trade value. Top-6 centers are the most valuable asset in hockey, and it's hard to see a GM trading one with a 30-point defenseman being the main return.
Dumba may have had that value two years ago. He put up 50-points at age-23 and racked up 12 goals in 32 games to start 2018-19. Then a ruptured pectoral muscle ended that season, and the injury clearly affected him this season. Dumba had a career-low six goals, leaving doubt as to whether he can regain one of the deadliest shots in hockey.
The flat salary cap also hurts Dumba's trade value. If coronavirus never hit, Dumba's contract (three years remaining at $6 million) would be easy to take on. But with the cap staying at $81.5 million, even teams that could desperately use a right-shot defenseman may find it impossible to bring in Dumba.
Are the Wild stuck? Two of their best trade assets won't be enough to bring in a No. 1 center. And even if they do, moving either hurts their ability to compete now.
It's time to get creative.
How to Keep the Pair… and Get a Center
Getting a center isn't easy, as evidenced by the Wild's long and storied history of not getting them. This deadline was no different. Word was that Guerin was shaking every tree to shake one loose, and came up empty. Teams don't want to give up centers, ever.
The flat cap might provide just enough duress to create an opportunity, if Guerin can make it work. And there's no ignoring the fact that two of the teams in cap hell have potential solutions to Minnesota's center problem.
Toronto has $7.8 million in cap room for next year and needs two right-shot defensemen. They conveniently have William Nylander, a young offensive star with center experience. Tampa may be in even worse shape. They need to replace the entire right side of their defense and re-sign young stars Anthony Cirelli and Mikhail Sergachev. They have $5.3 million to work with. Oh, and Cirelli happens to be one of the league's best two-way centers at age-23.
Neither team is helped much in taking a Dumba contract. Sure, they get a player they need, but their cap problems aren't solved much. What they need is cap space.
Fortunately, Minnesota could accommodate that. Addison is one of the best right-shot prospects in the game. He's only 20, but it's becoming more and more common for young defensemen to step into regular NHL minutes and thrive. That would free up a massive amount of cap space for either team.
Of course, Addison and $5-6 million of cap room isn't enough for a top center. It's hard to imagine the Wild keeping their upcoming ninth overall pick in this scenario. Minnesota may have to give another pick or prospect, or take on more salary. But the framework feels plausible.
A Winning formula?
If Guerin manages to pull off a trade that a) lands him a bona-fide center and b) keeps his blueline intact, next year suddenly looks very interesting.
Minnesota would have an offense led by a (potential) No. 1 center, as well as dynamic wingers in Fiala and Kaprizov. Beyond them is a solid supporting cast at forward, particularly defensively. The defensemen would again be a strength, especially if Dumba regains his form. All they'd have to do is fix their goaltending, and this looks like a winning formula.
And "winning formula" doesn't merely mean "good enough to make the playoffs". Teams composed this way have taken deep runs lately. Nashville rode a team that like that to a Cup Final in 2017. That was also the blueprint St. Louis employed last year to win their first ever Stanley Cup.
Nothing is guaranteed, of course. Any center that would realistically be traded to Minnesota would have to prove that they could thrive in a No. 1 center role. And there are other factors, as well. Fiala will need to repeat his superstar turn. Kaprizov would have to show he's the real deal. Like any other team, they're gonna need goaltending, health and luck.
After the disappointing loss to the Canucks, many are leaving Minnesota for dead. And they're right to do so -- the team, as currently constructed, is simply not good enough. But trading for a No. 1 center without taking away from the roster opens up opportunities that wouldn't exist otherwise. Suddenly this exact team, plus a bona-fide center and Kaprizov, would be one of the most interesting and rosters in franchise history.
All Guerin has to do now is complete the Wild's endless, quixotic chase for a No. 1 center. Best of luck.