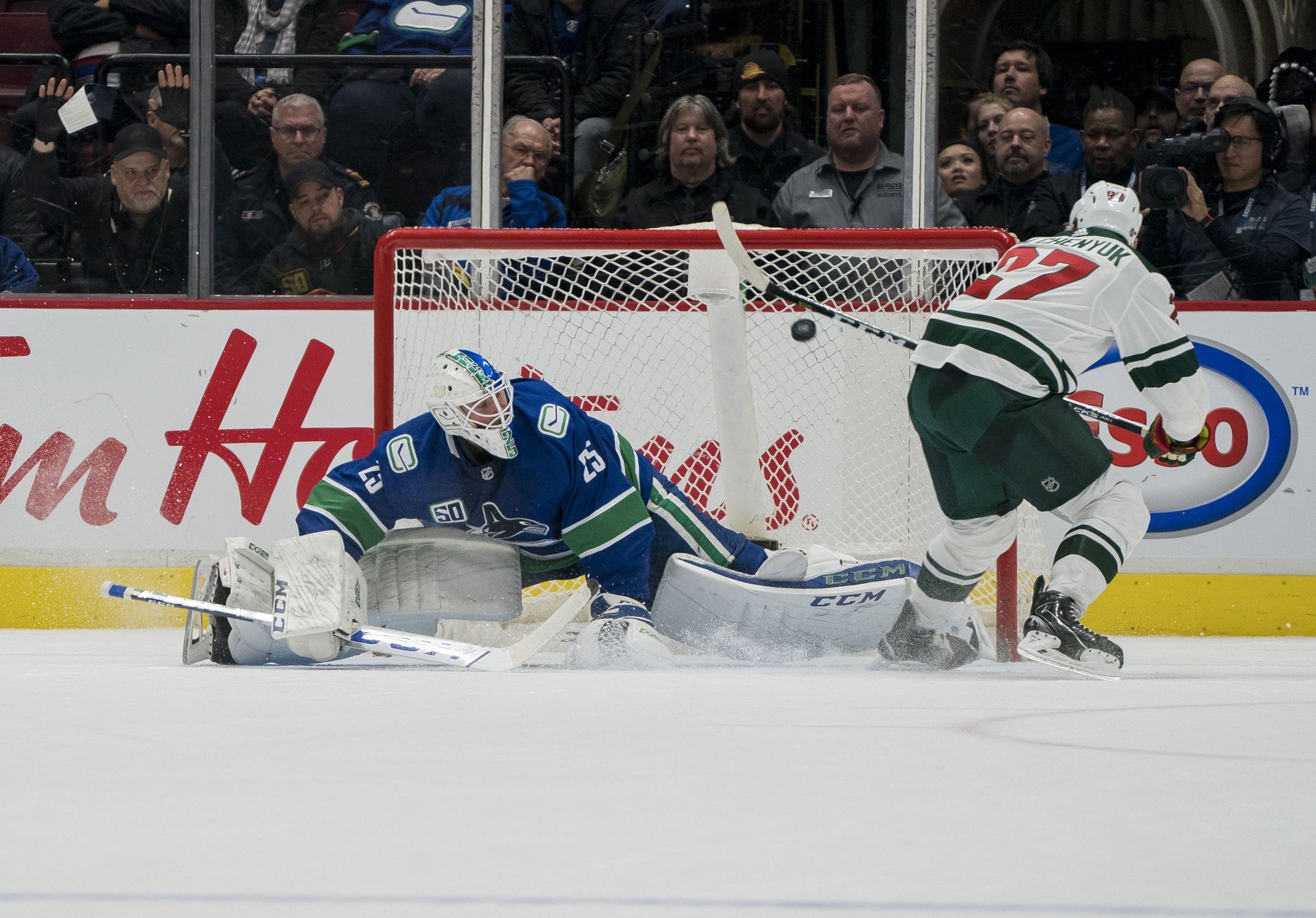 We took a look at the Vancouver Canucks strengths on Tuesday. To summarize: The Canucks have a great amount of shooting talent and reliable goaltending. It's a combination that led them to the playoffs.
But Vancouver was just one point ahead of the Minnesota Wild, which has flaws itself. So while the Canucks are going to be scary, they certainly aren't indestructible.
We've got good news for anyone terrified of Vancouver's offensive stars shooting on the Wild goaltenders. We're taking a look at Vancouver's weaknesses. What flaws can Minnesota take advantage of? Let's find out.
Secondary Scoring
Vancouver's star power lies in the talents of forwards Elias Pettersson, J.T. Miller, Brock Boeser and Bo Horvat. But what lies beyond that?
Not very much. The Canucks had just three other forwards to crack 20 points on the season: Tanner Pearson, Jake Virtanen and Adam Gaudette. That lack of scoring depth pales in comparison to Minnesota. The Wild had 11 forwards score 20 points this year (12, if you count the traded Jason Zucker).
The drop-off from Vancouver's stars to the rest of the team is most apparent at 5-on-5 play. Pettersson in particular had a Connor McDavid-like impact on the Canucks. When Pettersson was on the ice at 5-on-5, Vancouver scored 3.95 goals per hour. To put that in context, the Tampa Bay Lightning led the league with 2.94 goals per hour. When Pettersson was off the ice, the Canucks dropped to 2.05 goals per hour, worse than all but two teams.
It's the downside of having a team that loads up their top line the way Vancouver does. When Pettersson and Miller are on, it works great. But if the Wild manage to shut down Pettersson's line, Vancouver has precious little scoring punch to work with.
In fairness to Vancouver, they did try to address this issue at the deadline. General manager Jim Benning acquired Tyler Toffoli at the deadline. Not only did Toffoli score 10 points in 10 games, his presence allowed Boeser to drop to the second line. The Canucks could also find more playing time for Gaudette, who had less than 13 minutes a night. But even with these tweaks, there's going to be a lot of time where Vancouver has to ice the likes of Brandon Sutter, Antoine Roussel and Loui Eriksson.
Indefensible
Vancouver's blue line was led by young star Quinn Hughes. Hughes stepped into the Canucks lineup as a rookie and led the unit in time on ice and points. He was a true driver of offense. But Hughes wasn't alone. Alexander Edler logged a lot of minutes and put up 33 points, and Troy Stecher succeeded in a third-pair role.
But the rest of the defense was shaky at best. Chris Tanev, normally Vancouver's shutdown defender, had arguably his worst season ever. And Tyler Myers, Oscar Fantenberg and Jordie Benn were all below replacement level according to Evolving Hockey's metrics.
Worse yet, there wasn't much chemistry between the defensemen. Out of Vancouver's nine defensive pairings that logged 100-plus 5-on-5 minutes, only one controlled 50% of the expected goals (Hughes and Myers).
With no standout defensive pairing or shutdown defenseman, the Canucks constantly found themselves exposed in their end. The Canucks surrendered 2.55 expected goals per hour at 5-on-5, 25th in the NHL. Minnesota was second in the league, thanks to their blue line's strength. The Wild's defensive advantage will be the biggest match-up problem for Vancouver. Particularly if the offensive life Minnesota showed under Dean Evason carries over to the playoffs.
Penalty Killed
We talked about Vancouver's power play dominance on Tuesday. On the flip side of special teams, the Canucks can be exploited.
Granted, the Canucks didn't get awful results when shorthanded. They successfully killed 80.5% of their penalties, which ranked 16th in the league. But the underlying numbers suggest goaltending covered up some defensive issues.
Vancouver gave up 7.39 expected goals per hour when shorthanded, 26th in the NHL. Of the seven Canucks to play 100-plus shorthanded minutes, only Benn and Tim Schaller provided above replacement level defense.
The Canucks were fortunate enough to get rock solid goaltending on the penalty kill. Vancouver's .876 save percentage when shorthanded was good enough to sneak into the NHL's top 10. But if that slips at all during this short series, Zach Parise and Kevin Fiala can make them pay on the man advantage.
Vancouver has some major advantages entering this series. Pettersson is an MVP, Jacob Markstrom is solid in net, and the Canucks have some high-end offensive firepower. But their depth is iffy and their defense leaves a lot to be desired. All in all, Vancouver and Minnesota is about as evenly matched as it gets.
Anything can happen in a five-game series. But the blueprint for a Minnesota victory is simple, at least on paper. Use their defense to smother Pettersson's line as best as possible, win the remainder of the matchups with their superior depth, and pray that their goaltending won't hurt them. It's easier said than done, especially with a legitimate MVP candidate on the other side of the ice. But it is entirely within the realm of possibility.