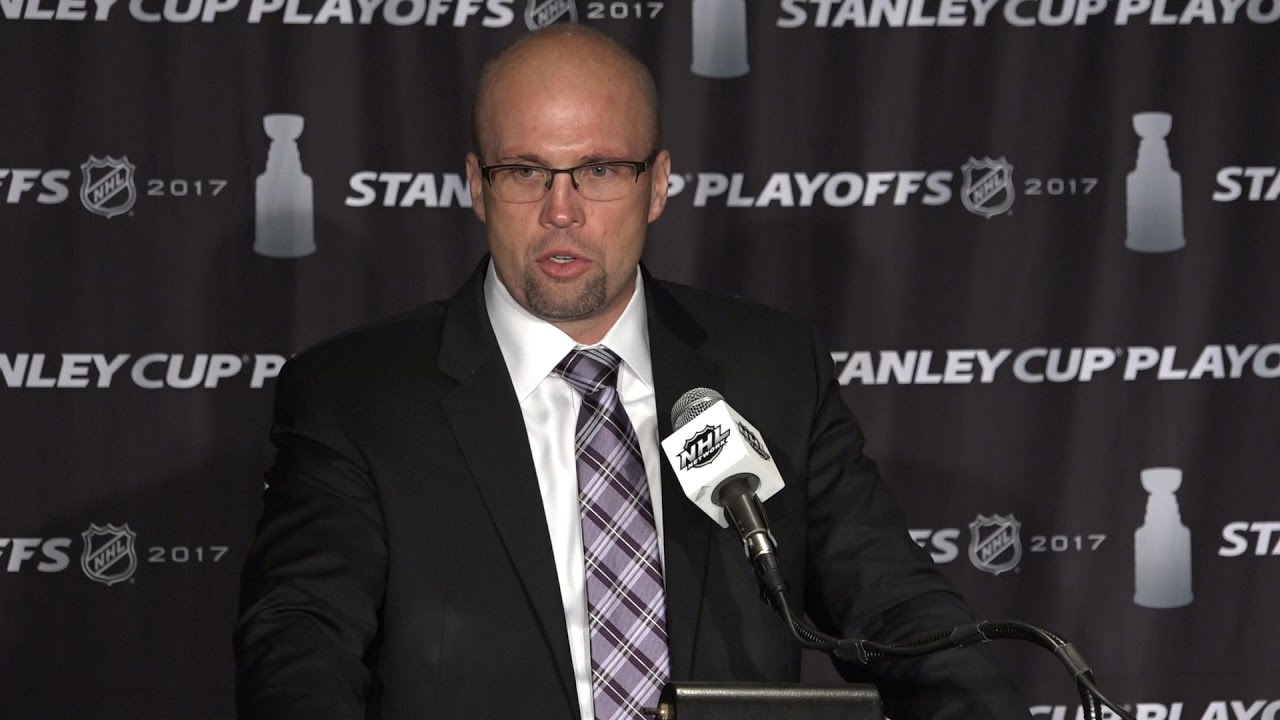 They weren't the better team, but they won four games.
-- Wild head coach Bruce Boudreau after Minnesota was eliminated from the playoffs
It's easy to dismiss Minnesota Wild head coach Bruce Boudreau's sentiment that he was coaching the better team in the playoffs. It's also easy to think that the Wild would have been better of with former coach Mike Yeo. The first notion is true, although the Wild have underachieved for a while; the second is over-simplistic.
The truth is that the Wild have not played up to their potential in the Parise-Suter era -- certainly in the recent past. It's also a team that undercooked its young forwards and trained in a coach who was in over his head who then beat them in the playoffs in a year when they had over 100 points in the regular season.
It's a classic Minnesota sports story.
The Wild have gotten stuck in Playoff Hell during the Parise-Suter era, just like the Flip Saunders Timberwolves and Ron Gardenhire Twins before them. These are entertaining teams that got stuck in the early rounds of the playoffs and never capitalized on their best players starpower when they were in their prime years (Kevin Garnett with the Wolves, Joe Mauer with the Twins, for example).
"What is this, five years in a row? I'm sick of it," center Erik Haula told the Star Tribune after the playoff defeat. "We're all sick of it."
Beyond losing to the coach they chased out of town, the Wild's playoff defeat was a colossal failure on par with the Vikings teams that lost to the Atlanta Falcons and New York Giants at the turn of the century. They were by far the more skilled team, and Zach Parise and Ryan Suter will be 33 next year. Mikko Koivu will be 35. Most athletes don't fare well, or at least become inconsistent, once they are on the wrong side of 30. For some reason 33 tends to be when things go wrong.
Forwards tend to be at their best in early 20s and retain 90 percent of their scoring through age 29
Suter might be the next Nicklas Lidstrom and cyborg his way through his 40s -- defensemen tend to age a bit better. But forwards? According to an SB Nation study, forwards tend to be at their best in early 20s and retain 90 percent of their scoring through age 29, but then drop off dramatically from there.
This is something the Wild should have been aware of when constructing their team. Unfortunately, it appears to be disregarded entirely. Hindsight is 20/20, of course, and there are many Wild backers out there that have incinerated their Vanek jerseys at this point. But giving 31-year-old Jason Pominville a five-year, $28 million contract did not, and should not have, panned out. Same goes for the three-year, $19.5 million deal they gave Thomas Vanek.
Throw trading two second-round picks for 30-year-old Matt Moulson into that pot. Trading for 31-year-old Dany Heatley? Yep. That 13-year, $98 million deal they gave Parise? We'll see, especially with all the physical play he endures year after year.
The matching $98 million contracts that Parise and Suter got are easier to justify, even if they're higher risk. They breathed life into a franchise that was losing its luster, and it made sense to create a leadership group around Koivu, the team captain, to help guide the young stars into the playoffs.
https://www.youtube.com/watch?v=FDpUr_EHn1s&list=PLp39YxmApRE075tKKGc5bHHNRnOxibRqV
The issue is that it made life harder for Yeo, the minor league coach they called up to replace Todd Richards the year before Parise and Suter arrived. The Wild obviously didn't know they'd be getting both players, so putting a man behind the bench who coached the team's most promising young players made sense.
Unfortunately, the sudden windfall of landing the two best players overwhelmed Yeo, who ran out of answers and stopped talking to his players after games and flipped out and smashed a hockey stick over the boards during practice during a couple of the swoons he oversaw on a yearly basis. The Wild swooned again this year, of course, meaning that it may be built into their DNA. It also was a harbinger for their early defeat in the playoffs, according to FiveThirtyEight.com. Bad habits are hard to break, apparently.
Yeo also deferred to his veteran players, giving them more ice time than his young forwards, reducing the likelihood of his team to win. This led to a rift in the locker room, which ultimately turned on him. "It just felt like there were almost two groups," Yeo said in a Q&A after he was fired. "There were younger guys and there were the older guys. It wasn't just a group." Which makes sense, since his promising young players were probably wondering why the diminishing 30-year-old players were being deferred to. Hard to blame them.
Basically, Yeo learned on the job, which blew threw some of the best years of his young forwards and Parise and Suter's physical prime. Then he beat his former players in the playoffs. The Wild really only have themselves to blame on this one.
He was gracious in victory. "It's not about me, and I've been sincere when I've said that,'' Yeo told the Star Tribune, adding that some players wished him well in the handshake line. "I don't think what I'm feeling right now would be any different if it was any other team."
That seems like a bit of a white lie, but that's not what is important right now. Yeo is a better fit with the Blues, a lesser-skilled, but larger and more rugged, team that showed they, like the Nashville Predators, can stifle a better team if they score first and have the better goaltender in the series.
The lesson learned for the Wild is that 20-year-old forwards are better than 30-year-old forwards. All those burnt picks? All that wasted money? That's not the owner's fault, he did what owners are supposed to do -- spend money and stay out of the way. That ultimately lands at the feet of Fletcher and was accentuated by Yeo.
The focus of this franchise going forward should be establishing a strong defensive corps and the development of its young forwards. Hope resides in Charlie Coyle, Nino Niederreiter, Mikael Granlund and Jason Zucker. It also manifests itself in prospects like Jordan Greenway, Alex Tuch, Joel Eriksson Ek and Kirill Kaprizov. Those are the players that can make a difference.
In the end, the reality is that the best team in the NHL is the one that wins the President's Trophy, which the Wild are capable of doing. The Stanley Cup, on the other hand, goes to the team that avoids elimination in the tournament at the end of the season. In short, the most skilled team in a series doesn't always advance, something the Wild knows all too well right now.