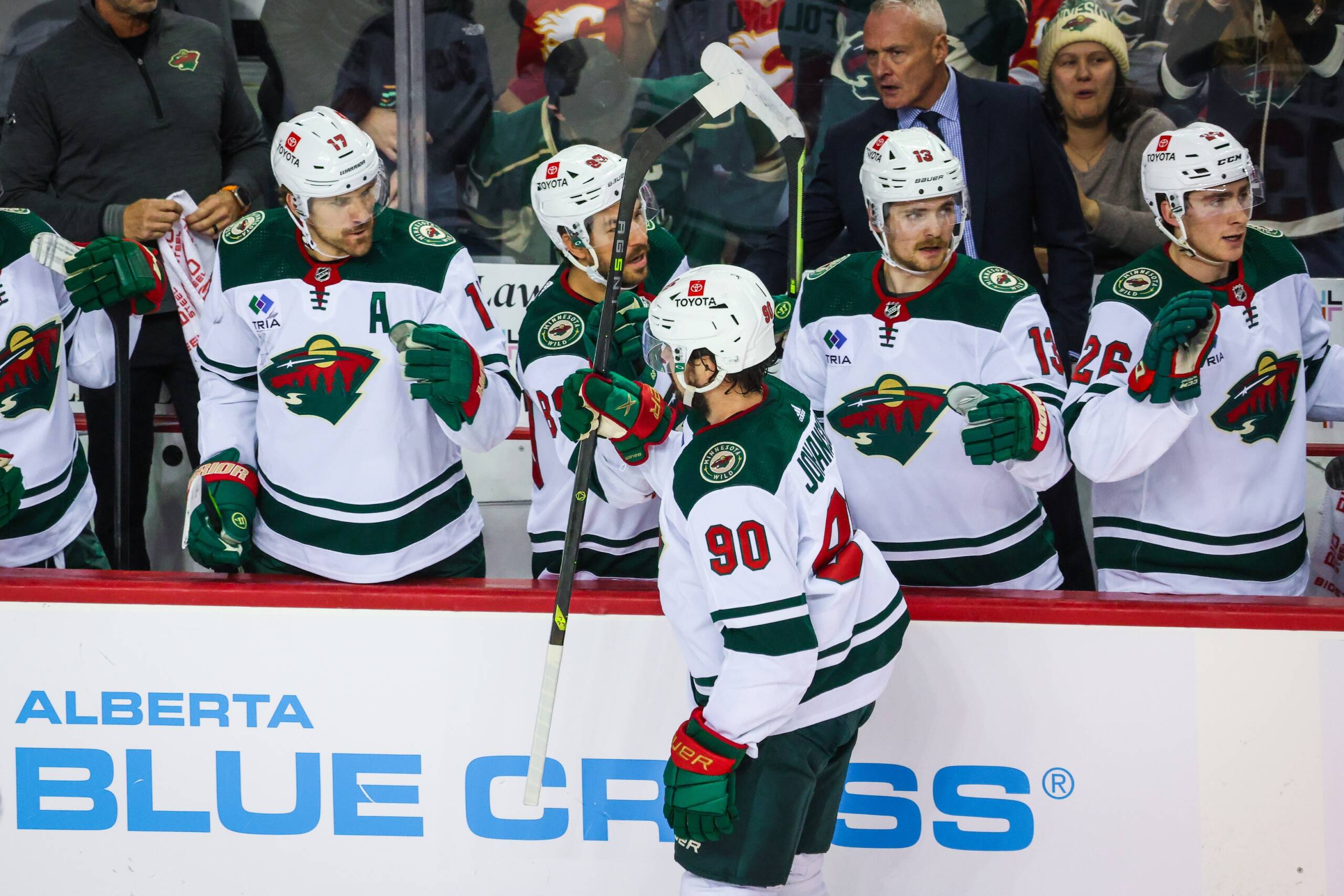 What the hell?
How could they do this? He's not going to help Matt Boldy. He's not going to fix the Minnesota Wild's scoring woes. A third-round pick? I wouldn't take that schmuck if he was free! Is this what the Wild are going to do at the deadline? Brock Boeser and Patrick Kane are available, and we got Marcus freaking Johansson… again! This team is doomed. I can't believe they could even fathom a move like this. Fire Bill Guerin. Fire Dean Evason. Fire everybody! I hate this cursed team.
*deep breath*
This is not the first time Marcus Johansson has arrived in Minnesota to a not-so-warm welcome. The first time the Wild acquired Johansson in a one-for-one trade, it was for fan favorite Eric Stall. Johansson's first stint with the Wild was rather disappointing. Injured and unproductive, he left Minnesota in free agency after only one season. It became a bad dream for the Wild faithful. Never to be thought of again, Marcus Johansson's time in Minnesota was over.
Until Guerin picked up the phone at this year's deadline.
I was a part of the group of Wild fans that was confused, angered, frustrated, and hurt by the first dominos in Minnesota's trade deadline strategy. However, after a good night's sleep and some time to think, I calmed down and came to a conclusion.
Different players, different teams, different times, same old Marcus Johansson.
Right?
Two goals, and eight points in nine games. Mind-blowing.
I didn't think it was possible or would even happen, and neither did you. Don't lie.
Instead, 'JoJo' could have been even more productive. He would have had a 4-point game if the officials would not have overturned two goals in the Boston Bruins game. That would have put him at an over-a-point-per-game pace. Johansson has been on an unprecedented run on the Joel Eriksson Ek-Matt Boldy line.
At best, Johansson is an above-average middle-six winger. He's eclipsed 50 points only once in his career and has struggled to play a full season.
He had not been particularly effective before joining the Wild again. Johansson has been a completely different player than he's shown for the better part of the last three years.
As 10K Rinks noted earlier, Johansson has not been effective at all over the past few seasons. He did not play well at even strength, and he was a poor offensive player in general.
'Unfortunately... Last year, he had almost 900 5-on-5 minutes with the Seattle Kraken and Washington Capitals, and he only scored 1.22 points per hour. This year, he's been even worse at 5-on-5 than he was with the Wild. There are 307 forwards in the NHL with 500 or more 5-on-5 minutes. Johansson ranks 297th with 0.92 points per hour.'
There are a couple of things that Johansson has this time that he did not have last time.
The first is his health.
Johansson only played 36 of the 56 games possible in his first stint with the Wild. He's finally gotten healthy and confident and is back to producing like his old self. Maybe even better.
"There was a lot of injuries,  and a lot of missed games and I didn't really play my best hockey in that time either," Johansson said. "Now I feel like (since the) end of last year, and this year I've got back to playing how I used to play and feel like I'm back to myself and (have) some confidence back and some jump in me and enjoying it a lot right now. I just feel like I've found myself a little bit again."
The second reason is his role on the team.
The last time he was in Minnesota, the Wild plugged Johansson into a role that did not suit him. They slotted him in to replace Eric Staal; something that he was never capable of. Jojo was never a dominant goal scorer or offensive force. While he has the ability to play center, Johansson is much more suited to play wing.
That Wild team needed him to shoulder a lot more of the offensive load instead of the role he has been successful at for the majority of his career. Playing behind the likes of prime Niklas Backstrom and Alexander Ovechkin will certainly help production. When Johansson was slotted in at 1C for the Wild, the spotlight was on him. He's not capable of being the backbone of any team's offense, and it was foolish of the Wild to play him like that. Guerin and Evason seem to have learned their lesson this time around.
The last reason:
Matt Boldy.
Boldy has been on an absolute tear lately. His production has been off the charts since Kaprizov's absence. Boldy has been the Wild's best forward lately. He's had nine points in the last six games, including a hat trick on Sunday against the Washington Capitals, Johansson's former team.
Boldy has had some high praise for his new teammate.
"We play similar, but in terms of how we think the game, we want to produce," Boldy said. "We want to be creative and make plays, but we're pretty solid and can protect pucks and play in the hard areas. Obviously, the way he skates makes it pretty easy for me to be able to get him pucks when he's moving that quick."
Their chemistry together has been clear to everyone, including Dean Evason.
"JoJo obviously has a vision, but I think it starts with his legs," said Evason. "He creates a gap because he pushes defenses back, and that's why those plays can open up too. They've got a chemistry for sure."
The duo has been able to push the pace and has been skating circles around opponents. They both play fast and skilled games. Eriksson Ek's defensive presence allows the wingers to play more freely in the zone and take more chances knowing he will have their backs with his staunch defensive play.
The pair has shown a Kirill Kaprizov-Mats Zuccarello level of chemistry so far, and that's a welcome sight. The duo has helped lead the Wild offense to third in the league in goals per 60 with 4.13. Minnesota's overall shooting percentage has also skyrocketed from the worst in the league to almost 13% since Kaprizov has been out of commission. They were able to keep a franchise record point streak alive while the franchise player is injured.
If the Wild can do all of this with Kaprizov out of the lineup, just wait until he draws back in.
Johansson's underlying numbers are meh, in general. Nothing too bad but nothing extraordinary. He does not stick out in any particular category. Johansson's raw point totals and the way he pops off the screen don't lie though.
Maybe Jojo is just hot. Players, lines, and teams all go through stretches where they'll play some terrific hockey. Johansson's recent stretch is something we did not see the last time around. He's healthier, hungrier, and in a position to succeed. He immediately had a great connection with Ek and especially Boldy.
It's clear now that the overall fan mentality about the Johansson trade was wrong. Nobody was expecting this kind of production from Johansson. While he might not be as good as he once was, Johansson is as good as he ever was this time around.
All data via MoneyPuck, Natural Stat Trick, and Evolving Hockey unless otherwise noted.