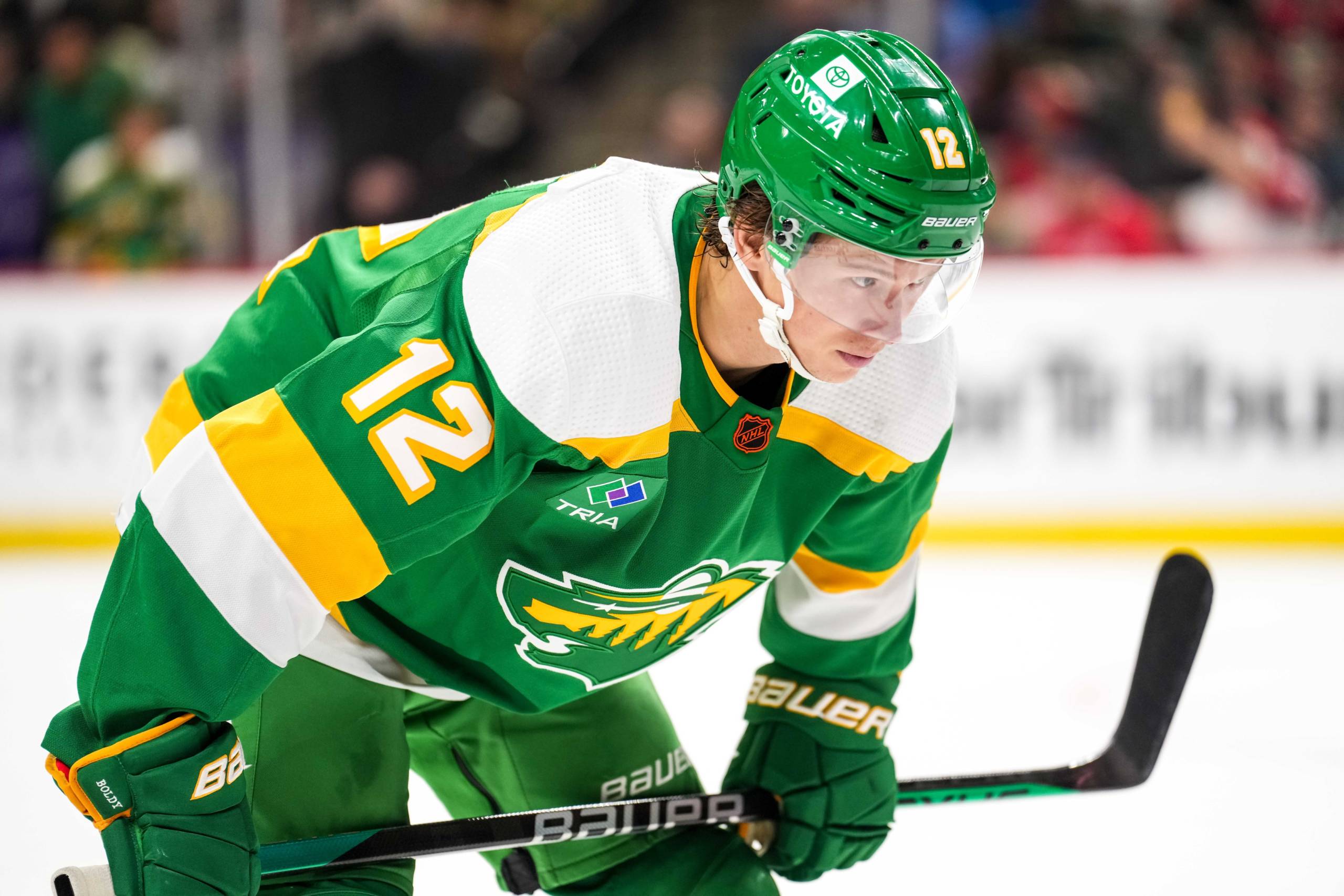 Any time someone in hockey makes a "Best X" list, there will be 32 fan bases picking apart their list. This is almost always for two reasons. The first is that the guy on their team wasn't high enough. The second is that the guy on their team wasn't included.
Homerism is obviously a huge factor in this, but it's also because these lists are inherently subjective. Beyond that, they're not binding in any way, either. Who cares if a player is on a list or where they fall on it? It's not like a player becomes magically better or worse from being on one.
Whether they come from the NHL or the media, these lists take the temperature of what players register with the minds of the hockey world. And that's the reason to care about the NHL-wide Top-25 Under 25 list Bleacher Report released yesterday.
Not pictured? The Minnesota Wild's Matt Boldy. Again, none of this matters materially, but it's an instance that shows that Boldy's not yet seen as one of the premier young players in the league. With the mountain of evidence he's piling up on a game-by-game basis, that's becoming more and more inexcusable.
On Wednesday night, Boldy went off for a goal and two assists in a win against the Anaheim Ducks, bringing his season totals up to 12 goals and 25 points in 32 games. It's a boost in goals per game (0.38 from 0.32) and roughly the same points per game he posted in his rookie season, despite losing running mate Kevin Fiala (0.78 from 0.83).
What's holding Boldy back from getting a bigger reputation throughout the league? It might be that his point totals this year, while good, aren't quite near enough to the point-per-game mark for some folks' liking. It also might be that he hasn't taken a gigantic leap from his rookie season.
You wonder, then, if some of these problems can be solved by not looking at Boldy's career as two separate half-seasons. Boldy played his 79th career game Wednesday. Seventy-nine games are about what you could expect from a healthy, full regular season of play. What if we viewed his past year as one entity, instead of two?
We'd be talking about a stat line of 27 goals and 37 assists for 64 points in his rookie year, essentially. How good is that?
Since the 2004-05 lockout, Boldy is tied for 19th among all players for most points through their first 79 games. He's tied with star players in Jonathan Toews and Mitch Marner. He's two points ahead of where Johnny Gaudreau and Nathan MacKinnon were through 79 games. And among the list of players currently Under 25, only Jason Robertson (75), Elias Pettersson (74), Cale Makar (72), and Patrik Laine (68) were ahead of him at that point in their careers.
Speaking of careers, Boldy's career scoring rates blow the field out of the water. Boldy scores 1.25 goals per hour and 2.96 points per hour in all situations for his career. That ranks him fourth among this Top-25 list, with Robertson and Pettersson surpassing him in both categories, Cole Caufield beating him out in goals, and Jordan Kyrou edging him out in points.
Even since the start of last season, when more of these players are coming into their primes, Boldy still shines. He's eighth in goals per hour and ninth in points per hour. That's a pretty good case for Boldy to leapfrog about half of this list.
Boldy doesn't just excel in scoring. His all-around impact is extremely strong. Through 79 games, Boldy's delivered about 6.1 points in the standings worth of value to the Wild. That's extremely good! Usually, 6.1 Standings Points Above Replacement (or SPAR) is enough to make someone a Top-25-to-30 skater in the league.
But some of these players have yet to deliver that SPAR for their teams in their careers. Looking at his fellow 2019 draftees, Boldy's surpassed them all but Jack Hughes. Trevor Zegras (4.2 SPAR), Caufield (3.2), and Moritz Seider (2.6) don't really come close to matching Boldy's impact, despite playing 31-54 more games.
That remains true for players who have a pretty big head start on Boldy. Noah Dobson has 3.8 SPAR, despite playing 193 games, more than twice Boldy. Martin Necas is at 4.4 career SPAR with 235 games under his belt. Rasmus Dahlin is at 5.5, despite 308 games, or about four times what Boldy has.
You can keep doing this as you go up the list of these players' career SPAR. Kyrou has 8.4 SPAR on his career, a touch over two points more than Boldy, but in 204 minutes. Andrei Svechnikov and Brady Tkachuk have 8.6 and 9.4, respectively, but in over 300 games. Can we really say they've been more impactful than Boldy?
Going on a per-hour basis to put them on a level playing field, only Robertson and Pettersson exceed Boldy's career rate of accumulating SPAR. If you want to just focus on the last two years, the list of players out-performing Boldy per-hour remains at two. Just swap out Pettersson for Hughes.
And hey, again, this doesn't matter. Being on or off a list doesn't make a player any better or worse. It doesn't impact his value on the ice. But if you're sleeping on the idea that Boldy is a premier young player in the league, it's time to wake up. You're denying yourself the appreciation of one of the league's rising stars, and doing that just seems silly.
All stats via Evolving Hockey unless otherwise stated.