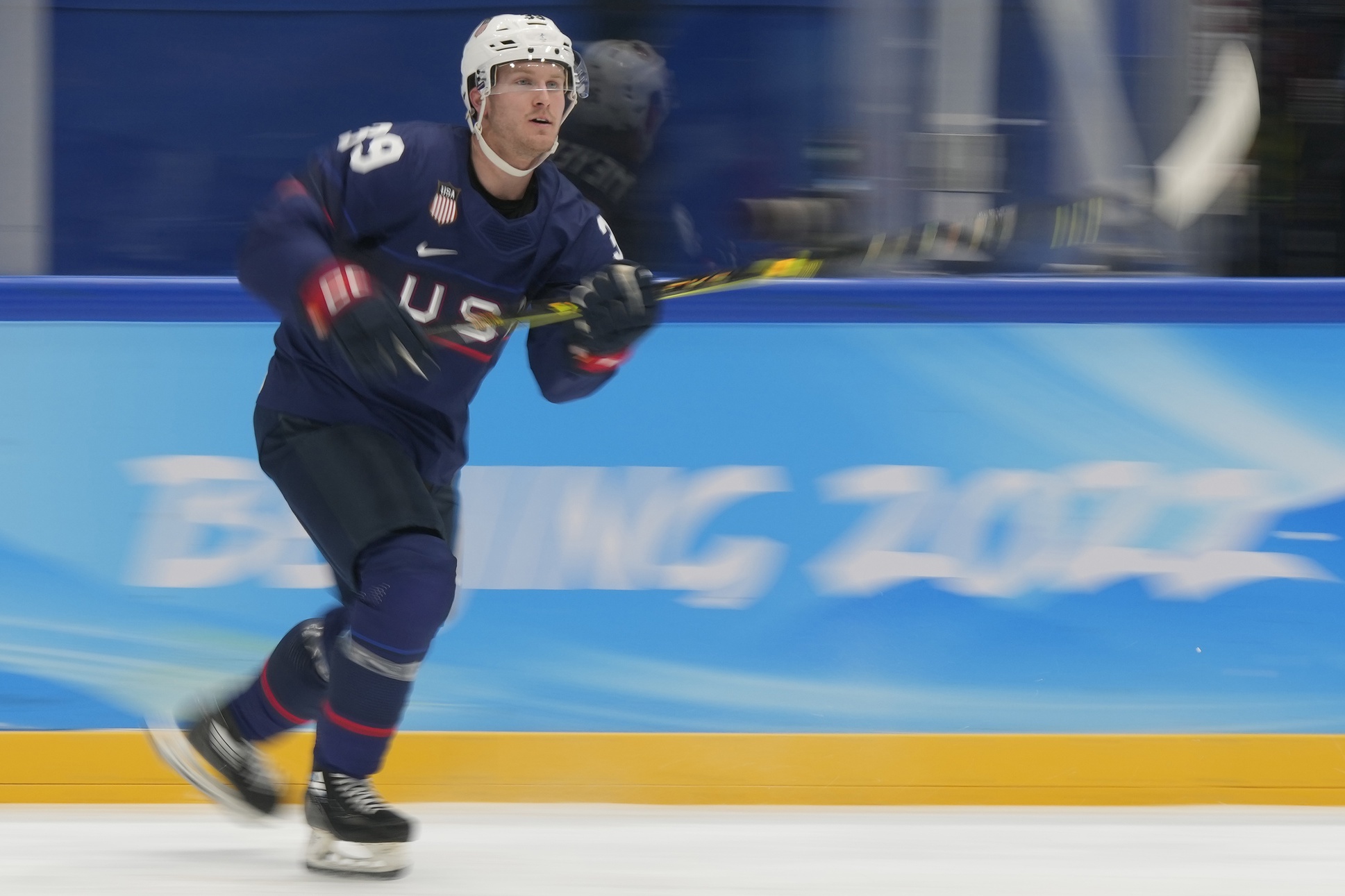 If the Minnesota Wild want to sign coveted college free agent Ben Meyers, they're going to have to wait another week. Meyers and the Minnesota Gophers have punched their ticket to the Frozen Four in Boston. They'll be facing off against the Minnesota State Mavericks this Thursday. The other matchup features the University of Denver against powerhouse University of Michigan.
The NCAA tournament is often a great time to get a good look at the college players that went undrafted. This year's crop is very talented, and Meyers is at the top of the list for many teams.
The Gophers are heading to the Frozen Four this week thanks to Meyers' overtime game-winning goal against UMass. This is the first Frozen Four trip for the Gophers in eight years. Their path wasn't easy, either, as UMass was the defending champs. The Gophers won the region on Sunday with a 3-0 score vs. Western Michigan.
This year's Gophers roster is loaded with NHL names. Guys like Brock Faber, Ryan Johnson, Chaz Lucius, Matthew Knies, among many others. But Meyers is gaining recognition on a star-studded roster because he wasn't drafted. Still, at 23 years old, he might be the most NHL-ready player on the team.
Meyers is reportedly the primary target for the Wild in this round of college free agency. He's only a junior, but he's proven that he's ready for the big leagues. His shot is elite, and he can win faceoffs. Plus, Meyers would be a great addition to the Wild, who will be in cap hell for the next few years and will need guys on their entry-level contracts. Minnesota would be more than happy to add a talented young player to the roster for pretty much nothing.
Meyers is from Delano, and while he hasn't outwardly said that he wants to play for the Wild, why wouldn't he? He would be a hometown kid on a team that looks like it has a bright future. Or perhaps he wants to be on a less competitive roster, where he could have a more significant role.
College free agents are always a mixed bag. Yes, there's a reason they went undrafted, but some make it to the NHL and perform well, like Nico Sturm. He is a bottom-six forward and a solid depth player for any team he's on. Minnesota signed him out of Clarkson University, and he mainly played on the fourth line. The Wild traded him to the Avalanche for Tyson Jost earlier this month, and he is a valuable asset on their loaded roster.
Other college free agents aren't so fortunate. It's often NHL-or-bust for the guys who were never drafted. Fans will always consider a high-end prospect who doesn't make it to the NHL as a bust, even though there's not a ton of risk in signing them. Worst-case scenario, they make for great AHL depth. While that doesn't appear to be the case with Ben Meyers, it's always a possibility. However, he projects to be a legit NHL player.
On the other hand, goalies are even more tricky because there are fewer of them on the roster. If the Wild were to sign a free agent like Minnesota State's Dryden McKay or Western Michigan's Brandon Bussi, they could finally have a reliable netminder for the farm team. All three players may not make it to the NHL, but they could help propel Iowa to a Calder Cup win. Most NHL prospects play in the AHL, and winning a Calder Cup is a great experience for guys looking to make a difference in the NHL.
The Wild's goalie prospect pool is not great beyond Jesper Wallstedt, so they could choose to go after McKay. He's arguably the best goalie on the college free-agent market, with a .932 save percentage over 138 career games. The Mavericks have been on a tear the past few seasons and finished on top of the NCAA standings with a 35-5 record this year. Mckay let in only 53 goals all season, and he posted a shutout against Notre Dame en route to the Frozen Four.
McKay has an overall record of 111-19-4, so there's no doubt that NHL teams will be calling. He does come with a few caveats, though. He's 24 years old, so he's probably close to his ceiling as a goalie. And McKay doesn't see too many shots the way the Mavericks play defense. There's no knowing how he would do on a team that is not solid defensively.
The Minnesota State roster doesn't feature nearly as many NHL names as the Gophers. One of the only other players who may sign an NHL contract is defenseman Jake Livingstone. He's a big 6'3" right-shot D-man, and those kinds of players are always valuable. He's only a sophomore this season, so he may choose to play another year for Minnesota State. His decision will probably also depend on the outcome of their Frozen Four game against the Gophers.
The Gophers-Mavericks matchup will be one for the ages. Two Minnesota teams will face off in the Frozen Four for the first time in NCAA history. The Gophers are 27-11-6 all-time against the Mavs, at 27-11-6, but the teams don't often face each other. The two played in last year's Loveland, Colo. regional final, and the Mavs easily beat the Gophers 4-0. There will be plenty of players to watch out for. But with the Wild in the running to land Meyers, all eyes will be focused on him this Thursday.