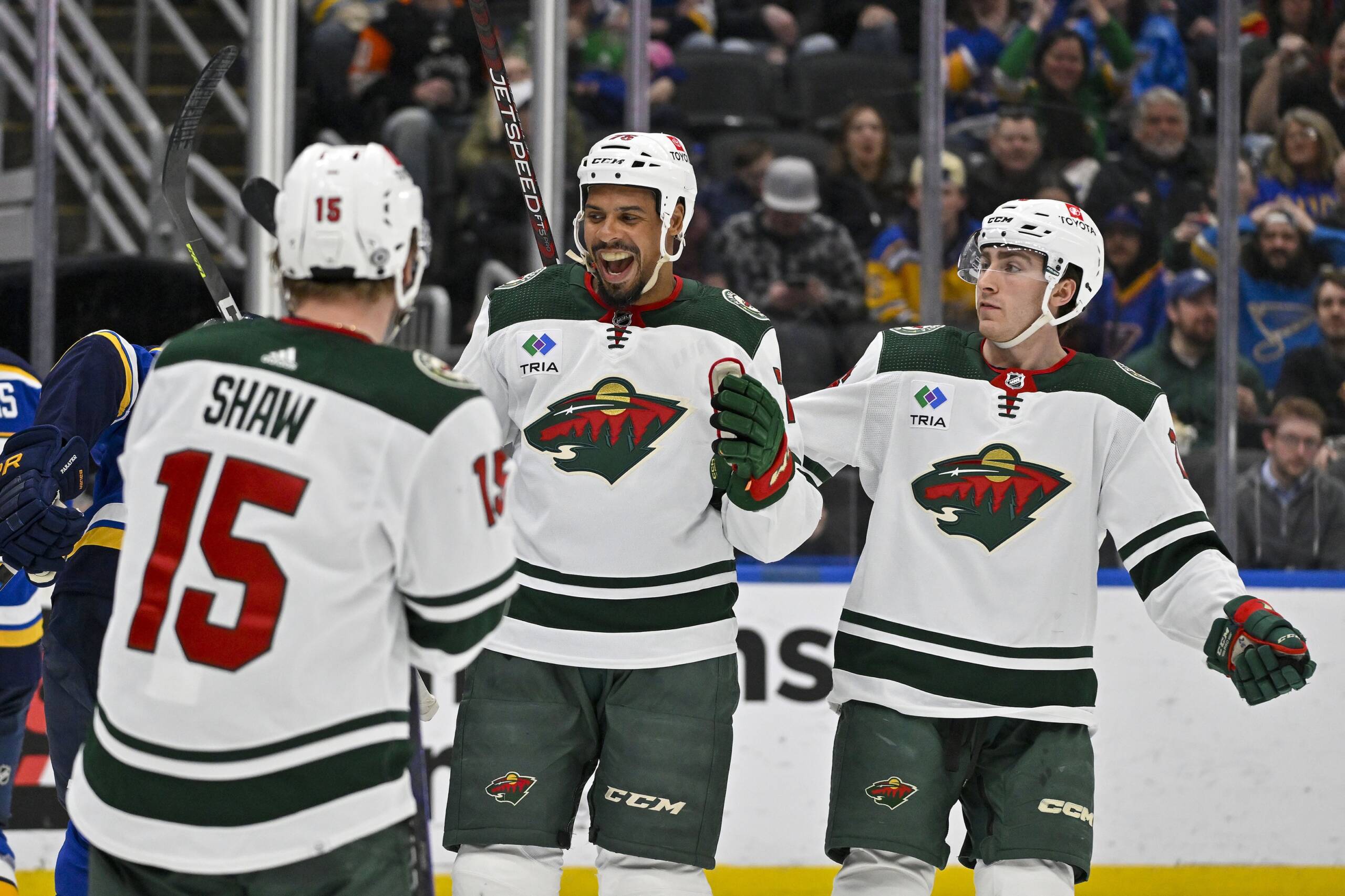 When Kirill Kaprizov went down with an injury two weeks ago, no one was sure how the Minnesota Wild would respond. Would they throw their hands up and be lost without the player who'd been carrying the team on his back? Would there be more injuries as players try too hard to fill the gap? Instead, we're seeing a fourth line that is holding the team together. And when we take a look at the three guys playing on that line, it's easy to see why Dean Evason has kept that line intact even while scrambling the other three.
On the surface, Minnesota's fourth line doesn't seem different than any of the ones other hockey teams use. Ryan Reaves, Mason Shaw, and Connor Dewar fit the old-school profile of pests and enforcers, but they're showing they also bring more modern-day skills to the ice as a fourth line. But unlike other NHL teams, the Wild's fourth line is currently the engine moving the team forward.
Reaves added an instant spark when he joined the team in November. He fits into Bill Guerin's idea of players who both have character and are characters. He's got a great combination of a big personality and a team-first mentality. It didn't hurt that he brought along a size advantage that the fourth line has benefited from ever since.
When Reaves stepped on the ice with Shaw and Dewar, they quickly adapted to being the henchmen to Reaves' Big Boss role. Everyone on the team started standing a little taller and getting a little tougher once they knew they had Reaves in their corner. Shaw and Dewar are already naturally scrappy players, adding Reaves only accentuated the gritty aspect of their game.
But their physicality is only part of the story. In the eight games since Kaprizov's injury, Dewar racked up four points, Shaw's chipped in with five, and Reaves has six, which includes four goals. In a time when secondary scoring needed to step up, the fourth line had no qualms about putting more pucks in the net.
The Wild and Evason, in particular, are proud that the team can roll four lines. There have been numerous occasions where the fourth line squared off with the opposing team's star players and managed to hold their own. That confidence is a key to their production on the ice. Dewar and Shaw regularly play on the penalty kill, where they face the other team's best players. Because they are used to battling star players when the Wild are down a guy, they're also comfortable battling them at full strength.
Off the ice, all three players have fought their way to the NHL. Most know about Shaw's injury-laden background. After three torn ACLs, Shaw was even more set on making it to the big-time hockey stage. The determination that got him through rehabbing his ACL three times is apparent on the ice. He has a never-give-up attitude that shows up in board battles and scrums with players of bigger stature.
Reaves is an unlikely NHL player. Always self-deprecating, he often says all he ever wanted was to get to 100 games played in the NHL. He currently has played in 820 games and is still going strong at 36 years old. It is very apparent that he is grateful for every game he's played. Recently, the goals and assists he's started to tally up almost every game.
In a time where hockey fights are increasingly leaving the game, and there's more focus on speed and skill, it was unlikely that Reaves would play for so long. But Reaves himself has taken the initiative to try and match the new style of hockey. While his physicality is still one of his best qualities, Reaves says he's been working on his skating and speed to keep up with his linemates. He's changed his style of play because he is determined to play as long as he can.
Dewar surprised everyone at the beginning of the season with his recurring short-handed goals. Without sacrificing anything defensively, Dewar takes hold of any chance to score during a penalty kill. As a quieter player, he isn't the character that Reaves and Shaw are. But he has character. Always calculating, Dewar drives the play when he sees the opportunity.
When fans list the best players on the team, they're unlikely to point to the fourth line. But that might be a mistake, at least right now. Sure, Reaves, Shaw, and Dewar don't generally produce at the level of a legitimate superstar like Kaprizov. However, they bring more to the team than their skills out on the ice. They bring a drive and physicality that are the identity of the Wild. And as we approach playoff season, everyone knows that they can depend on the fourth line to battle and lay it all out on the ice.