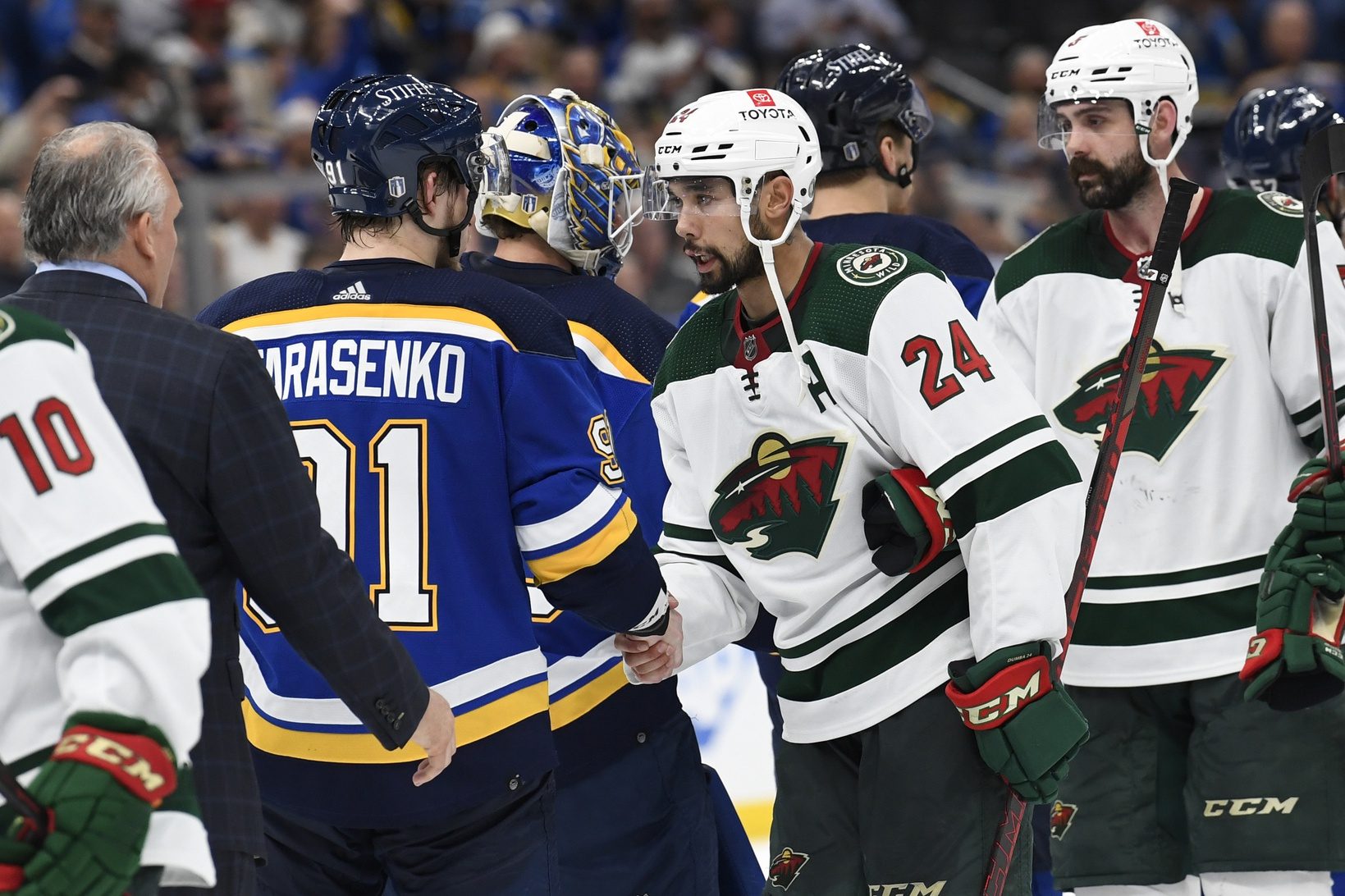 The Wild didn't exactly solve their salary cap dilemma when Kevin Fiala was traded to the Los Angeles Kings last week. Instead, it was a means to an end since Fiala was the first cap casualty of Zach Parise and Ryan Suter's buyouts. But if the Wild were in a hockey fight with the salary cap, it wouldn't be a one-punch knockout like Derek Boogaard on Todd Fedoruk. Sure it hurts, like a broken cheekbone, but it'll heal, and they'd be fine the next year. No, this battle is an all-out brawl that goes the distance, like when Nick Seeler went blow-for-blow versus Luke Witkowski.
https://www.youtube.com/embed/GmfhgwZSjWM
Minnesota will undoubtedly have more players on their way out because of this cap crunch. Matt Dumba is the biggest name (and salary). Dumba will become an unrestricted free agent following the season and turns 29 next summer. While he's no longer the power play weapon he once was, Dumba is still capable of pulling down big minutes and playing strong Top-4 match-ups. Last week,10k Rinks pondered what his future held, weighing the pros and cons of moving him.
After Fiala, Dumba reassumes his place as the most prominent trade chip for the Wild. Yet, obtaining a first-round pick in this year's draft, or even next year's, is a stretch at this point in his career. Plus, much like Fiala, many teams won't want to pony up a first for one season of Dumba as he walks up to free agency. Minnesota needs to target young players still with loads of upside that might also be falling out of favor with their current teams.
These types of targets also come cheap against the cap. The Wild cannot take a large contract in return for Dumba. It would defeat the purpose of trading Dumba's $6 million if they receive one player in return with roughly the same dollars dedicated to the cap. Players that fit this mold are like Alexander Holtz. He's been great in the AHL, but Holtz has struggled to translate that to the NHL. The struggle has led to speculation that he's having trouble fitting into head coach Lindy Ruff's system.
Couple that with a glut of prospects and the 2nd overall pick this season, and maybe the Devils might be willing to address a need and part ways with the former first-rounder. Dumba certainly doesn't have Holtz's value, but does packaging one of their two first-round picks smooth that over?
Or could they use Dumba to acquire Vasily Podkolzin from the Vancouver Canucks? He's another top prospect with great underlying numbers, but Podkolzin hasn't found the back of the net as much as people expected. Bruce Boudreau even benched him at one point. The Canucks are also close to the salary cap and need to make room after re-signing Brock Boeser. They also have Oliver Ekman-Larsson on a long-term extension. That'll go doubly so if they acquire Dumba, pushing them over the cap.
Still, trade rumors of GM Patrick Allvin making changes swirled like crazy out of Vancouver. Instead of making trades, Allvin replaced Travis Green and the rest of the coaching staff. The Wild didn't pounce when the stove was hot last year, but a Dumba for Podkolzin move could be something that makes sense as a hockey trade. Vancouver has Travis Dermott, Tyler Myers, and Luke Schenn manning the right side. Dumba could easily slide into that top four and help support Quinn Hughes. That is if Judd Brackett, who drafted Podkolzin when he was with Vancouver, still likes him as a top prospect.
Acquiring Holtz or Podkolzin in a Dumba trade might not happen exactly, but these are the situations Bill Guerin has to try and take advantage of. And for the Wild, there's no reason why a Dumba move can't happen at the draft. Ideally, the assistant captain hangs around Minnesota a while longer. However, if the Wild aren't going to re-sign Dumba to a team-friendly deal, they need to act.
Guerin might have said he didn't want to mess around at the draft when talking about the Fiala trade. That doesn't mean he's not going to make any trades at this week's draft. We'll have to see if there's more wheeling and dealing by the Wild GM.