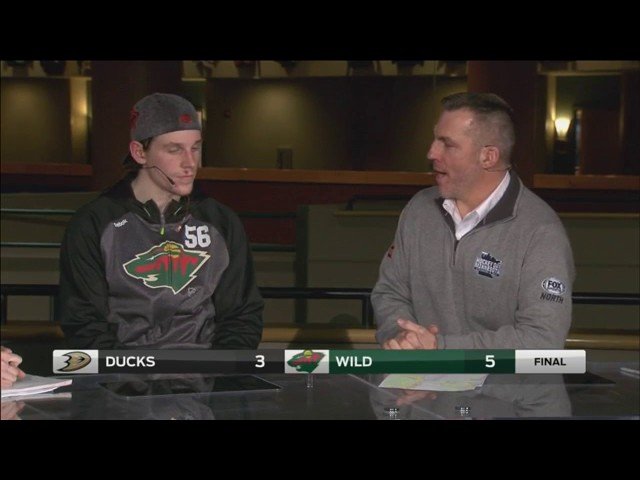 In the spring of 2014, Erik Haula came bursting onto the scene for the Minnesota Wild. He proved to be a key cog in Mike Yeo's bottom-six down the stretch, and ended up playing a pivotal role for the Wild (shutting down Nathan MacKinnon) as they upset the Colorado Avalanche in round one of the Stanley Cup Playoffs. Haula continued to impress in round two, where the Wild were eventually defeated by Chicago in six games.
After that postseason, the future looked very bright for the now 25-year-old Haula. He was looking like a top-nine center who could progress to a top six option. Being a number-two center was certainly in the realm of possibility for the Pori, Finland native.
But ever since that spring, it has been a swing of extreme streaks for Haula -- a restricted free agent at season's end. He has not progressed as one originally thought he would, leaving his future with the Wild beyond this season up in the air.
Haula never found that playoff magic in the 2014-15 season. He frequently found himself in the head coach's doghouse, which included a handful of healthy scratches. He recorded one fewer point (14) than the previous season, which was played in 26 fewer games. He only found his way into the lineup during the playoffs twice, as the Wild once again were bounced in round two.
Despite the fact he came into camp in much better shape the following season, Haula still struggled under Yeo. It wasn't until the end of January when he started to turn it around, then he got red hot again under John Torchetti. Haula was put on a line with Nino Niederreiter and Jason Pominville, and they became an unstoppable force for the Wild as they battled back to make the postseason.
Between February and March (29 games), Haula posted 23 points. It looked as if that promising future with the Wild was still possible.
Now here Haula is again, showing flashes of brilliance under Bruce Boudreau, but is also disappearing for large stretches. Up until last week, he still was the third-line center, before Boudreau decided to change things up and move Charlie Coyle to center, which effectively shoved Haula down to the recently stagnant fourth line.
In the five games leading up to that demotion, Haula only managed to score just one goal. In the five games since the demotion, it's been the same production for Haula, just one goal.
The truth of all this is: Haula can no longer afford to go missing for a long period of time. Its almost becoming a now-or-never situation for him in a Wild uniform.
Coyle moving back to center and his positive play since will keep Haula down on the fourth line for the time being. If the Wild do end up going out and acquiring a winger instead of a center at the trade deadline, that all but means Coyle will hold that center position throughout the remainder of the year. It will give him some favorable matchups with the opposition, but it will be on him to capitalize.
Between Coyle potentially staying at center and the fact the Wild have two talented center prospects, Joel Eriksson-Ek and Luke Kunin, on the way -- at least Eriksson-Ek for next year -- Haula will have to do a whole lot to convince Wild brass he deserves a look long-term. The Wild are reportedly interested in acquiring a bottom-six forward, with centers Martin Hanzal (Arizona) and Brian Boyle (Tampa Bay) leading the talk, which also does not bode well for Haula. There's also expansion looming, as the summer is shaping up to be an active one, with many trades expected to go down.
Haula could easily be a part of a trade.
The Wild will be tight to the cap once again next season, as the cap is only projecting to go up $1 million from this year at last check. They have to find space to sign forwards Mikael Granlund and Niederreiter, who are expected to get huge raises due to their performance this year. If they find a way to fit them under the cap, it could lead to an eventual move of Haula to save money, as Eriksson-Ek would be a much cheaper option on his entry-level contract.
When all is said and done, the clock is ticking on Haula. He can no longer afford to disappear for a long stretch.
Will this be the final months of Haula's Wild tenure, or will he again catch fire at the end of the year and find a way to stick around?
Only he will tell that story.