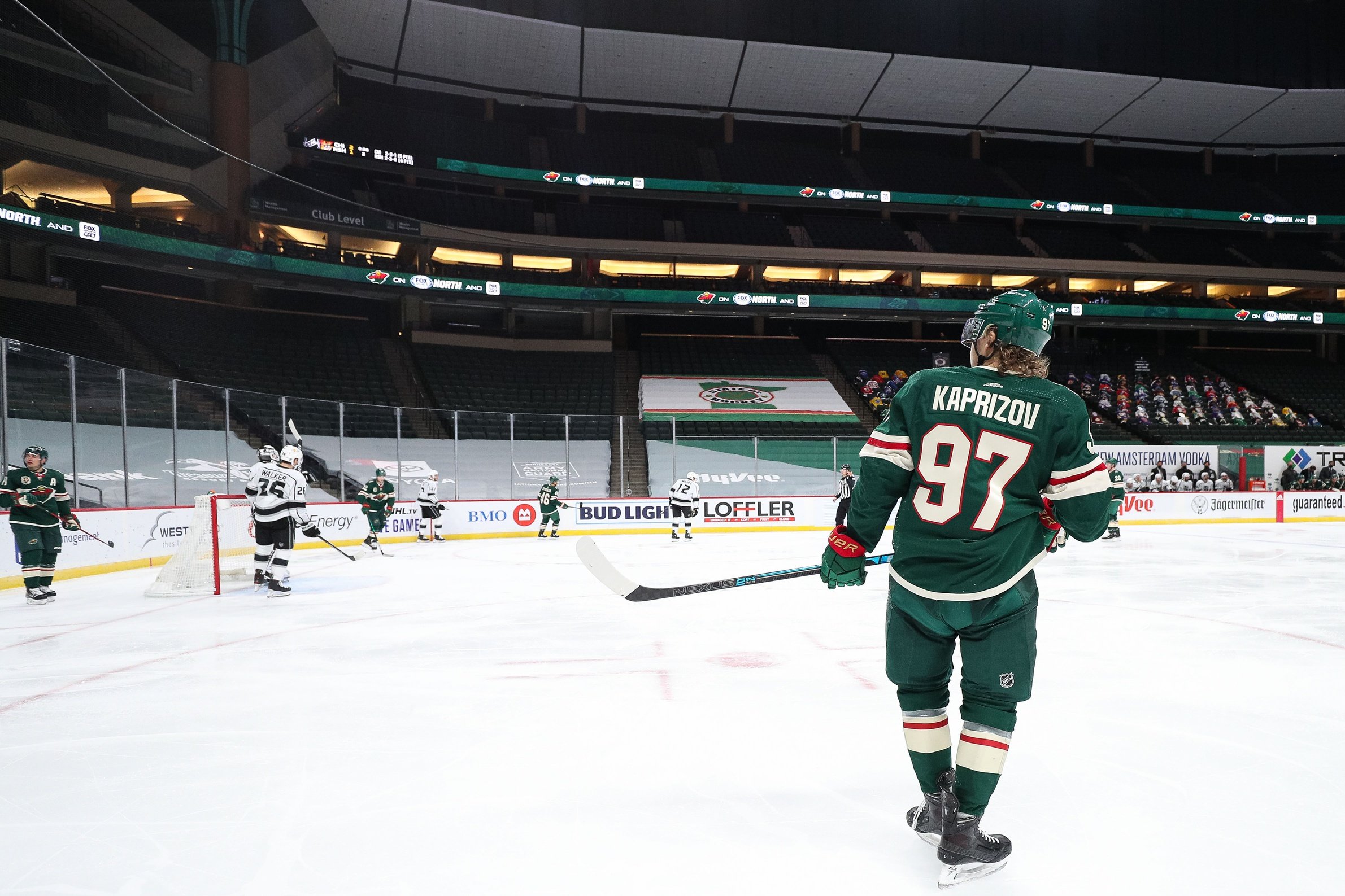 I am not the first person to hop aboard the Kirill Kaprizov hype train, and I most definitely will not be the last. The Minnesota Wild rookie is hot, the hottest rookie in the league right now. But can he stay hot enough to add the Calder Trophy to his name?
According to multiple sports betting sites, Kaprizov is at least in the top three of Calder candidates, if not leading the pack.
Kaprizov, 23, by far leads the class in terms of experience. He spent six years in the KHL before arriving in America this year, and just last year -- his final season under contract with CSKA Moscow -- he set career-highs of 33 goals and 29 assists, culminating in 62 total points over 57 games played. Those 33 goals led the KHL for his second straight season while his 62 points ranked him third in scoring overall. He's been a KHL All-Star every season since he was 19, won the Gagarin Cup with CSKA Moscow and was crowned the KHL MVP in 2019.
In international competition, he won gold with Team Russia in the 2018 Olympics and won bronze at the 2019 World Championships. At the World Juniors, he and Team Russia took home the silver medal in 2016 and the bronze medal in 2017, adding 26 points in those competitions (17 goals, nine assists).
We've seen glimpses of his offensive power already this season.
Kaprizov tallied three points in his NHL debut on Jan. 14 -- one of those being his game-winning goal in overtime, giving the Wild a 4-3 victory over the Los Angeles Kings. He saw the most ice-time of any of the Minnesota forwards, with a game-high of 21:52. With that game, he became the first player in NHL history to score three points and net an overtime goal in his debut. He also set a franchise record, scoring the most points for a rookie in his NHL debut.
In its 20-year franchise history, no Wild player has ever won the Calder. But Kaprizov could change that.
He's only 5'9" and 185 pounds, but with just a few NHL games under his belt, any concern about his size has quickly been dispelled. "He moves with quick power and is aggressive on the puck," wrote Rory Boylen for Sportsnet Canada, "which all make him appear a bit bigger in action. He's got top-notch offensive instincts and wasn't afraid of driving the middle."
Kaprizov is the breath of fresh air that this previously stagnant franchise needed. When he's on the ice, Kaprizov forces the Wild to move a bit faster, be a bit more creative and tenacious in playmaking, and gives them a boost in offensive power that can hopefully translate to postseason success.
Kaprizov has managed a roughly 1-to-1 goal-to-assist ratio for much of his career, but The Athletic's Corey Pronman argues that "his playmaking is a major strength" as he has the "patience and high offensive IQ…to create scoring chances," which is reflected in the five assists he currently has on the season.
He has been playing in the top-six and starting on the power play since his NHL debut. Kaprizov is getting the significant minutes he needs to prove his offensive prowess and to give that spark to the Wild's roster. Skill isn't enough to win the Calder. Players need the opportunity to prove themselves as well. In this shortened season, playing time is more important than ever. Having the experience and the top-six minutes, Kaprizov is getting more opportunity than most to prove that he's got what it takes.
As of Friday morning, Kaprizov leads the Wild with seven points in eight games, tied with Joel Eriksson Ek and Jordan Greenway. He also ranks second on the team in assists, with five -- just behind Greenway. Right now, Kaprizov leads all rookies in the league.
His teammates see the Calder potential too. Forward Marcus Foligno, defenseman Matt Dumba and goalie Cam Talbot all spoke to The Athletic's Michael Russo about Kaprizov's historic debut and his promise for the future.
Foligno: "... his attitude, his work ethic is very special. For a guy with the hype around him, you worry that sometimes he might get lost in it. But no, not this guy. When he scores it's natural. He expects himself to score every night. He's going to be so big for our team. He makes stuff out of nothing."
Dumba: "... you just see his competitiveness all over the ice. And that's what makes him so good. He's stick-lifting pucks, winning pucks on the board. Those little things just keep adding and up keeps building his confidence. You see what he does, everyone who's watching the game can see that he's a special talent."
Talbot: "Every time he gets the puck, he seems to know what he wants to do with it. Just seems to be glued to his stick every time and sometimes I see him holding off defenders with one hand and stickhandling with the other hand… the control that you have to have to pull that off and still make moves like that is extremely impressive, and not many guys have that ability."
With only 56 games in the season, Kaprizov will need to keep up these numbers and sustain his performance to run away with the Calder. He's leading the charge over Alexis Lafrenière and Igor Shesterkin of the New York Rangers, Ilya Sorokin (New York Islanders) and Tim Stützle (Ottawa Senators). And it's only a matter of time before he adds the Calder to his long list of accolades.