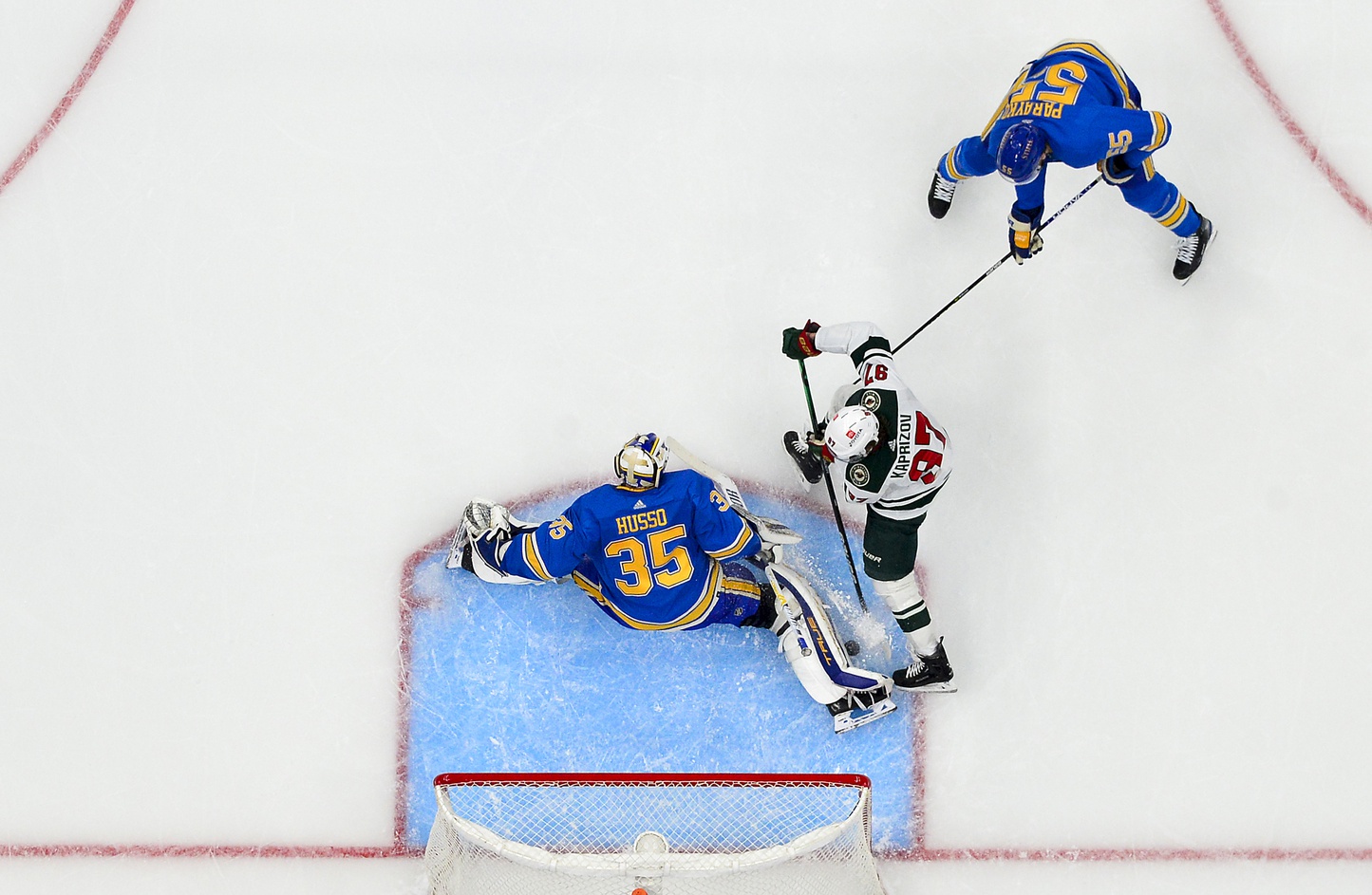 Minnesota Wild GM Bill Guerin saw problems in the goal crease before the deadline. Rather than ride it out, he made a point to add a goalie capable of a lengthy playoff run by acquiring Marc-Andre Fleury. Yet it's been Cam Talbot who has met the challenge head-on since Fleury's arrival. Their strong showings allowed the Wild to rotate and keep their netminders fresh for the start of the Stanley Cup Playoffs.
It's also a chance for them to put together a couple of good starts against a St. Louis Blues team they haven't been great against. Minnesota's goaltending is something to keep an eye on as the playoffs progress.
But the Ville Husso-Jordan Binnington saga is undoubtedly more enticing in the Wild's first-round matchup with the Blues. Binnington won a Stanley Cup in 2019, and Husso is the younger guy that supplanted him earlier this season. Blues head coach Craig Berube didn't unveil who his Game 1 starter will be at practice on Sunday, because the decision isn't a slam dunk.
Binnington has been on a downward slide since 2020, and his performance really dropped off this year. That could coincide with the Blues ditching their stingy 5-on-5 defense from 2019 where they gave up just 2.20 expected goals per hour. Binnington wasn't getting tested with dangerous shots then like he did this year. This season, St. Louis was ninth-worst in the league with 2.62 xGA/60. Binnington's dip in play may be more than a strange coincidence. 
However, that doesn't explain how he can give up -10.01 goals saved above expected. Binnington's 2019 may just go down as one hell of a successful fluke because he had fantastic defense in front of him.
Though, Husso didn't seem affected by the looser structure in front of him for most of the season. He has also come out of nowhere, much like Binnington in 2019. He's commanded 40 games this season and a near-50/50 split of the time in net. His 14.09 goals saved above average ranks 10th in the NHL. That's a far better mark than both Fleury and Talbot, who wind up near the bottom. Not to mention, his .919 save percentage is better than Binnington's .901. Going with Husso in the net should be a no-brainer decision for Berube.
And yet, there are still some questions. Husso is a playoff rookie. This is the first season he's played more than 17 games in the NHL. Husso's three shutouts this year all came before the All-Star break. Not to mention, he's given up three or more goals in 15 of his last 25 games post-All-Star break. One of those games included a six-goal shelling in the final game of the season against the Vegas Golden Knights with a chance at home ice on the line. It's not exactly an outing that exudes confidence.
Those hard facts about Husso's final stretch of the regular season may not be enough to persuade Berube to start Binnington in Game 1. That said, it could mean that Husso will get a quick hook if he shows any sign of cracking. 
Doubly so, it could quickly end the series if any of the teams' four potential netminders in this series exhibit any cracks in the armor. The Blues and the Wild ranked in the top five in goals per game. Both of these teams know how to score and do it in bunches. 
The Blues have Vladimir Tarasenko on a renaissance season where he scored 34 goals and 82 points. But the Wild can sport Kirill Kaprizov who has 47 goals and 108 points. Jordan Kyrou has speed, flash, and dynamic abilities to score a lot too. Kyrou has 75 points in 74 games. And yet, the Wild have Kevin Fiala who has 85 points in 82 games. Minnesota has the more-skilled team and the stingier defense. 
But the Blues have the goaltending, at least until further notice. For Minnesota to move on, they'll need the late-season trends in net for St. Louis to continue. If the Wild allows Husso or Binnington to beat them, it'll be yet another unfortunate ending to another great regular season. And the Wild can't afford to slip up this time around.