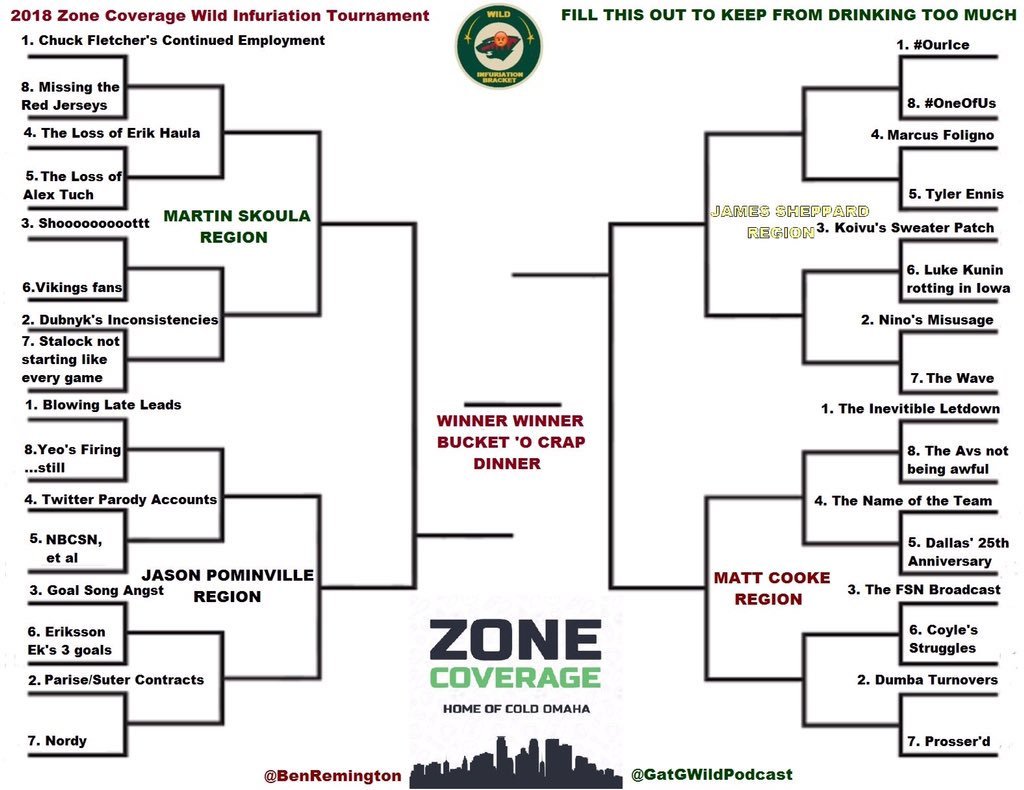 A tradition like no other, the Wild Infuriation Tournament returns for its third season.

 

The first season has been mostly lost to the depths of the internet from whence it was formed, during a season where the Wild swooned and swooned hard getting their coach fired in the process.

 

Last season, the team was looking great -- until right about when the bracket came out -- then promptly swooned their way into losing a division title.

 

This season, Wild fans are right back in their old comfort zone. Without a swoon by definition, but still an equally frustrating, and dare I say infuriating team.

 

As usual, there are some old favorites that are putting together top-notch programs, but there are always new faces that made it to the dance, and want to prove to the world that they are the best... at driving Wild fans berserk.

This is really Chuck Fletcher's continued employment's tournament to lose. It's the No. 1 seed with a bullet, and faces a very winnable region. This could be his year -- finally.

Shooooooooottt vs Vikings Fans should be a great matchup. Both are absurdly annoying in their own right, yet Minnesotans find themselves doing both all too frequently. The winner of this matchup could make a deep run as well.

The Loss of Erik Haula vs The Loss of Alex Tuch is a tough matchup in round one for both entries. Both have a few loyal supporters, and both are a valid complaint. Had they been combined into one, they could've been a real powerhouse, but alas.

The matchups of goaltending complaints is going to be very polarizing. Basically, it's the same people who complain about both things, so there's going to be a small to medium subsect that has a tough time deciding here, but their winner might go the distance. However, most Wild fans probably don't have either entry surviving long.

Blowing late leads has really gained steam in recent weeks. They may be the hottest entry going in the tourney, but Mike Yeo's Firing is still no slouch, as it'll definitely still find its way into winning a few rounds on some folks' brackets.

The media matchup of Twitter Parody Accounts vs NBCSN, et al should be interesting, and tightly contested. Wild parody accounts have replicated like those hermaphrodite furbies on the original Star Trek, each less interesting than the last. There's only one I find worthy of following, and it's certainly understandable if people don't as a rule. However, NBCSN, et al has more potential to go deep in the tourney if they make it out of the first round, considering they're a big part of killing hockey's popularity and marketability.

Three-year contender Nordy got a really tough draw this season, against the Parise/Suter Contracts, which shockingly, are only making their first appearance. Parise/Suter Contracts have title aspirations, and could be unstoppable.

Goal song angst is an interesting entry and perhaps overseeded, but there's plenty of rumbling and grumbling from middle-aged white people that don't like dancing and just want to mindlessly chant sounds that aren't really words.

The battle of the hashtags really comes to down to the Wild pandering to their fans and should really get some people bent out of shape. Newcomer #OurIce is so blatantly sucking up that it is borderline offensive. They could be my pick to win it all.

Much like Tuch and Haula, Foligno and Ennis facing each other in the first round is another lose-lose for Wild fans, and luckily for the rest of the bracket, they weren't combined into one Voltron-like killing machine.

Koivu's sweater patch has a proud tradition in the Wild Infuriation Tournament, having participated in all three years, and likely will be a part of this tourney until Koivu himself retires, whether the haters like it or not.

The Wave is also a three-year vet of the tourney but came in at a disappointing 7-seed this year, and faces an uphill battle against analytics tourney favorite Nino's misusage. Sometimes, some things are just worth being actually mad about.

This region is really wide open. The Inevitable Letdown is a strong, strong contender, but many folks have come to terms with it at this point and prefer positivity until the bitter end, in which case they become very bitter.

The Name of the Team is a three-year entry that no one is really sure how they got here every year, like SF Austin in the NCAA Basketball Tourney. But this year, it faces a brutal matchup with the perhaps-underseeded Dallas' 25th Anniversary. There's going to be some bad blood mixed about in this region, for sure.

Like all of the higher seeds in the bracket, The FSN Broadcast could win this region with relative ease, it seems. Lots of folks are tired of the lackadaisical analysis of Greenlay, Wes Walz delivering good analysis monotonously, or Anthony LaPanta giving birth to a litter of kittens every time the Wild score in garbage time.

Finally, Matt Dumba's Turnovers returns for another season, and due in large part to the 'eye test' crowd that only really notice negative things about Matt Dumba, and suddenly turn into Ray Charles shortly before he's involved in a scoring play.

Print out your bracket, fill it out, and tweet a picture of it to @BenRemington, and I'll give you an instant RT that I usually only reserve for good Futurama quotes.

 
---
Stay up to date on the Wild with the Giles & the Goalie Podcast!