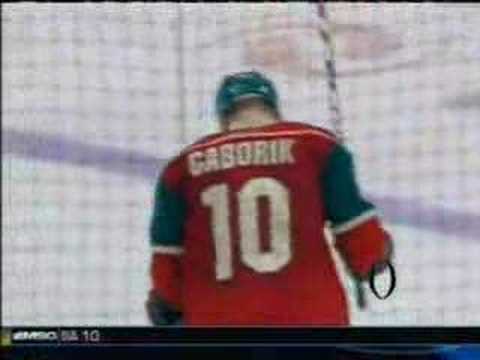 It's now 10 years ago – Dec. 20, 2007 – that Marian Gaborik achieved one of the greatest individual feats in Minnesota Wild history.
It was on that night at Xcel Energy Center, against a future Hall of Fame goaltender in Henrik Lundqvist, Gaborik became the first player – and remains the only player – in Wild history to score five goals in a game.
Brian Rolston said the performance was, "pretty remarkable". Josh Harding joked that Gaborik's back might be sore from carrying the team.
Gaborik himself said, "You score five goals in the NHL it's just a totally different experience. To reach it here with these guys in front of our fans is just unbelievable."
So to commemorate the 10th anniversary of Gaborik's feat, let's stroll down memory lane and look back at all five of his goals that night.
Goal 1 (6:27 remaining in 1st period):

Just like Jacques Lemaire drew it up on the 07-08 Wild! Aaron Voros to Pavol Demitra to Gaborik. No chance for Lundqvist.
Goal 2 (16:13 remaining in 2nd period):

Demitra makes a centering pass to Gaborik from behind the net and Gabby's first shot on goal is stopped by Lundqvist. But because there is no defenseman anywhere close to him, he is able to clean up his own rebound for his second of the night.
Goal 3 (14:22 remaining in 2nd period):

Pre-Chewbacca era Brent Burns hits Gaborik cutting through the slot and he is able to cut right in on goal and puts the backhand past Lundqvist. Just 25:38 into the hockey game, Gaborik has a hat trick.
Goal 4 (12:04 remaining in 3rd period):


Nick Schultz's shot from the point goes right off the leg of Voros to Gaborik. With Lundqvist off his angle from the sudden deflection, Gaborik has a half-empty net to put it in. Looks like not much has changed with Dan Girardi (No. 5 in white, right side) over the past 10 years.
Goal 5 (10:29 remaining in 3rd period):

Sloppy play by the Rangers defensemen allows Gaborik to steal the puck and he is off to the races. No chance. There's five.
___
Despite the fact Gaborik had five with over half the third period remaining, he was unable to get a sixth. He did get some chances, and there was a definite buzz in the arena whenever the puck touched his stick in the final 10 minutes.
Ten years later, this feat remains the best offensive performance in Minnesota Wild history. Will it be heralded as such in another 10 years?
---
Never Miss an Episode of Giles & The Goalie!