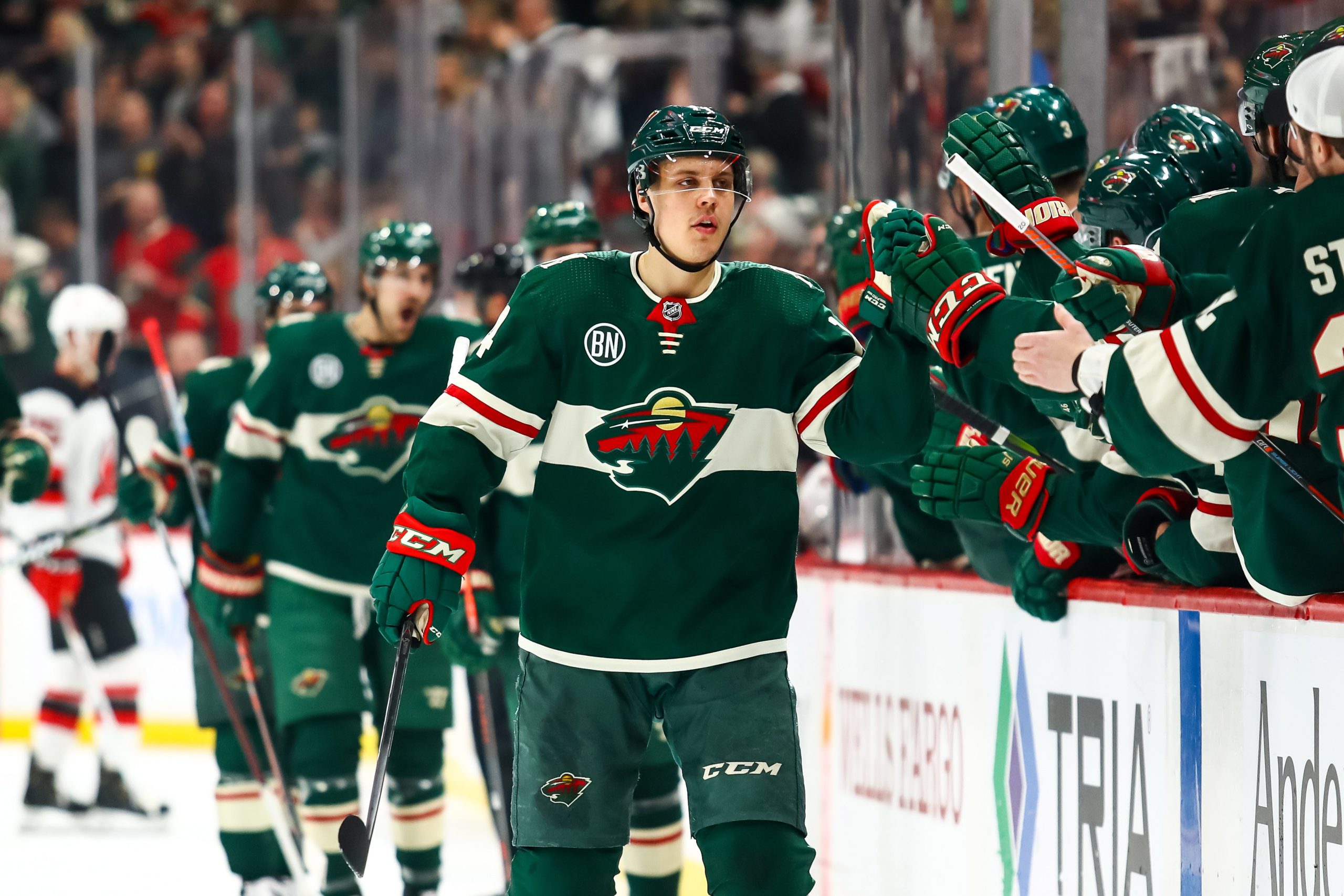 When Mikko Koivu was lost for the season on Feb. 5 with a knee injury, the Minnesota Wild were left with a big hole down the middle of the lineup behind Eric Staal.
Also in the past two weeks, Minnesota has moved on from Charlie Coyle and Mikael Granlund -- mainstays with the team since 2013 -- leaving some question marks in their lineup as to who can fill the void those players have left behind.
General manager Paul Fenton has acknowledged that he is trying to take this team younger and more skilled, and his boss -- Wild owner Craig Leipold -- backed that up last week in a video sent to season ticket holders. The Wild need to get younger in a young man's league, and the moves made in the past two weeks have given the team more hope down the road while having more cap flexibility as well.
But since the injury to Koivu, the Wild have seen their youth step up and lead the way offensively. The notable names doing so are Wild first-round draft picks Joel Eriksson Ek and Luke Kunin, and new acquisition Ryan Donato -- acquired for Coyle -- has also made an immediate impact as well.
Since that aforementioned injury to Koivu on Feb. 5, the Wild have played in 13 games. Kunin and Donato -- just six games played -- are tied for third on the team in points with seven points, while Eriksson Ek is right behind them with six. More impressively, is that the "kids" are doing their damage at even strength for Minnesota.
Minnesota Wild Per 60 Leaders At Five on Five Since 02/05/2019
Points/60
1. Joel Eriksson Ek - 2.16
2. Luke Kunin - 2.12
5. Ryan Donato - 1.53
6. Jordan Greenway - 1.02
Goals/60
1. Joel Eriksson Ek - 1.44
2. Luke Kunin - 1.41
3. Ryan Donato - 0.77
Total Assists/60
3. Ryan Donato - 0.77
4. Joel Eriksson Ek - 0.72
5. Luke Kunin - 0.71
Shots/60
1. Joel Eriksson Ek - 11.52
5. Ryan Donato - 8.42
6. Kevin Fiala - 8.03
7. Luke Kunin - 7.42
The biggest step up since the Koivu injury has no doubt been from Eriksson Ek -- or at least at five on five as you can see his rates are right atop the Wild leaderboard. Victor Rask's extended time out of the lineup has also contributed to Eriksson Ek's increased ice time as he is averaging 15 minutes per night.
[caption id=attachment_47064" align="alignnone" width="1998]

via Sean Tierney, @chartinghockey[/caption]
Wild head coach Bruce Boudreau even acknowledged how Eriksson Ek has taken big strides in the past month, given his opportunity to play more following Koivu's injury.
Kunin also has been a huge beneficiary of increased ice time, as his 13:30 time on ice average before February has skyrocketed up past 17 minutes per night now as he currently centers the Wild's second line between Zach Parise and Fiala. Two out of the past three games Kunin has eclipsed 20 minutes played, something that has been rarely seen by Wild players who are still on their entry-level contract.
[caption id=attachment_47065" align="alignnone" width="1998]

via Sean Tierney, @ChartingHockey[/caption]
Then you have Donato, who has made his presence felt big time since the trade from Boston on Feb. 20. Sunday's game against Nashville was Donato's first in six games with the Wild where he did not tally a point.
In the first five games of his Wild tenure, the Boston native tallied five assists and two goals -- including the overtime winner against St. Louis -- and has already endeared himself to the Wild fanbase as someone who wants to find his way onto the scoresheet nightly.
[caption id=attachment_47068" align="alignnone" width="1998]

via Sean Tierney, @ChartingHockey[/caption]
In the 13 games played since February, Minnesota has scored 32 goals. Twelve of those goals -- or 37.5 percent -- have been from Eriksson Ek, Kunin, Greenway and Donato. A sizeable percentage considering they were all thrust into much larger roles than what they had been used to all season.
While looking at the likes of Zach Parise, Eric Staal and Jason Zucker to help lead the way offensively for Minnesota -- as you should -- there has been an uprising from the team's youth in terms of production, and it has been a big factor in Minnesota six-game point streak (5-0-1) that it is currently on.
This is exactly the best case scenario for Fenton and the Wild in the wake of injuries and roster moves. Should they carry this pace through the end of the season, Fenton's job will be that much harder in the offseason as he will now have to find places higher up in the roster for his young players.
And if you are a Wild fan, that is a problem you will gladly take all things considered.
Stats in this post courtesy of Hockey-Reference and Natural Stat Trick.
---