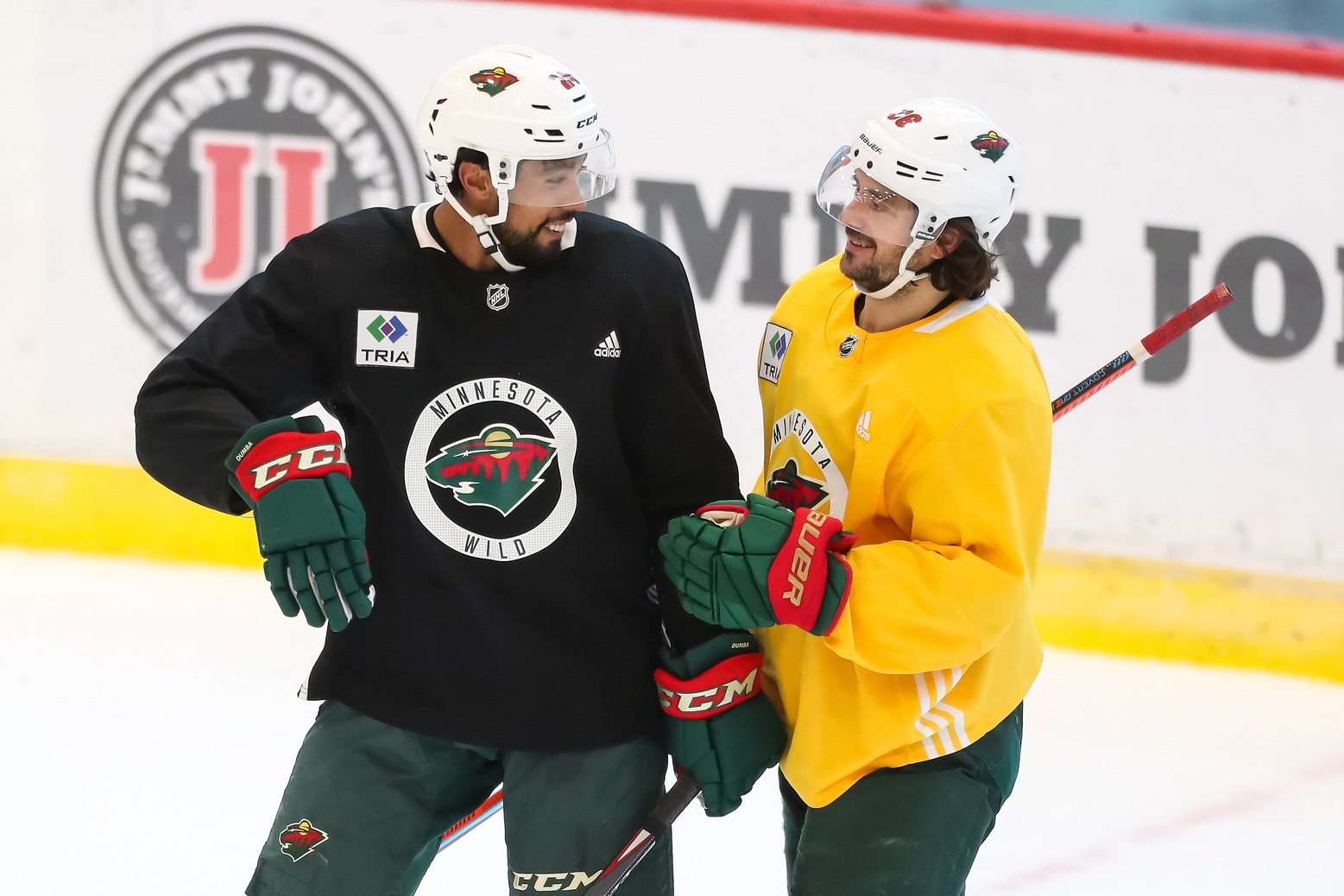 The Minnesota Wild were back on the ice for summer training camp this week as they prepare for a Qualifying Round series against the Vancouver Canucks. Game 1 is scheduled for August 2nd, and teams need to get up to speed as quickly as possible. The Wild concluded the official week of camp with an inter-squad scrimmage this last Saturday. 
It's the first inter-squad scrimmage of two scheduled in camp. The last scrimmage will take place on Thursday, July 23rd. Both are viewable on the team's YouTube channel. 
I watched Saturday's scrimmage two and a half times and jotted down my thoughts on players that stuck out to me. Team White emerged victorious by a score of 4-3 in overtime. The two groups played three 20 minute periods with two 15 minute intermissions. No penalties were called, and outside of icing, minor infractions were laxed. 
It's summer hockey…
Here's my takeaways from scrimmage one:
Dumba didn't get many chances to shoot the puck. That doesn't mean that he didn't look good on the ice. He looks like he's skating well. His vision in the scrimmage was good. He fed Alex Galchenyuk in on a 2-on-1 break in which Galchenyuk shot wide. However the pass was really nice as it found a seam up the middle through the neutral zone. 
Defensively, Dumba was in a good position. He closed the gaps quickly and didn't allow chances on the rush. Obviously, this is a big moment for Dumba. After recovering from a torn pectoral muscle last season, expectations were high. He struggled offensively. A goal against the Blackhawks in early February broke a goalless stretch that went back to November 12th. He scored three goals in the month of February, and was doing a lot right in the offensive zone before the pause.
Brodin took over the game for Team White in the third period. He scored two goals against Mat Robson in the third period to tie the scrimmage at three. Both goals were very nice. Brodin does have a decent wrist shot, it's just not used much. He hasn't missed a beat. He looks like he's in great shape and looks healthy.
Outside of his two goals, it was a normal game from Brodin.
Eriksson Ek centered the top line for Team White. His line got the bevvy of scoring chances. The issues with the line had to do with finishing. Eriksson Ek did most of the setting up of his linemates Luke Kunin and Zach Parise. Unfortunately, they couldn't pot a goal. 
Eriksson Ek's defense was on display as well. Often shutting down chances and then skating the puck up the ice and away from danger. He looks way more comfortable being a puck carrier through the neutral zone. 
The thing with Joel Eriksson Ek is that he does a lot to create chances. But the reason his points are low is because for one reason or another he and his linemates have trouble beating the goaltender.
The big thing for Soucy is that he's healthy again. He didn't look afraid on the ice to play physically. He took his ice in the offensive zone when defenses gave him the room. Soucy helped round out the defensive pairings with Brad Hunt nicely. Hunt has the harder shot, but Soucy's ability to pinch and shoot from the blueline keeps that pair balanced.
This training camp is perfect for players like Soucy. He was injured at the time of the pause. So this time to play can help him get up to speed. 
Dubnyk is a big question mark heading into this postseason. A former Vezina Trophy candidate, Dubnyk struggled throughout the season. His troubles this season have been documented. Going into Saturday's scrimmage, eyes were on Dubnyk to see if the time away from hockey has allowed him to rediscover his game. 
After one scrimmage, I still have the same questions. Dubnyk looked like he got better as the scrimmage went on. That said, the first goal against, scored by Luke Johnson, was a low-danger shot from just inside the blueline. It didn't look like it got tipped out front and just eluded Dubnyk to the low blocker side. The second goal was a nice setup from Eric Staal, high to low to Jared Spurgeon for a one-timer.
Dubnyk made a couple nice saves in the second period on Fiala and Kunin, but I don't think those saves required a lot of lateral movement. It's that side-to-side movement that seems to have been lost. We'll keep an eye on him for Thursday's scrimmage.
Calen Addison
Acquired in the Jason Zucker trade, hockey in July usually would have meant Prospect Development Camp for Addison. Instead, the young defenseman who played in Canadian juniors this season, is in Summer Camp preparing for a postseason run. This was the first chance to see Addison in action.
The kid can skate. He has quick feet and a quick acceleration. Maybe not an elite top speed, but he can hold his own against the NHL competition in the scrimmage. He showed some good poise being the only defenseman back while facing pressure. He also pinched at the wrong time that led to a 2-on-1 rush the other way. As with many young offensive-minded defensemen, recognizing when to pinch is something that'll have to be developed because they're not going to get away with it as easy in the NHL.
Jared Spurgeon
Spurgeon might have been the fastest player on the ice. He looked fast, his hands were great and as great defensively as ever. He created every time he was on the ice. Officially, he scored a goal, and got the primary assist on the Greenway goal. 
Spurgeon was two goals shy of tying his career high set just last season when the season went on hiatus. If this scrimmage is a harbinger for things to come, he'll be a force in any playoff series for the Wild.
As the other goalie in net, Stalock looked like his old self. The first goal by Mayhew was one that pinballed around in the slot before bouncing off Mayhew while Stalock was out of position. Otherwise, he stood tall and allowed a single goal through two periods. 
There were moments of swimming, diving and lunging, of course. It wouldn't be a Stalock game if it didn't have a bit of everything. It also had a nice head-man pass that caught Team White in a line change. It was only a diving play by Foligno to break up a 2-on-0 opportunity.
Fiala was active all scrimmage. It doesn't look like the layoff affected his skating, endurance or his hands. Your eyes are attracted to him on the ice. That said, he didn't score and he wasn't a factor on the score sheet. He had plenty of chances though. It was last second defensive plays of a broken stick that caused him to miss on his chances. You could see some frustration mounting.
Minnesota is banking on Fiala returning to his February form to carry them into and through the playoffs. I'd expect Thursday's scrimmage to be a Fiala Show.
Zuccarello looked just okay. His passing was on point, but he missed the net multiple times on odd-man rushes up the ice. In fact, it didn't need to be off the rush, he just missed the net a bunch. 
To this day, I'm still taken aback by Greenway's size. He wasn't physical during the scrimmage, as would be expected when playing against teammates. However, that's a part of his game that needs to become his modus operandi. 
Greenway's shot looks good. Team Green poured it on in the second period. It was a nice passing play from Spurgeon to set him up for a shot in the right offensive circle that beat Dubnyk. He nearly got the goal scoring started when he tipped a high fluttering shot from Ryan Suter past Dubnyk, but it was waved off for a high stick.
In the second period, he was on a 2-on-1 with Fiala. Instead of shooting the puck, he passed up the shot and tried a pass back through the seam to Fiala. Now, Fiala is probably the right person to shoot the puck on a rush like that, but not electing to shoot is something that can't happen, especially when Fiala gave you the puck in the first place.