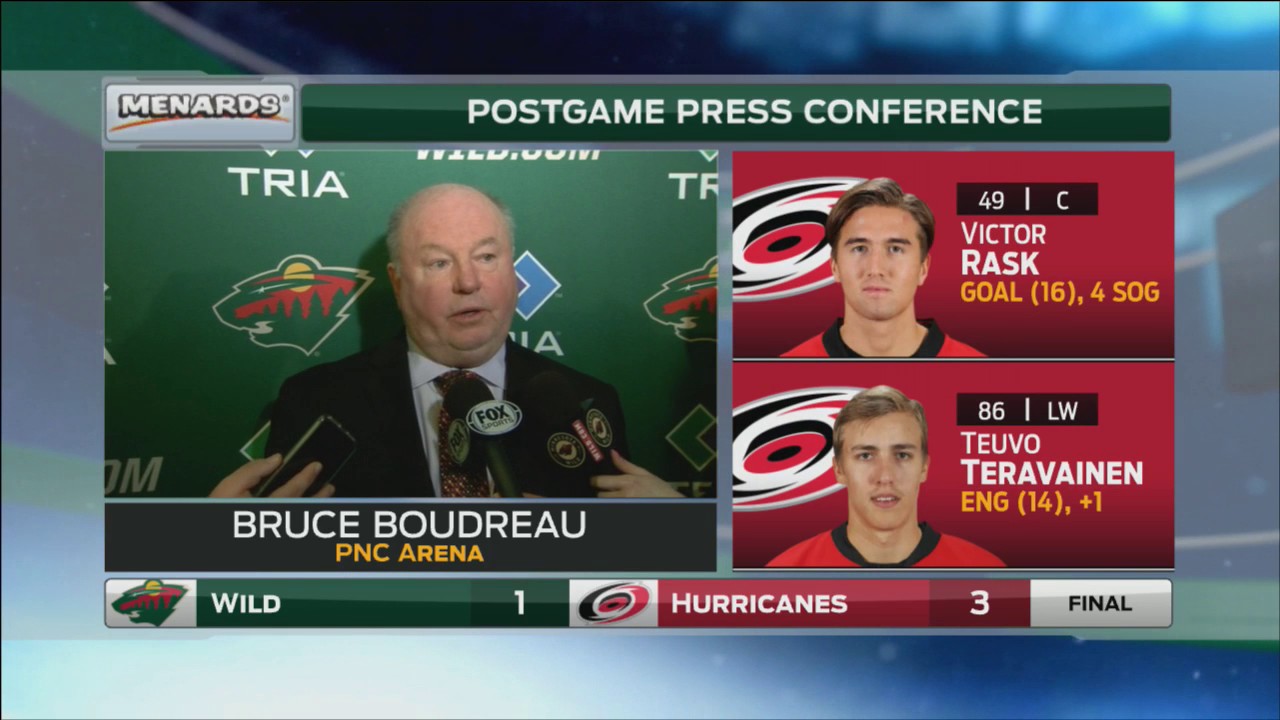 OK, so the Wild lost Thursday night 3-1 to Carolina. They also have lost six of the last eight games. Any other year, yes, you can definitely hit that panic button.
But this is not any other year.
Entering play Friday, Minnesota trails Chicago by three points for the division lead with a game in hand. The Wild are also 11 points up on the Predators for second place in the division. That fact is only brought up because that 11-point cushion is what gives the Wild home-ice advantage in round one. That home ice advantage in round one is what fans have been clamoring for since the 2014 playoff run, where the Wild did not win a single game away from St. Paul. Despite their recent woes, the Wild are still just a point out of the division lead and are seemingly destined to play Game 1 next month at home.
But let's talk about their woes lately.
During this dismal eight-game stretch, the Wild are averaging 2.1 goals per game. They have had four games where the offense has scored one goal or fewer, which is very sub-optimal for a team that was once boasting about having four lines that can score.
Then at the other end of the ice, the Wild are allowing 2.8 goals per game during this stretch. Devan Dubnyk has posted a .914 save percentage during the month of March -- when this eight-game stretch began -- but he posted a .917 save percentage in January and February, and the team somehow got by despite his merely average save percentage.
One of the most glaring problems for the Wild has been defensive miscues. While Minnesota is often lauded around the league as one of the better defensive teams in the league, that has definitely not been on display in March. Nate Prosser, the team's seventh defenseman, has seen a high volume of games in the recent weeks, thanks to injuries and illnesses to his fellow blue liners. No offense to Mr. Prosser, but he's not exactly cut out to be in the lineup this much.
Then comes the un-dynamic duo of Matt Dumba and Marco Scandella, who have been subpar for a good portion of the season. Their miscues are now further examined as the Wild continue to rack up loss after loss. If you need proof of their struggles, just check out any of the goals allowed during the stretch. You'll find a play or two where they come into question (It would take quite a bit of time to dissect them all).
So now that I've talked you right to the ledge, here is the part where I talk you off the ledge.
This is just a stretch that even the best teams have.
For instance:
This is not to say that the Wild are destined to win the Stanley Cup; it just merely shows that even the best teams like Chicago and the Los Angeles Kings can have their struggles in March like Minnesota is right now and still make a solid playoff run in the spring.
Another reason to not yet jump off the ledge is the fact the Wild have been playing banged up since the Martin Hanzal trade, which everyone has been so quick to judge. Various injuries (Folin, Olofsson) and illnesses (mumps, norovirus, strep) have made their way through the room during this time, which has impacted the lineup. Hanzal has already been impacted by the illness, as he has missed the last four games due to strep throat but is slated to return sometime this weekend.
Let's maybe see what a healthy lineup can do before we quickly rush to judge it? Maybe this is why the goals have dried up? Let's also not forget that this team has been fairly healthy all season.
Eventually, that stuff surfaces at some point.
Sure, the woes mentioned above are problematic, but good news (and I know how much you hate good news) is that they're fixable. Defensive miscues can be looked at, players will get healthy again and that will lead to a more balanced lineup that should be able to generate some offense once again.
Bad stretch? Absolutely.
Swoon? No (although I could have a different answer at this time next week).
Let's worry about the Wild, but not panic. Because...bear with me here...they can still win the bloody division.
If that is still attainable, then I'll be very far away from the panic button. Come join me.