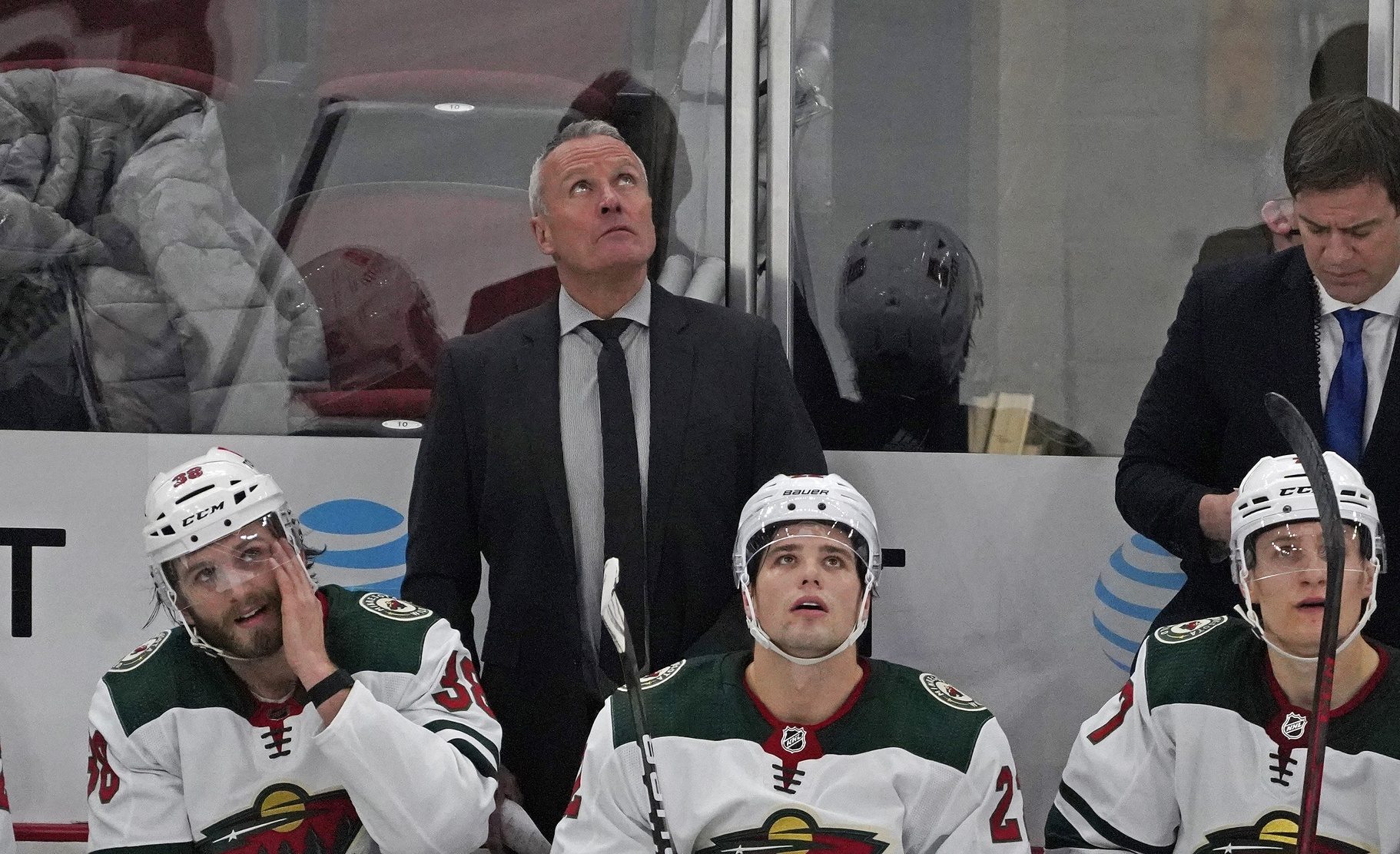 The NHL released the Minnesota Wild's schedule adjustments last week. Thanks to a never-ending string of postponements, the Wild have a grueling stretch run for the second straight year. After playing 38 games in 73 days last season, this playoff push will feature 40 games in 77 days.
Coach Dean Evason's not telegraphing any concern right now. "It's great. We get to play hockey. Why not?" he told the media. "I'd rather be on the ice preparing to play a game than be on the ice preparing to practice. The guys will embrace it."
Granted, the compressed schedule didn't affect the Wild much last year. They didn't appear worn-out against the Vegas Golden Knights in the playoffs. Workhorse goalie Cam Talbot also stood tall in that series, showing little signs of fatigue. But with everyone facing similarly compressed schedules, teams were on a relatively even playing field.
That's not the case this year. Many teams in the West — including potential playoff opponents — have a decided advantage in games played. The St. Louis Blues have three more games played than Minnesota, and the Nashville Predators have five. Should the Wild win the division or get a wild card spot, they could play Vegas, the Los Angeles Kings, or Anaheim Ducks, who have four, five, and six more games in the can than Minnesota, respectively.
Maybe that doesn't sound like a ton, but those extra three-to-six extra off days from now to the end of the season will really add up.
So does an 82-game season. The Wild may have played a highly compressed schedule last year, but they played 26 fewer games overall. This year, they'll play that schedule with 50% more games. That means a third of a season's worth of extra cross-checks, hits, goalie starts, injury opportunities, and more.
We don't know whether the compressed schedule will affect the Wild in the playoffs until May. But we know the value of rest on players. There's a reason Devan Dubnyk, who started 60-plus games a season, seemed to always struggle down the stretch. Rest isn't quite as necessary for skaters, but anyone who's watched a team dragging themselves through their fourth game in six days knows teams can lose their legs without rest.
This brings us to the phrase of the day: load management. It's a concept that gained popularity in the NBA, and it's remarkably simple. Players need rest to be at their best. It may be necessary to occasionally sit a player out over an 82-game season, especially after a recent injury. Superstar basketball players like Kawhi Leonard, LeBron James, and Joel Embiid have all benefitted from this. They've sat out regular-season games — most coming in back-to-backs — to keep themselves healthy and fresh come playoff time.
Does Minnesota need to borrow from the NBA's playbook to keep up with teams with less grueling stretch runs? Evason has already shown a willingness to rest players, at least in a limited capacity. He scratched Kirill Kaprizov, Mats Zuccarello, Jared Spurgeon, Jonas Brodin, and Talbot in Game 56 last year. Of course, that was after Minnesota had clinched a playoff spot, so that game was relatively meaningless.
Can he afford to do it with meaningful points, a potential Central Division crown, and playoff seeding on the line? The math suggests yes. Dom Lusczyszyn of The Athletic looked at this in 2020 and found that while the odds of a given team winning are usually much slimmer in the NHL as opposed to the NBA, the impact of one player sitting out on those odds is also much less. He estimates that even the best NHLer sitting out will only reduce a team's chances of winning by around 4.6%.
So maybe you don't want to give Kaprizov some rest playing against the Colorado Avalanche, Vegas, or other elite teams. But sitting a player probably won't burn you against a lesser team, especially if they're in the Eastern Conference and have no bearing on your playoff race.
There are going to be opportunities to do exactly that. Minnesota will have early March back-to-backs, including the lowly Philadelphia Flyers, Buffalo Sabres, Detroit Red Wings, and Columbus Blue Jackets. Those are four games where an older or recently-injured player can snag an extra day of rest. Someone can easily sit in late March games against Philly or Columbus.
Even the end of the season presents opportunities for rest. The last two weeks of April features games against the Montreal Canadiens, Vancouver Canucks, Seattle Kraken, and Arizona Coyotes. These are pretty bad teams, even before the trade deadline. What do they have to play for in Game 77? That's four more opportunities to get some rest in, especially if the Wild have punched their ticket.
It isn't just about sitting out games, either. Minnesota crushed Montreal 8-2 on Monday night, and the Wild displayed another, more subtle form of load management. Evason evenly distributed time on ice throughout the team. The forwards played between 11 and 14 even-strength minutes, and the defensemen played between 17 and 21 minutes.
Nico Sturm, who had three points in that massacre, observed this after the game. "I think that's going to be key with 40 games in 77 days. I think whenever we have a night like tonight where there's some guys that are really feeling it [they can] maybe take some pressure off some other guys, a couple minutes off of them. That's going to be important come April."
It could also be a great reason to make a trade. Adding a player like J.T. Miller, Claude Giroux, or Tomas Hertl could give Minnesota an additional weapon to lessen the impact of a prominent forward taking a game off. So, too, could adding a Calen Addison or Marco Rossi to the roster full-time. Any of these additions could allow Minnesota to rotate players in and out of the lineup with regularity, giving rest to everyone.
They'll have to find a way to keep their players fresh because things don't get any less grueling in the postseason. Even with three- and four-day breaks between rounds, the Tampa Bay Lightning had to play 23 games in 51 days in last year's playoffs. It's a difficult path to navigate, and Minnesota can't burn themselves out before they even arrive.