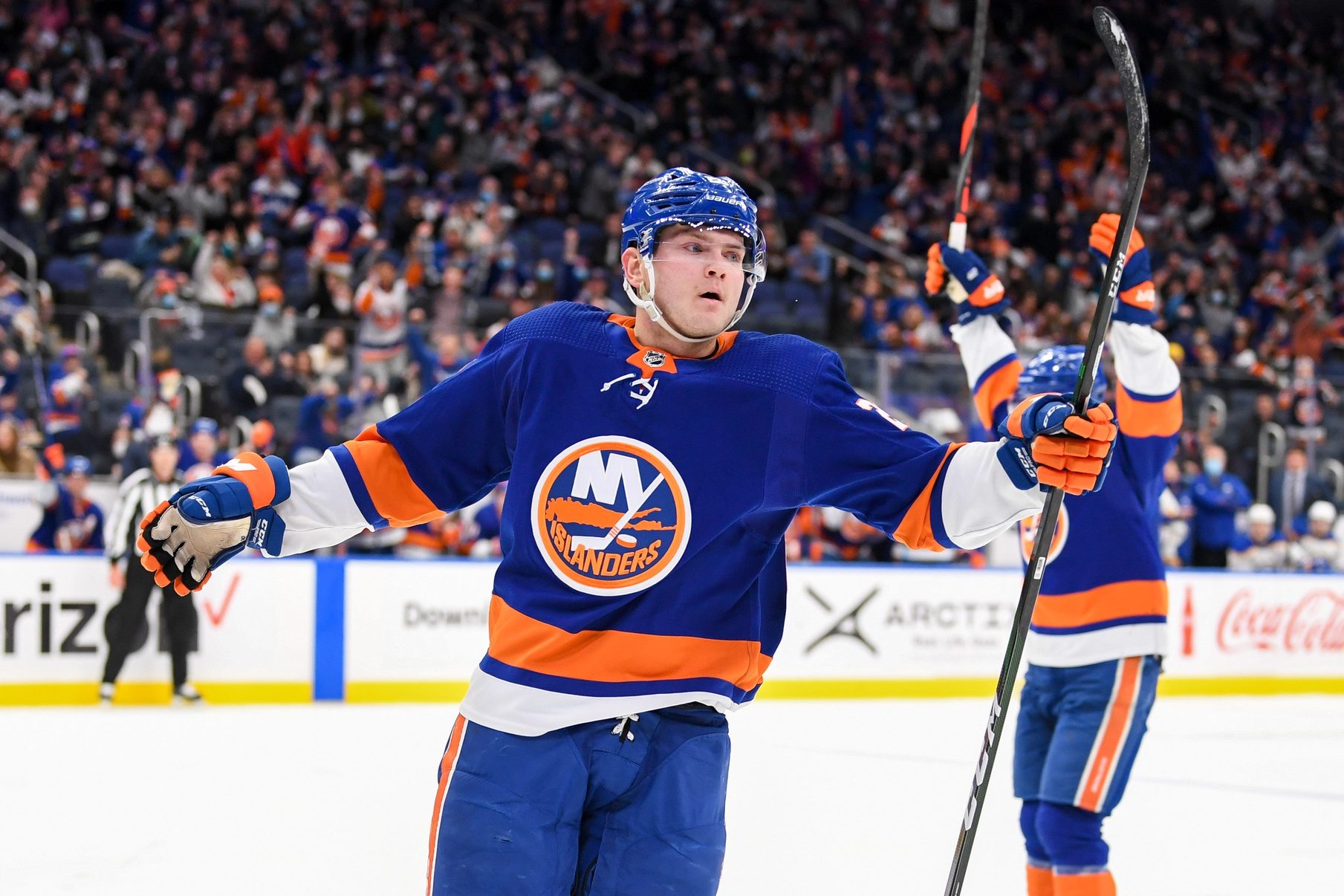 Bill Guerin is building a reputation for claiming former first-round picks and giving them a chance with the Minnesota Wild. It's been a mixed batch of success. Tyson Jost has been somewhat of a disappointment. Sam Steel is still finding his identity, but he has been a good role player. Now another first-round pick-turned-outcast is hitting waivers, and neither of them has the scoring upside of Kieffer Bellows.
The New York Islanders drafted Bellows at 19th overall in the 2016 Draft. He was supposed to be a power forward — think of a poor man's Matthew Tkachuk. He didn't reach that level in New York, but what if the Wild can tap into some of that potential? That's the type of personality the Wild need in their locker room and on the ice. 
Whispers circled during the preseason that Guerin wanted to add another forward before Jost, Steel, and Marco Rossi put up strong pre-seasons. Specifically, a goal scorer. Someone who can play with Matt Boldy.
They're not getting that from prospects, not right now. Adam Beckman isn't NHL-ready and is in Des Moines for the foreseeable future. Danila Yurov and Marat Khusnutdinov are both in Russia. Liam Öhgren needs to adjust to playing a bigger role against men in Sweden.
With all due respect to Jost, it's not likely he'll be in Guerin's long-term plans. If he can't make it on a shutdown line with Joel Eriksson Ek and Marcus Foligno, how can you expect him to make it in the Top-6 or higher? If anything, Minnesota might be better off if they'd traded Jost and got more cap space by having Mason Shaw play games.
The Islanders has mismanaged developing star-quality players before. Matt Barzal is the closest thing they have to a star, and even he peaked in his rookie season. Bellows, Michael Del Colle, and Joshua Ho-Sang didn't fulfill their potential in the organization. However, Bellows is 24, and still young enough to establish himself as a scorer with a mean streak. That's what the Wild need. Pair that kind of player with Boldy and Rossi as his linemates, and that's a mix of skill and grit that spells nothing but success.
As for long-time Minnesota hockey fans, imagine Brian Bellows sitting in the stands every game with free Wild tickets watching his son make history where it all started -- especially when Kieffer is rocking the Reverse Retro jersey, giving strong Minnesota North Stars vibes. You can picture Brian with emotional tears after seeing Kieffer buries a one-timer off of a feed from Boldy for his first goal as a member of his hometown team. It's too good of a moment not to pursue.
This is the right time for everyone to start peaking. Boldy is on the rise to stardom. Rossi is starting to find his stride, but with no points so far, must be unsatisfied with his game. He's only going to have fire in his eyes. So will Bellows, who will have the best support system behind him — his hometown fans.
Bellows isn't Kevin Fiala by any means. So don't expect Bellows to show Fiala's flash, but rather some Eriksson Ek type of grit with 30-goal upside. Bellows is going to have some fire to do well. Winning the Stanley Cup and having to compete against the team's best prospect pool will be nothing but motivation. And Bellows would pretty much add another young "prospect" to Minnesota's system.
With a deadly power play intact already, Bellows can shine on the second unit. His presence would give Rossi something to work with on the power play for a true shooting option. There could be good chemistry there. As good as the power play is, Minnesota needs to produce secondary offense, too. It's a low-risk, high-reward move. Bellows is a player who's shown some versatility by playing between center and winger, even though he's a natural wing.
Bellows won't hinder the cost of signing Boldy and Calen Addison, who are their most important restricted free agents this summer. Bellows and Steel could probably end up getting Ryan Hartman-type contracts. Speaking of Hartman, Bellows is a candidate to have that kind of Cinderella season. And with Bellows, it could last.
Here's another forward for scoring depth hungry to stick with a team. Freddy Gaudreau is likely getting an extension and he's earning the title of a solid two-way, second-line center. If anything Boldy and Bellows could have all the offensive freedom in the world while Gaudreau does what he does best: playing defense and supporting the play. Gaudreau is a high-quality forechecker that suits Bellows' style of play.
You add in Bellows' mean streak and Jordan Greenway's grittiness and suddenly teams would have a meaner Wild group to face in the playoffs. Once the team continues to improve their defensive zone play and the goaltending settles throughout the season, suddenly Minnesota has a team ready to make more noise in the playoffs than in years prior.
The Wild can turn the Islanders' subtraction into their addition. The upside is still high for the young kid. Boldy is the type of player to complete him. This is the opportunity for Guerin to pounce on and give Bellows space to thrive with a warm homecoming. He'd get to breathe a sigh of relief with a change of scenery being surrounded by fans, family, and friends.