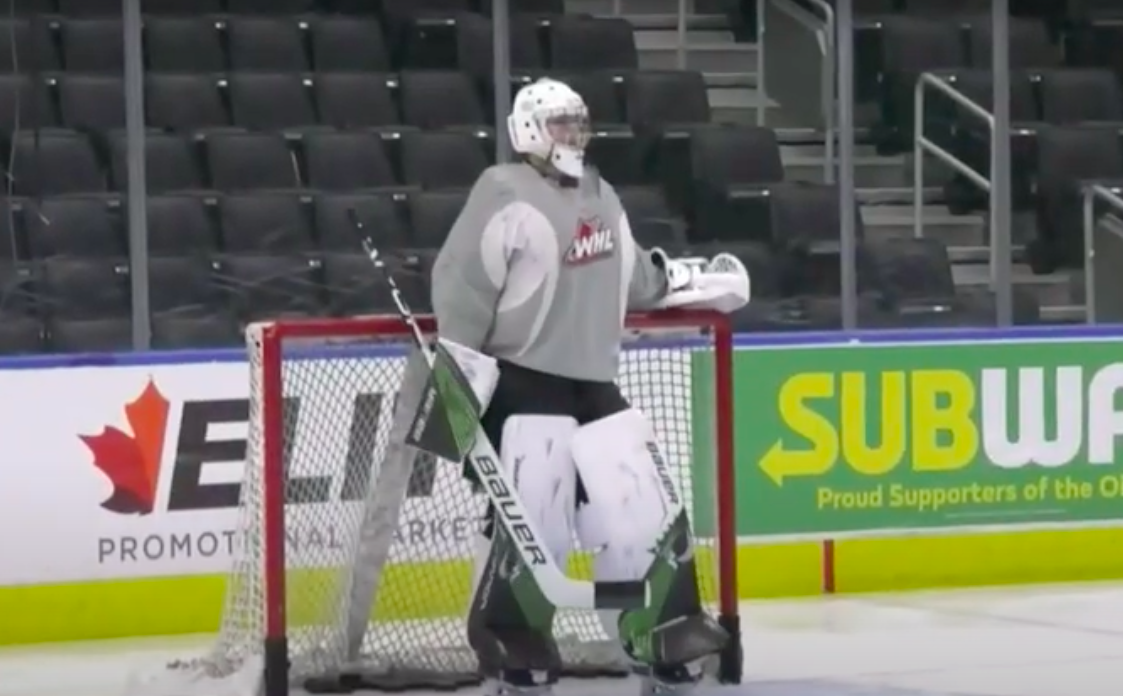 There were two main reasons for the Minnesota Wild's surprising season last year. The first was a Good Hockey Boy from Siberia named Kirill Kaprizov. The second, and perhaps even more crucial, was that the Wild got actual competent goaltending.
The Wild swapped out the disintegrating Devan Dubnyk for Cam Talbot last summer, then later Al Stalock for Kaapo Kähkönen. Together, Talbot and Kähkönen combined for a .909 save percentage, 14th in the NHL. Not exactly impressive, but compared to the .897 egg Dubnyk and Stalock laid last year, they looked like Roberto Luongo.
So, problem solved, right? Hardly. The Wild haven't done much more than hit the snooze button on their long-running organizational depth issues at goalie. Talbot had a solid season and strong playoff, but he turns 34 on Monday. To put that in context with recent Wild history, Niklas Backstrom started declining in his age-34 season. Dubnyk started his slide in earnest at age-33.
While Kähkönen turns 25 next month and is theoretically his prime, there are questions about just how good he'll be. The streakiness that haunted him in the AHL was on full display this season, and with a final save percentage of .902, the bad outweighed the good. Rookies will inevitably go through ups and downs, but the patterns he showed may not indicate a starting goalie.
Could this lead to Minnesota drafting a goaltender with one of their two first-round picks in this month's draft? The 2021 class has two goalies widely believed to be first-round caliber in Jesper Wallstedt and Sebastian Cossa. Will the Wild have the interest or opportunity to get one of them? Let's dive in.
Close But No GIGUERE
When Dubnyk's decline hit, the Wild's lack of goaltending in the organization was exposed. From 2010 to 2018, Minnesota drafted just five goalies: two in each the fourth and sixth rounds, and one in the seventh. Only Kähkönen has seen any NHL time, anywhere.
There is a track record of late-round goalies succeeding in the NHL. Top performers from this year included mid-to-late-round picks such as Juuse Saros, Igor Shesterkin, Philipp Grubauer, and Connor Hellebuyck. But to succeed with that strategy, you have to be good at development, which hasn't been a strength for Minnesota historically.
So it's no surprise that the Wild have been linked to top goalie prospects in recent drafts. In 2019, they had an opportunity to take Boston College goalie Spencer Knight at 12th overall. They passed, drafting winger Matt Boldy, then trading up to Pick 59 to select goalie Hunter Jones.
Jones' selection, Minnesota's highest-drafted goalie since Josh Harding (38th overall in 2002), apparently didn't quench their thirst for goaltending. The Wild ended up taking center Marco Rossi with the ninth overall pick, but Sportsnet's Elliotte Friedman reported that Minnesota attempted to trade for the 12th overall pick, as well. In a Dec. 3 podcast, The Athletic's Michael Russo voiced his belief they aimed to select goalie super-prospect Yaroslav Askarov before the Nashville Predators sniped him at 11th overall.
Knight has played exceptionally well, even performing admirably in some playoff time this season. Askarov is dominating in Russia. Those positive early returns could give the Wild (and other teams) confidence that drafting first-round goalies is no longer a fool's errand. Even with Jones in the fold, healthy competition would do wonders for Minnesota's prospect pool.
Walling Off Shooters
Of the two likely first-round goalies, Wallstedt is the least likely to fall to the Wild at 21. Most publicly available rankings for this draft have him in the top 10, and it's easy to see why. In terms of playing and holding his own at extremely high levels of hockey, Wallstedt might have the most impressive resume of any goalie in recent memory.
Wallstedt played 22 games in the Swedish Hockey League in his draft year. He's not only playing against men but doing so in the third or fourth-best hockey league in the world. There's literally no precedent for this, as no goalie has played more than seven SHL games in their draft year this century.
Not only did he play, but he also played reasonably well, finishing 13th among the 23 SHL goalies with 20-plus games played. Again, He is 18 years old.
The Elite Prospects Draft Guide notes that Wallstedt's game is built on his exemplary technique. In their guide, Cam Robertson praises his rebound control and inability to get rattled, while Mitch Brown lauds his ability to track the puck and read plays. It's hard to see a downside with Wallstedt, and thusly, it's hard to see him falling to Minnesota's range.
Cossa Nova
Cossa may not have the pro resume that Wallstedt boasts, but his performance in the WHL is impressive. The COVID-shortened season limited Cossa to 19 games, where he compiled a mind-boggling .941 save percentage. Per Elite Prospects' database, that's highest by a draft-eligible goalie with 15-plus games played in the league's history. That holds the No. 1 spot if we include the OHL and QMJHL, as well.
A 19-game sample is tiny, and the WHL was missing some top talent, but video game numbers are video game numbers. It also helps that Cossa showed well in his age-17 season, posting a .921 save percentage over 33 games. That figure ranks second among WHL goalies in their Draft -1 seasons over the past decade, with Calgary Flames prospect Dustin Wolf taking the top spot.
So that's 50 games of Cossa being an extremely good WHL goalie for his age. He's also got the massive frame goalie scouts drool over, standing at 6'6". He's not as good of a skater as Wallstedt, but according to Elite Prospects' Draft Guide, he compensates with his length and stylistic differences. "He covers any agility-related shortcomings with a level of creativity that is rare among goaltenders at this stage in their development," it reads. "Where some goaltenders have to rely entirely
 on their structure to make saves, he's able to break from protocol when the moment calls for it."
Cossa's rankings among his draft class tend to fall into the late teens and early 20s, meaning he's much likelier than Wallstedt to drop to the Wild at 21. Still, if the Wild want one of these two goalies, they can't count on leaving this up to fate.
Should the Wild Trade Up?
The Athletic ran two mock drafts in the past week. Corey Pronman's mock saw Wallstedt landing with Ottawa at 10th overall, with Cossa going to Chicago at 11th. Scott Wheeler projected Wallstedt at 11, followed by Dallas taking Cossa with the 14th pick. Even if one of them falls past 14th overall, they'd have to fall seven more spots — and avoid trade-ups — to land in Minnesota.
Unless the Wild trade up, of course. Will they?
It's tough to say as outsiders without access to the draft boards, but it's very possible. We have a reasonable idea that they tried to trade up for an elite goalie prospect last season, and Judd Brackett had no issues being aggressive to get his guys last year. The Wild traded into the second round for Marat Khusnutdinov, then later traded up for Daemon Hunt (third round) and Pavel Novak (fifth round).
So moving up from the 21st pick certainly is in play, and the Wild have the ammunition to move up a few spots. A second-round pick (53rd overall) and two third-round picks (85th and 89th) should give them some options, depending on how high they want to trade up.
There's also the possibility that a team would much rather get picks in the 2022 Draft, where they'll likely get to see that draft class play many more games than the 2021 class played this season. Could Minnesota trade a 2022 first to move up into the 10-15 range for either goalie? Or again try trading a prospect to secure that kind of pick? If so, they'd have a top goalie prospect, plus Picks 21 and 25 to work with.
Minnesota has the need, the flexibility, and the willingness to snag a top goalie prospect. Will they do it? We'll find out in three weeks.