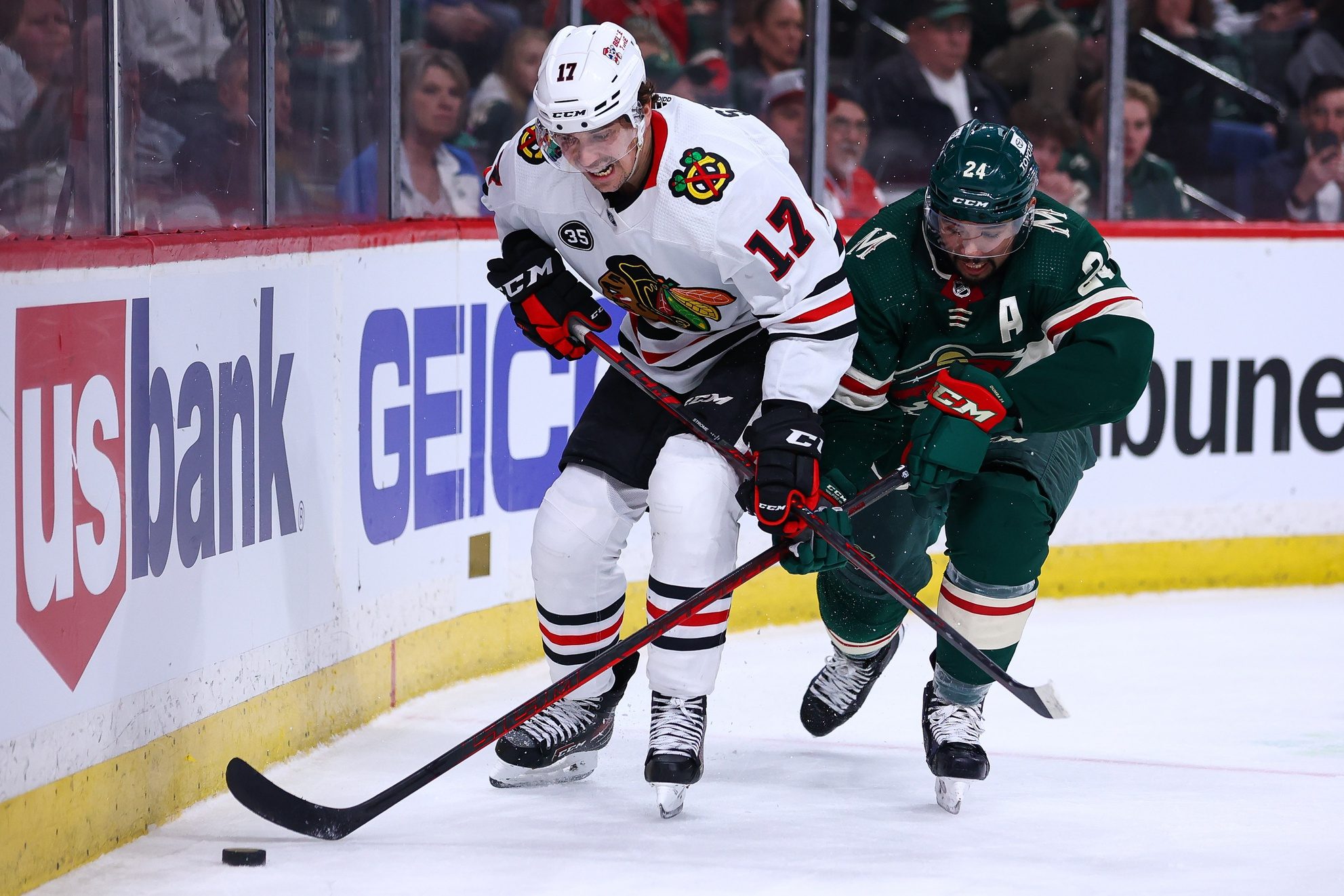 The Minnesota Wild will enter free agency with $1.4 million in cap space and three roster spots to replace. Heck, after trading Kevin Fiala, add 33 goals and 85 points to the list of things that need replacing. Unless the Wild somehow get an exemption allowing them to pay three players under the $750,000 minimum salary, they currently can't afford to fill their roster. And they sure can't make any sort of free agency splash, either.
That's bad news for the Wild, who might otherwise have tried to upgrade their center-by-committee situation from last year. Giving current Stanley Cup champion Nazem Kadri a contract that pays him big money until age 38 isn't possible. Nor is a shorter-term contract for Evgeni Malkin.
If they don't want to run it back with their current options and top prospect Marco Rossi, they'll have to look outside the organization. The problem with that is centers don't just grow on trees. You either develop your centers, pay someone a lot of money, or give up trade assets to find one. The Wild don't have any money, and they will have trouble affording any options like Martin Necas, who will demand a raise this offseason.
So that leaves them rustling through the bargain bin of free agency. Luckily for them, the Chicago Blackhawks' rebuild might have put an intriguing center into it: Dylan Strome.
There was a time when Strome was a can't-miss, no-doubt-about-it future star center. The 6'3" pivot went third overall in the 2015 Draft, behind Connor McDavid and Jack Eichel, and ahead of Mitch Marner. Only, he didn't pan out with the Arizona Coyotes, who shipped him to the Blackhawks for Nick Schmaltz.
Strome re-gained some shine in Chicago, but stardom still eluded him. He put up 51 points in 58 games between Alex DeBrincat and Patrick Kane. The next few years weren't as kind. He'd produce good-but-not-great numbers when with one or both of Chicago's star wingers, but without them? He was pretty pedestrian. The Blackhawks shopped him on the trade market for at least a year, found no takers, and non-qualified him yesterday. This makes him an unrestricted free agent.
Strome's value on the open market will be intriguing to watch. On the one hand, he's damaged goods by NHL standards. Chicago was giving quality players away on draft night. No one wanted to spend a third-rounder to take his exclusive RFA rights? Two very bad offensive teams that needed all the help they could get turned him away. There can't be a team that wants him that badly, right?
On the other hand, he's a 6'3" center who put up some decent numbers in Chicago. Scoring 0.68 points per game over four years is nothing to sneeze at, not for a guy who turned 25 in March. If the league thinks he's damaged goods, can Guerin swoop in and add a low-cost fix to his lineup?
The first thing the Wild have got to ask is: Is Strome actually an upgrade?
Minnesota would be adding Strome to displace Ryan Hartman, Freddy Gaudreau, or both next season. Hartman centered the first line with Kirill Kaprizov and Mats Zuccarello. Gaudreau was between Fiala and Matt Boldy. Hartman and Gaudreau had career years coming out of nowhere with 65 (previous high: 31) and 44 (previous high: 10) points, respectively. Most fans feel both will regress next season.
With Strome and Rossi filling those voids, Minnesota would have two young players with a ton of pedigree anchoring their top two lines. That makes sense on paper.
What about in practice, though? Rossi absolutely represents an upgrade over Gaudreau. He has more natural talent and plays the same responsible, transition-heavy style as Gaudreau. But statistically and in terms of fit, you can't say the same thing for Strome vs. Hartman.
Let's start with the on-ice fit. Between Kaprizov and Zuccarello, Hartman was the clear third place when it came to puck skills. Their dynamic on the ice was best captured by the "Not Weird. Wild." ad campaign where Kaprizov and Zuccarello flashily passed a coffee cup between each other. Hartman has enough of the theatrics and simply takes the cup and pours himself a glass.
Hartman didn't have the raw skill, but his meat-and-potatoes game worked well between the ultra-flashy duo. Hartman was fourth on the team with 9.2 shots per hour at 5-on-5 play, seating him 51st among 379 forwards with 500-plus minutes. That kind of shot volume, a bit less defensive attention, and a bit of good fortune allowed him to finish the year third in the NHL with 27 five-on-five goals.
Can Strome fill that role? History says no. Or at least not that specific role. Strome isn't a volume shooter, blasting just 6.1 shots per hour at 5-on-5 throughout his Blackhawks career. Strome's more of a playmaker, but he still didn't have an edge over Hartman in that department.
According to Corey Sznajder's tracking data, Strome assisted on 2.7 scoring chances per hour last year. Compare that to Hartman, who assisted on 2.4 chances per hour but added over two scoring chances of his own per hour coming off his stick. Sure, maybe Hartman falls to earth a touch next year. But their offensive and defensive impacts have been nearly identical over the last three seasons.

Then there's the issue of speed, which is probably Strome's biggest weakness. Minnesota's attack is built on speed. Kaprizov moves the puck up the ice with pace. Fiala and Gaudreau did the same last season, with Rossi expected to contribute there. Even their more dump-and-chase-oriented third line features good skaters in Joel Eriksson Ek and Jordan Greenway. Strome has something to give to an NHL team, but is it a Wild team that wants to skate? Or would they prefer just to let Hartman, who is fast enough to keep up with Kaprizov and Zuccarello, stay in that role?
Then there's the money. On the one hand, clearing some room to sign Strome seems doable. Evolving Hockey projects his contract to fall around three years with a $4.6 million cap hit. It's the kind of cost certainty down the middle that they'd appreciate, lasting through the worst of the buyout penalties.
At the same time, that's a lot of money for a cap-strapped team that doesn't have room for error. We don't know how well Strome would fit in Minnesota's lineup. What if the Wild signed Strome and it failed? He was pretty well untradeable for Chicago last year, so if his next team wants to move on, you gotta think that kills his trade value further.
The Wild could do a nice bit of business by finding a young, talented player off the scrap heap and hoping they provide value. They may even already have such a candidate in Tyson Jost. But in terms of playstyle, fit, and investment, Strome doesn't make sense considering what Minnesota is already working with.