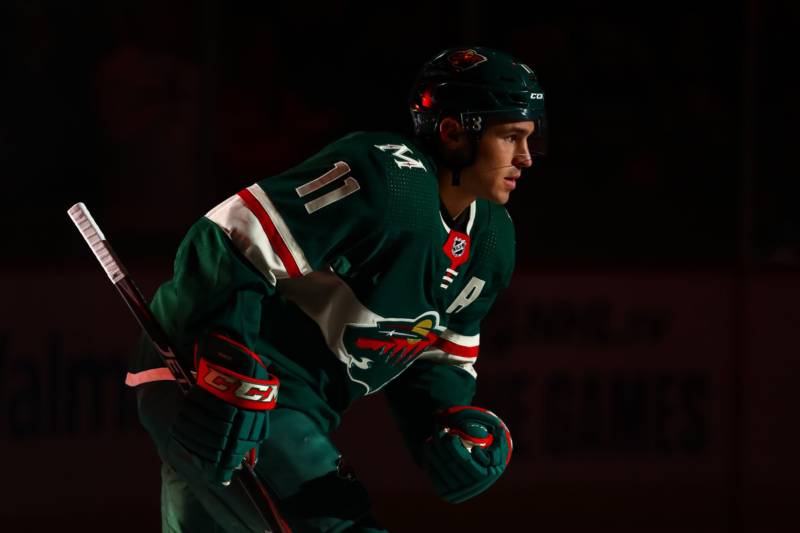 An early Christmas gift for hockey fans came on Sunday when the NHL announced that they had agreed upon the 56-game format of the 2020-21 season with the NHLPA, beginning on Jan. 13th.
As previously reported, the Wild slide into the West Division where they will play each team in the division eight times, as no one will play an opponent outside their own division. What that means is that the Minnesota Wild will get eight games each against every member of their new West Division.
Now that the season is set to begin, and the parameters are also set, we bring back an old Giles and the Goalie segment that was done prior to each season: over/under. These are no different than what you see for props/futures bets from Vegas books, but we just set the numbers ourselves.
Let's get on to the numbers:
Team total points - 55.5
Team total wins - 25.5
Finish in Pacific - 4.5th place
These three over/unders are all pretty similar, in that if you go over/under on one of them, you are most likely going with that same selection on all three. With the Wild headed to the West, we have them in a spot around fourth or fifth. Too generous or too low?
Kirill Kaprizov points - 39.5
Minnesota's prized prospect finally makes it stateside and will debut in early January with the Wild. His points per game output in the KHL was on-par with Artemi Panarin. When Panarin made his debut, he nearly put up a point per game pace in the NHL his rookie year. It would be optimistic to put Kaprizov on that level, and given the Wild's center talent, he might not be able to do just that. So think twice before hitting the over on this one so quickly.
Zach Parise goals - 19.5
In the two-and-a-half seasons since returning from his back injury, Parise has kept in line with his career goals per game average at 0.36 compared to a career mark of 0.38. At age 36, Parise has yet to show signs of slowing down in the goals department and should be able to come in around that goals per game mark yet again considering the added talent the Wild have added upfront.
Marcus Johansson assists - 22.5
This one is a bit of a toss-up, but with Johanson slated to get top-six minutes to open the year, he should get some decent assist numbers considering he will have the likes of Kaprizov, Parise and Kevin Fiala surrounding him.
Kevin Fiala goals - 21.5
Now establishing himself as the Wild's go-to goal scorer, Fiala will no doubt be looking to take advantage of some of the lesser teams in this new division to pad his goal scoring stats. Fiala tallied 23 goals in 64 games for Minnesota last season, while adding three in the team's four postseason games before being eliminated by the Vancouver Canucks.
Joel Eriksson Ek points - 29.5
No Eric Staal, no Mikko Koivu. The departure of two polarizing centers has valuted 2015 first round pick, Joel Eriksson Ek, into a top six spot down the middle. The question is, while Eriksson Ek is a solid defender, can he put up the points to match his increased minutes?
Defensemen total combined points - 140.5
For the past couple of seasons, the Wild have relied heavily on defensemen points to help boost their offense. Last season, the Wild blueliners scored a combined 168 points in 68 games, which averages out to 2.47 points per game from the blue line. Can the Wild defense, which remains the same from last year, put up similar averages to last year? If you are not sure which way to go on this one, just decide if you think Matt Dumba is going to bounce back or not from last season. That should determine your over/under decision.
Cam Talbot wins - 20.5
Cam Talbot sv% - .9145
New goaltender Cam Talbot headlines what general manager Bill Guerin hopes to be an improved goaltending department in 2021, as Devan Dubnyk was traded this offseason. Talbot should get a decent number of starts as the Wild's No. 1 goaltender, but given the condensed schedule and many back-to-backs that should be on it, Talbot won't be getting all the starts. However, Talbot will get to play behind one of the best defenses in the league, and if he simply can play around league average, he should put up decent numbers and help the Wild move up in the standings.
Marco Rossi games played - 6.5
The Wild get six games this year to decide if they want to keep Marco Rossi or send him back to Austria. If they go to a seventh game, they burn the first year of his entry-level contract. Do the Wild keep him for seven and more or just go six or under with their talented first-round pick?
Nick Bonino & Nick Bjugstad combined games played - 82.5
Have some fun with two new forwards on the Wild roster who are both named Nick! Both should be key factors for the Wild if they can stay on the ice this season.