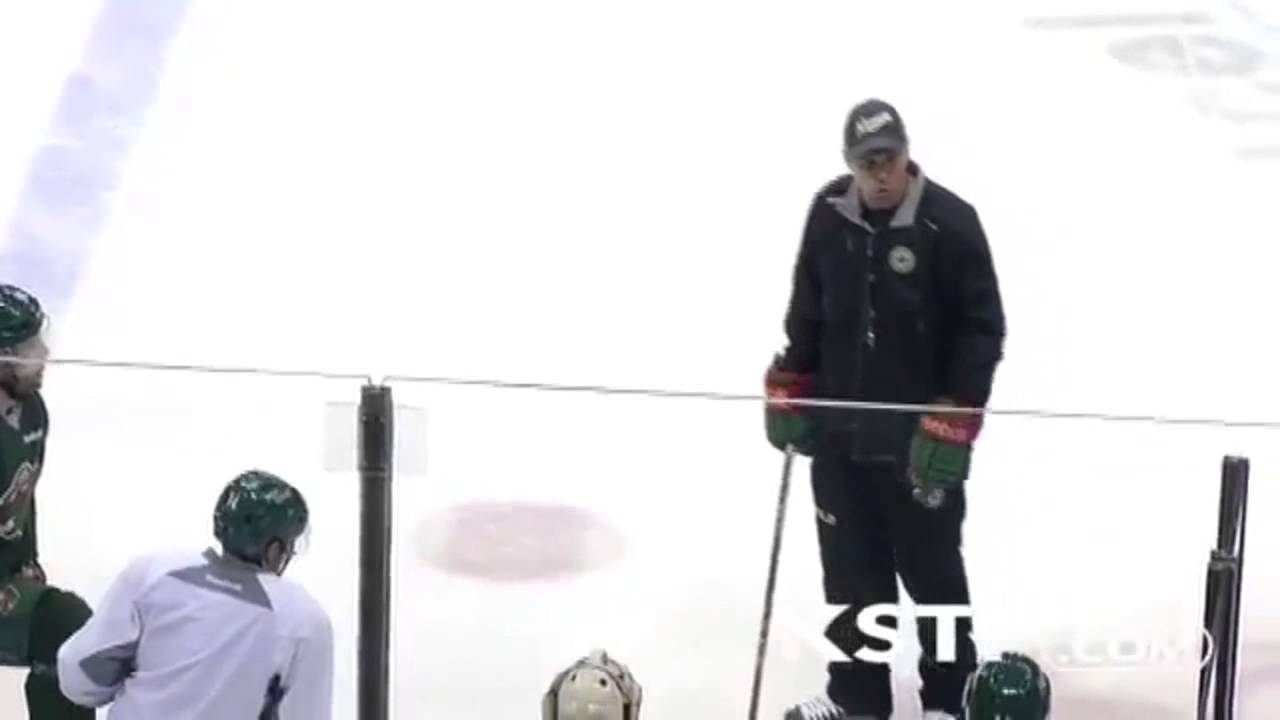 I'm a winner. Everywhere I've gone at every level. As a player, assistant coach, head coach, I've won. This is the only place that I've been where I haven't gone to the finals or won a championship. And I think I just ran out of time for that.
-- current Blues head coach Mike Yeo after being fired by the Wild last year
This is hockey karma, sports fans. And man is it a beautiful thing.
The hockey gods have arranged for the Minnesota Wild and the St. Louis Blues to meet in the first round of this year's playoffs. Minnesota, a potential division winner and Western Conference leader had they not Swooned™ this year, will face off against former head coach Mike Yeo and the Blues, who had a Swoon™ of their own that got Ken Hitchcock fired in the middle of the year.
It's a match made in hockey heaven. On one side you have the coach who took a monastic vow of silence during one Swoon™ and carried a big stick and smashed it over the boards during another. On the other hand you have his trusty overpaid veterans who ran him out of town once they got tired of the dysfunction every year. He deferred to them, at the cost of the development of Minnesota's young players, and they rewarded him with 13 losses in the final 14 games he coached. The tension and drama and just general petulance on both sides throughout the Yeo era might be more entertaining than playoff wins. Certainly a team that went 11-17 in the postseason and never got past the second round during his tenure would have to hope so.
The damage was self-inflicted. "There was never a time that I didn't put the person on the ice that I thought was going to give us the best chance for success," Yeo said in his post-firing Q&A. For reference, of the players that had 50-plus points this year under new head coach Bruce Boudreau, three of them are under 25 (Mikael Granlund, 69 points; Nino Niederreiter, 57; Charlie Coyle; 56), one of them was not on the team last year (Eric Staal, 65) and the other benefitted greatly from Staal's presence (Koivu, 58). Parise and Suter, for the record, finished with 42 and 40 points this season. Jason Zucker and Jason Pominville had 47.
"
You could conclude that coaches should trust younger players more and be more willing to give 21- and 22-year-olds as much ice time as they'd give 26- and 27-year-olds"
When it comes to the forwards, the team's best players are actually the younger guys. This should come as no surprise. An SB Nation study conducted in 2014 found that forwards are at their best in their early 20's, peak at around age 25 and retain 90 percent of their scoring through age 29 but drop off suddenly in their 30's. Parise joined the Wild at age 27. Pominville at age 30. Thomas Vanek at age 31. Each player was at their best in their early 20's and tailed off in some capacity on the wrong side of 30. "You could conclude that coaches should trust younger players more and be more willing to give 21- and 22-year-olds as much ice time as they'd give 26- and 27-year-olds," writes the author behind the study.
So not only were Parise's best years spent under the Yeo regime, but his deference to 30-plus forwards also wasted the best years of his young, most productive players like Granlund, Niederreiter, Coyle and Zucker. "It just felt like there were almost two groups," he said after being fired. "There were younger guys and there were the older guys. It wasn't just a group." The reason for the disconnect? Perhaps the best players weren't getting the most playing time.
The end of Yeo's reign itself was amazing. The massive losing streak and the general content of the players to risk missing the playoffs to get this guy fired and of management not to act quicker to relieve him of his duties is almost unparalleled in sports. Really, as I've written about many times before, they would have been justified in firing him during the year they signed Parise and Suter once he stopped talking to the team after games during the first Swoon™. Presently there is some question as to how the toll injuries Parise has suffered and the miles on Suter's odometer will take on two players on the wrong side of 30. Both are 32, meaning Yeo coached both players during their physical prime. Now he has a chance to knock them out of the playoffs.
Wild-Blues is an intriguing rivalry that Minnesota needs right now
Yeo was essentially trained in with the patient-to-a-fault Wild franchise, which might backfire in this series. Who knows if he gets this job had he been fired earlier? At the very least, he's motivated and equipped to do it now. "Even this year I was the third youngest coach in the league, but look at the experience I have," he said after he was fired. "Somebody who is looking for a head coach, if they want experience, I've got it."
It creates an intriguing rivalry that the Wild need right now. There's bad blood with the Colorado Avalanche, but that team can hardly muster a fight against anyone, let alone an 106-point Wild team right now. The Chicago Blackhawks routinely beat them in the playoffs, so until that changes it's hard to see it as anything but a one-sided affair. The Wild need a rival on their level.
If Hitchcock were still coaching the Blues, this matchup would hardly feel the same. Nobody in St. Louis is all that bitter about the 1987 World Series, certainly not enough to carry over to hockey. And while both teams are in Midwest cities, the cultures -- hockey and otherwise -- couldn't be more different. The Blues and Wild both are a fit in the Central Division geographically, but it doesn't go much farther than that.
But this whole Yeo storyline makes things interesting. On the Wild side, they may have regrets that they didn't act sooner to get the best out of their players. On the Blues side, their head coach has to be motivated to beat the players that submarined him. But for hockey fans in general, there's reason to watch two teams that are fighting it out only to be beaten by the Chicago Blackhawks in the second round anyway. This, sports fans, is hockey karma at its absolute finest.