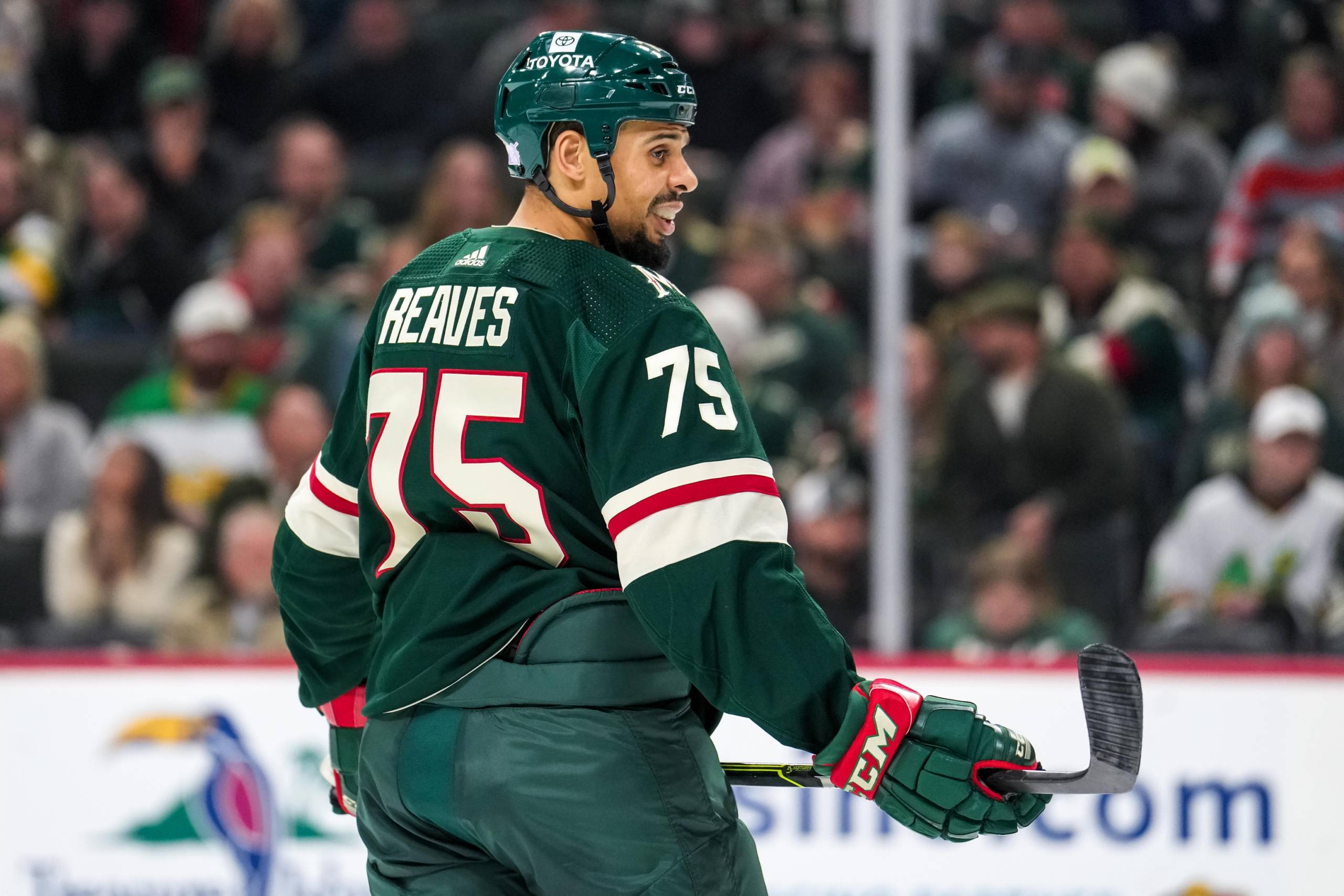 Minnesota Wild GM Bill Guerin gave the team an early Christmas present this year in the form of veteran forward Ryan Reaves. Guerin sent a 5th-round draft pick to the New York Rangers for Reaves. It was an attempt to add size and leadership to a Wild team struggling to find its identity. It worked. The Wild are 10-4 since the move and are one of the NHL's hottest teams heading into the short Christmas break. It didn't take long for Reaves to have an impact both on the ice and in the locker room.
After an Oscar-worthy performance reading the lineup card before the Wild played the Anaheim Ducks on December 3rd, Reaves recorded his first point as a member of the Wild by assisting on Connor Dewar's second goal of the year. The next night, he added two more assists in Minnesota's shootout win over the Dallas Stars. But a man known around the league as "The Grim Reaver" isn't necessarily expected to be on the score sheet every night. He's an enforcer who will never shy away from dropping the gloves. Just ask Marcus Foligno.
Reaves and Foligno squared off in the third period of the Wild's season opener. Then just over a month later, Reaves was on his way to St. Paul to skate on a line with Foligno.
"I've always had respect for him. He plays hard, he plays the right way, and he doesn't do anything dirty." Reaves said when asked if it would be awkward playing with Foligno. "That's a guy I've always respected. No hard feelings ever." It's easy to see the mutual respect between the two heavyweights, especially with Foligno being mic'd up during their fight in October. Reaves' physical play is precisely why the Wild added him to the lineup. He can set the tone for an entire game.
Barely three minutes into the game against the Detroit Red Wings on December 14th, Reaves leveled Red Wings defenseman Filip Hronek with an open-ice hit as Hronek was trying to break out of the zone. In the second period, Reaves threw Detroit's Gustav Lindstrom into the boards behind the Wild net, then Ben Chiarot jumped him. Reaves handled Chiarot without much issue, then fired up the crowd by flexing his way to the penalty box.
Reaves has done an excellent job at winning over the fans in Minnesota, and it isn't just from his physical dominance on the ice. Before the last home game leading into Christmas, Reaves and superstar Kirill Kaprizov arrived at the arena wearing holiday-themed costumes. They spent most of the warm-up period tossing sticks and pucks to young fans full of holiday cheer.
"Reave-o called me a couple of days ago to ask me if I want to go with him as an elf, and he's Santa. I said yeah, why not?" Kaprizov told reporters after the game. Not a bad way for a couple of 5th-round draft picks to earn some new fans.
While Wild fans seem to be warming up to Reaves, not everyone understood why Guerin would bring in an enforcer when the team's most urgent need has been a top-line center. Guerin knows what it takes to win, especially in the playoffs. So who can blame him for bringing in a player like Reaves? Looking back at the last five Stanley Cup Champions, they all have at least one player known for getting under the opponent's skin. The Colorado Avalanche had Nazem Kadri. Then there was Pat Maroon in Tampa Bay and St. Louis. Tom Wilson in Washington.
Those teams had plenty of offensive talent, but grit and physicality are what win games in the playoffs. With only eight points in 102 playoff games, it's not likely Reaves will lead the Wild in postseason scoring. However, his presence alone can open up some space for players like Kaprizov and Mats Zuccarello to put the puck in the net. Reaves enjoys playing that role and has perfected the art of hitting over his 13-year career.
"I kinda hit like a football player. I don't always turn sideways, which sometimes when you turn sideways you catch head," Reaves explained to the media after the Detroit game. "A lot of times, I go straight on and kinda push with my hands. It's a lot of chest."
The Wild feel like a different team since trading for Reaves. His personality is as big as his hits, and he has helped the team elevate their game. It doesn't matter if he's singing along to the goal song at the X, sharing his steak recipe on Ryan Carter's podcast, or cracking up Jordan Greenway with his lineup announcements, Reaves gets the team ready to play. And just as important, he keeps them loose. His veteran leadership has a calming effect and lets the Wild focus on winning.