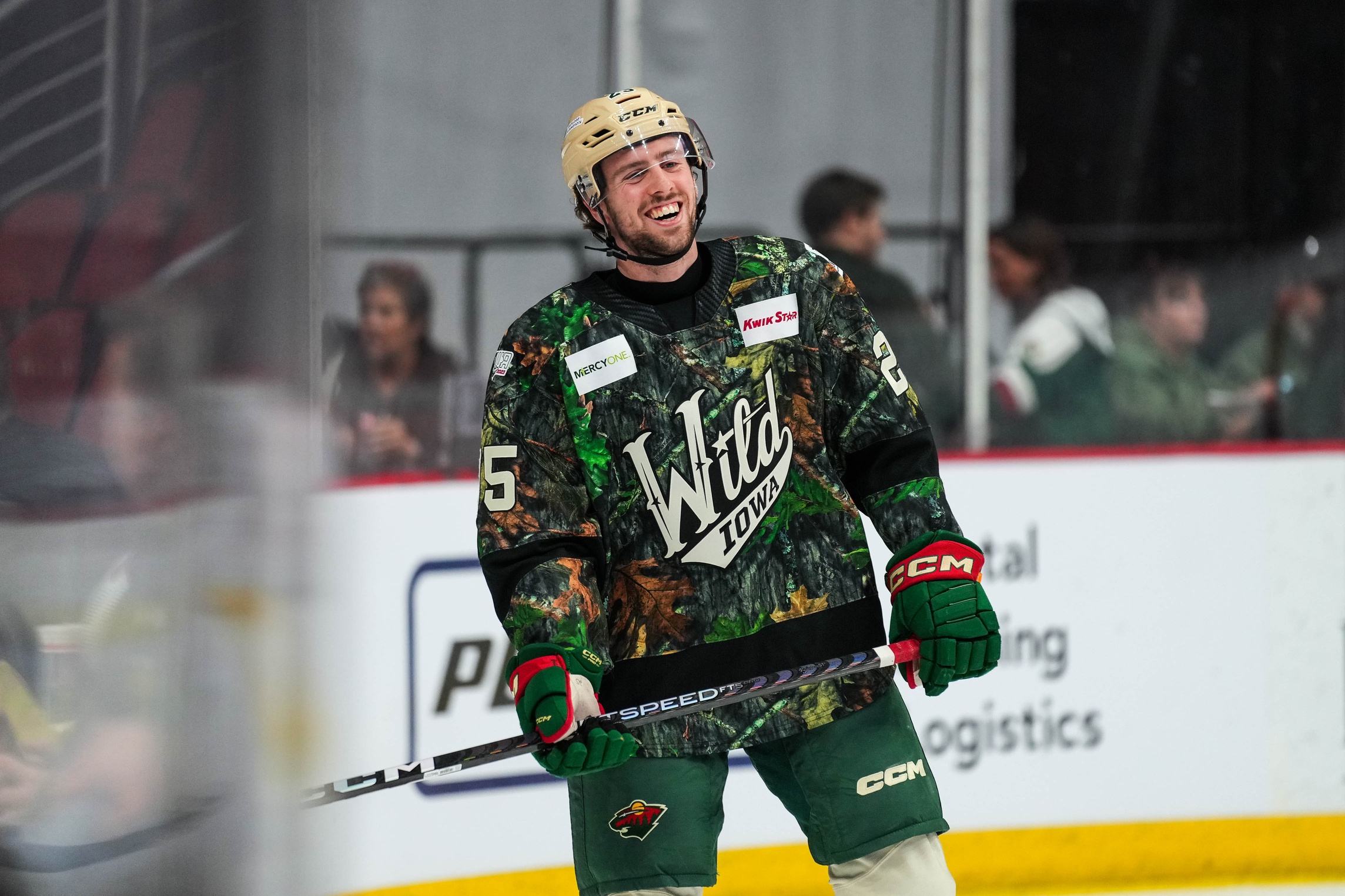 Image courtesy of © Margaret Kispert-USA TODAY Sports
There are many amazing prospects coming up through the Minnesota Wild pipeline. It's easy to focus on the young ones, especially the ones in Europe or Russia. Most of what fans see is their highlight reel. And to be honest, they are incredible.
But there is one prospect who's getting overlooked. Sammy Walker is a little older than the others, and he developed at the University of Minnesota before hopping into the Wild farm system. But don't worry because Walker will definitely get his chance in the NHL.
In a way, Walker, 24, is a bit of a Minnesota Golden Boy. Named Mr. Hockey during his senior year at Edina High School, Walker went on to skate for four years with the Golden Gophers and served as a captain for three years. That sounds like a bit of a recipe to create a cocky player, but Walker is anything but. Personable and fun, Walker has the skills to back up all his achievements. And while he might be a bit older than other prospects, that maturity is one of his strengths.
In his first season with the Iowa Wild, Walker was named AHL Rookie of the Month in November 2022. He was also named to the 2023 AHL All-Star Game to represent Iowa with Jesper Wallstedt. Walker also played 9 games with the Minnesota Wild, registering one goal and one assist. 
Fans will have no trouble rooting for a Minnesota-born player like Walker. Thankfully, he's got impressive skills behind that pedigree. He might be small, but he's also speedy. No matter what level he's played at, he's known as a consistent scorer. And he even showed his physical side last season by getting into a fistfight.
Bill Guerin was the guest on this week's Wild on 7th podcast, and someone at the State Fair asked whether Walker will get a chance with the big club again this year. "Sammy's been fine for us," Guerin said. "He's actually been really good. The only thing that prevented Sammy from playing more were the lack of injuries. We just didn't have a lot of long injuries." 
Guerin also called Walker a "capable NHL player" and said he just needs to wait a little longer until there are more open slots. And it's no wonder that Guerin is impressed. The clip below shows one of Walker's games in Minnesota. His speed and stickhandling led to a good scoring chance. 
Below is another great video of what Walker can do. It's a short-handed goal that Walker scored with Iowa this year. Once again, he uses his speed to get into the offensive zone and then is able to not only dance around a few defenders but have the patience for the right moment. 
It's obvious that Minnesota fans would love to see Walker in the NHL this year, especially those who have followed him ever since he was named Mr. Hockey. 
Does he have a chance out of training camp? It's unlikely, given the salary cap. But that doesn't mean he won't make the trip up I-35 to Minnesota. There's a good chance that any injury in the forward group will result in Walker being the first call-up. He can be patient, and so should Wild fans. 
2

1