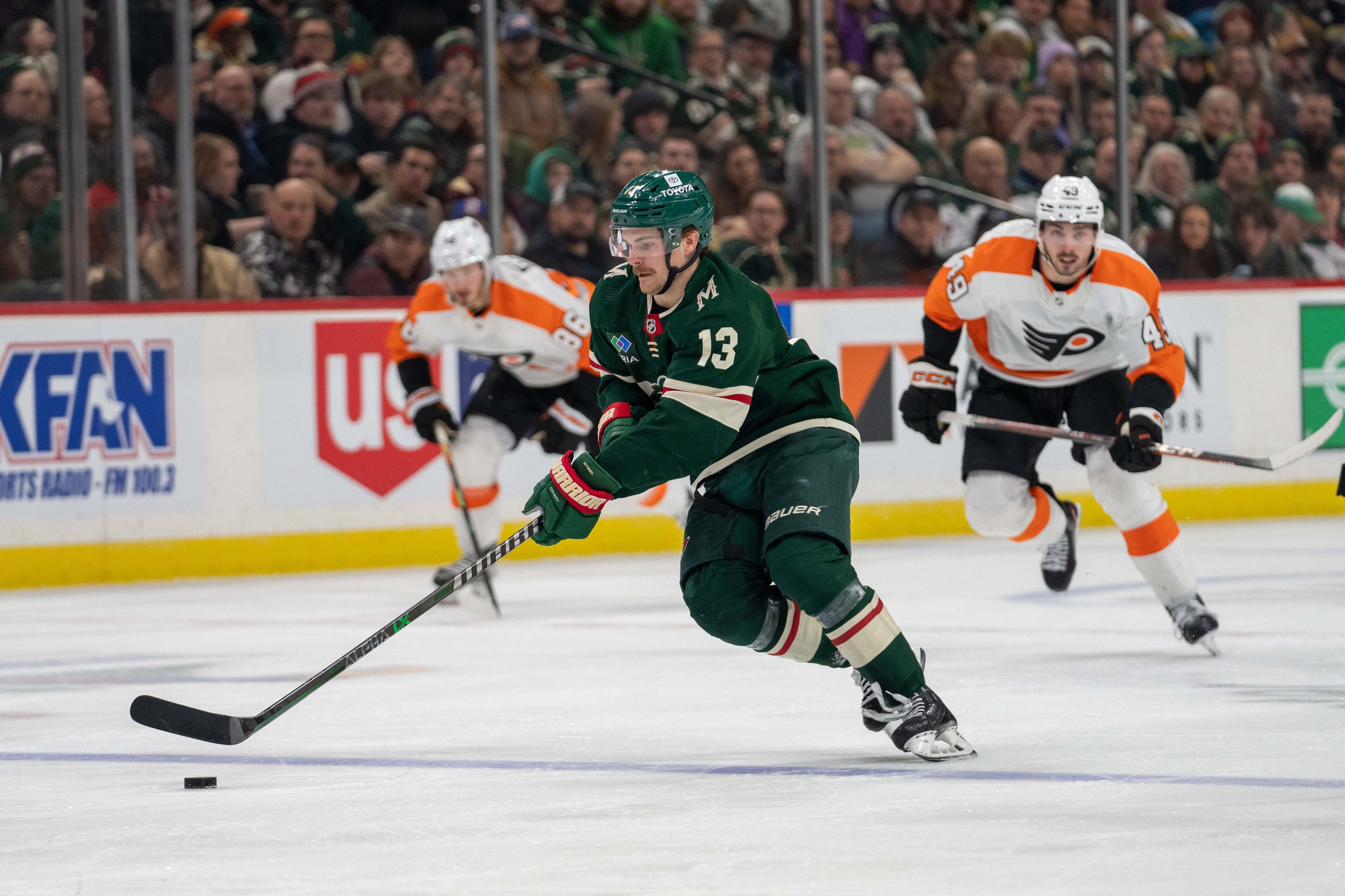 Image courtesy of Matt Blewett-USA Today Sports
He's been a first-round pick and prized prospect. A cast-off bust and reclamation project, and a cheap depth option who somehow became a first-line center. Then he went from a frequently-scratched player to playoff hero. Sam Steel has done it all in his NHL career.
After flaming out as a prospect in the Anaheim Ducks organization, Steel signed a one-year deal with the Minnesota Wild. At a near-league minimum $825K, Steel's contract was a bit of a low-risk/high-reward type of deal. There was a small chance he could round into the offensive dynamo Anaheim drafted him to be. But if he didn't, that would've been fine, too. All he needed to do was play solid minutes in the bottom-six for Bill Guerin to get a bargain. 
They needed those good deals, too. The Wild were (and still are) in a cap crunch, which means plenty of need for cheap bodies to fill out the roster. Steel was that, and maybe a bit more over this past year. But now that his deal is up, he's competing for contracts with many other bottom-six mainstays Brandon Duhaime, Mason Shaw, and Ryan Reaves.
So now there's a sticky state of affairs for 'Sota. 
To Sam Steel, or not to Sam Steel? That is the question. Whether 'tis nobler of the front office to suffer rewarding him outrageous fortune, or to take arms against a sea of uncertainty, and by opposing, end his tenure.
Steel held up his end of the bargain last year. Going into next season, we can expect more of the same. He put up 30 points in 70 games (including playoffs) while being a versatile member of the bottom six. 
The points may not leap off the stat sheet, but it was an improvement over his previous career-high of 22. Last year was his first season cracking double-digit goals. Steel has also struggled to play a full season, and that also continued last year. Less because of injury this time, and more to sitting in the press box. But the point still stands. He's never played a full 82 games, although he played in 65 of 71 with Anaheim during the COVID-shortened season. 
According to Natural Stat Trick, Steel centered Kirill Kaprizov and Mats Zuccarello for at least two faceoffs in 30 games last year. It started during the November 19 game against the Carolina Hurricanes, where Steel scored a goal and added an assist in overtime.
Dean Evason deemed Ryan Hartman and Freddy Gaudreau unworthy to dance between the dynamos, and Steel seized the opportunity. Evason rewarded Steel with a jump in minutes and a bigger role. From mid-November through mid-January, he had a nice little run of production with 36 and 97.
But sometime after that, Steel's production stalled even as Kaprizov and Zuccarello kept producing. The line was solid when it was together, but the wingers were clearly driving the bus, and not the man in the middle. Steel went from scoring 19 points in 25 games starting on November 19, then scored zero in the following 11.
His fortunes turned during the shake-up following a 5-1 butt-whoopin' by the Vegas Golden Knights on February 9. Steel found himself sitting in the press box three games later. He was out for the rest of February and played sporadically throughout March.
Still, Steel finished fourth among Wild forwards in 5-on-5 expected goals for percentage (xGF%). The only players on the team to best Steel's 51.9% xGF% were Kaprizov, Joel Eriksson Ek, and Matt Boldy. In the playoffs, though, his on-ice metrics were some of the worst on the Wild, and he only had two points to show for his efforts.
That didn't stop him from scoring a big game-tying goal in Game 1 or notching the assist on Hartman's overtime winner, though.
And that's a big reason you want Steel back. Whatever you can say about him, the fact is he outproduced a lot of other bottom-six guys. Steel scored more points than Marcus Foligno and Connor Dewar, and many of the bottom-six free agents that he's competing with for new contracts.
But will he do that in a bottom-six role full-time? Steel should not be playing in the Wild's top line, or even their second, if they are serious about winning games. He had a fun little run with Kaprizov and Zuccarello, but it's clear who was doing the heavy lifting in that arrangement. 
Where would he slot in? The Wild's lines currently stand as: 
Kaprizov - Hartman - Zuccarello 
Marcus Johansson - Eriksson Ek - Boldy 
Foligno - Gaudreau - ???
??? - Dewar - ??? 
Minnesota probably won't re-sign trade deadline acquisitions Gustav Nyquist and Oskar Sundqvist because they will most likely be out of its price range. The Wild already re-signed Johansson, their other deadline splash, to a two-year, $2 million deal. So his spot in the top six is locked in after the strong showing he had with the team -- especially Boldy. 
The Wild have expressed interest in bringing back Shaw, who should return from his ACL tear sometime mid-season, and Reaves. That would fill out the rest of the slots on the fourth line. So that third-line winger spot would be up for grabs if that is the direction Wild management wishes to go in.
Steel is a fine player. He is passable defensively, can chip in some offense, and is a good depth guy to have around. That should be his role with the Wild. He can step in and fill a spot anywhere in the lineup if need be. If injuries arise, Steel can fill in a spot, but he should not be counted on any more than that. Let the kids like Adam Beckman, Sammy Walker, and Rossi compete for any big-minute spots should they open, and don't bury them for guys like Steel. 
If the Wild want Steel to play a big role and block the youngsters from playing, they outta say c'est la vie to the former Duck. Still, it would be a wise investment to bring him back on a cheap deal. Another contact of $825K or something in that range sounds reasonable. If he can take on fourth-line money, and a small role, Steel can be a valuable depth piece. That is, as long as that's is the extent of his role on this team.