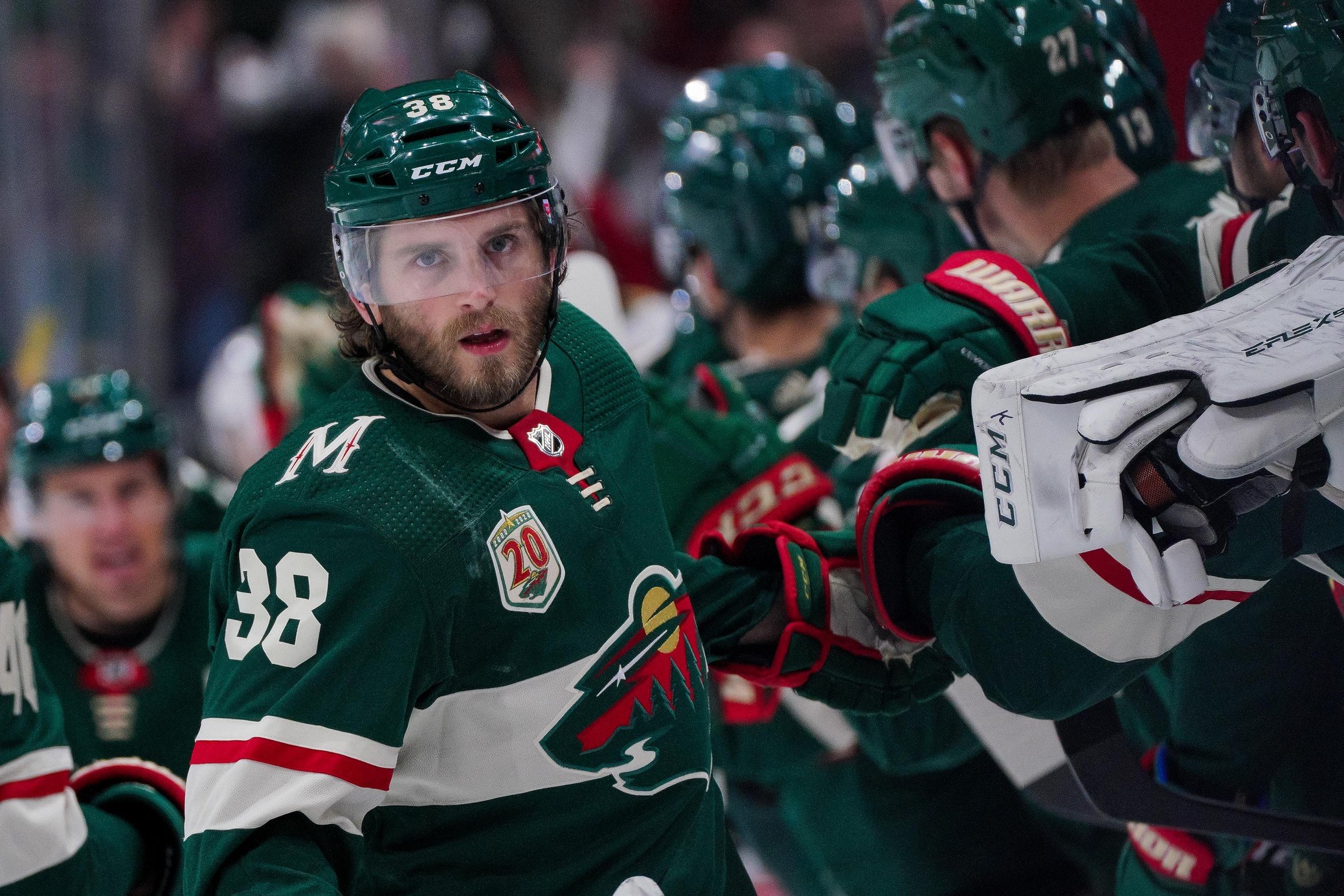 It's a Saturday night in St. Paul.  The clock is winding down in overtime. Ryan Hartman jumps off the bench and receives a pass from Mats Zuccarello. His shot rifles past John Gibson. The Xcel Energy Center erupts as Hartman seals the Minnesota Wild victory with his late-game heroics, scoring with 12.1 seconds to go extending the Wild win streak to four games to start the season.
The Wild's depth played a significant role in the club's ability to manufacture come-from-behind wins early in the season. Hartman's played a crucial role in the team's hot start and will be a critical component to the team's success moving forward.
So what is it that makes Ryan Hartman such a valuable player for Minnesota?
To state the obvious, the Wild will be in a cap crunch over the next four seasons due to the buyouts of Zach Parise and Ryan Suter. His newly-signed $1.7 million AAV contract will help Minnesota when making critical roster decisions in upcoming seasons. Hartman is also a serviceable centerman, reliable penalty killer, and physical presence on the ice. Not to mention, he provides some offensive upside on the Wild's shutdown line between defensive studs Marcus Foligno and Jordan Greenway.
As evidenced in Saturday night's overtime victory over the Anaheim Ducks, Hartman isn't one to shy away from big moments and can put the puck in the back of the net and score timely goals. Throughout his 371-game career, Hartman netted 60 goals alongside 73 assists. Not overly impressive statistics, but this averages around 13 goals per 82 games (career-high is 19 goals in 2016-17). That's solid production for a career bottom-six forward. And he may see his goal totals go up this season due to getting some time on the Wild's second powerplay unit.
At the beginning of his Wild tenure, Hartman was a fourth-line winger who played a well-structured defensive game and provided Minnesota with depth and physicality. Although Hartman seemed like a fit at the time, he appeared to be a puzzling signing by former GM Paul Fenton. Why would the Wild bring in the right-shot fourth-liner when they had players like Gerry Mayhew and Sam Anas in Iowa who were well-deserving of the opportunity to crack the Wild's NHL roster? It would appear that the Wild were overpaying for bottom-six forwards once again rather than giving depth forwards in their system a shot to contribute in the NHL.
He's since proved to be a bargain. His versatility and willingness to accept any role the Wild threw at him showed why he was deserving of his spot on the roster. Now he helps Minnesota compete with some of their more physical opponents.
Due to the Wild's lack of depth up the middle last season, they needed someone to step up and fill one of the available center positions. The Wild took a center-by-committee approach, seeing multiple players get time down the middle next to game-breaking winger Kevin Fiala. Eventually, Hartman would secure the vacant spot and spend much of the season centering Fiala, finally giving the talented winger some much-needed stability.
For Hartman's hard work, scrappiness, and versatility, he was awarded a $5.1 million contract over the next three seasons to stay in Minnesota, a less lucrative deal than he might've gotten if he hit free agency in the offseason. But the Wild forward was happy to finally have some job security and a place to call home, so he put pen to paper and was all-in on what GM Bill Guerin was attempting to build in Minnesota.
Hartman's serviceability at center has also afforded the Wild coaching staff the luxury to explore the offensive development of Joel Eriksson Ek. After finishing fourth in Selke votes last season, Minnesota's best center received a well-earned promotion to the Wild's top line. While we're only a few games into the season, the move seems to be already paying dividends. Eriksson Ek is continuing the offensive growth we saw last season alongside Mats Zuccarello and Kirill Kaprizov. They are providing Minnesota's top unit some much-needed stability up the middle, something that was sorely missed last season.
So, while Hartman may not be the first player that comes to mind when someone thinks of the Wild, he is a critical component to the team's success. He won't be the player that makes fans drop their jaws in bewilderment with his highlight-reel goals. But his attitude, versatility, physical play, and "grizzle" are vital for the team's young core members to step into more prominent roles as the team looks to build a Stanley Cup contender.