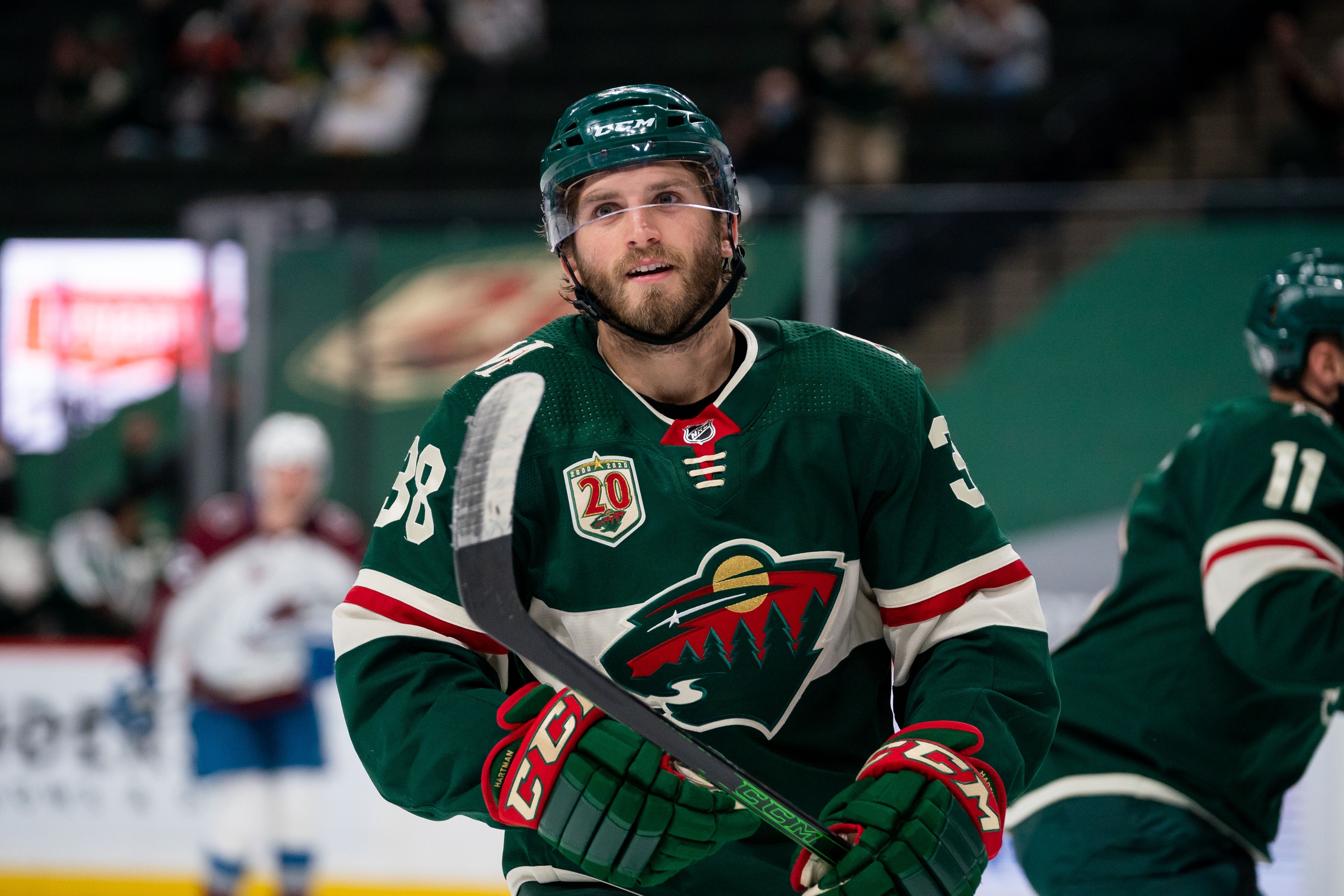 Last week the Minnesota Wild signed Ryan Hartman to a three-year extension worth $5.1 million. It was eyebrow-raising to see a 26-year-old pending free agent take a $200,000 per year pay cut months before testing the market. According to Hartman, that was the price to stay in a place he really enjoyed. "I like the camaraderie of this team, this locker room, the direction of where this team is heading," he told NHL.com. "A lot of upside. And I think we're just getting started."
He later said in the same press conference, "To be honest, money doesn't really matter. It's winning. … I know what this group has and how special it is. I think we're very confident here, and that's a big reason for staying around."
Hartman probably meant what he said, but there are economic factors that led to him taking a pay cut. The first one looms large for the NHL: the flat cap. Even with a massive influx of TV money coming in from ESPN and TNT, revenues lost from the pandemic mean the salary cap likely will remain at $81.5 million for a few more years. That's less money for everyone, stars included.
The other major factor is that the NHL's middle class is going away. Star players are getting big paydays, and they're getting them while they're young. In previous years, players like Auston Matthews, Mitch Marner, and Sebastian Aho would sign discounts on their second contracts. Now it's a lot less team-friendly David Pastrnak deals and a lot more cashing in.
That factors into what a player like Hartman is going to make. Teams will find ways to keep their most important cogs, but bottom-six players usually don't make that cut. And if a team has prospects coming up that could fill a third-line role on cheap entry-level contracts? Just look at what happened to Hartman as he ping-ponged through Nashville, Philadelphia, and Dallas two years ago.
The Wild will have over $20 million in cap space for next season, but that money's going to go fast. Kevin Fiala, Joel Eriksson Ek, and Kirill Kaprizov will need to sign contracts, all coming with significant raises. Had the salary cap been $90 million, maybe Hartman gets a decent raise. That's not the reality we live in, so Hartman took his lumps to stick around.
General manager Bill Guerin understood the position Hartman was in and took advantage, getting a ton of value here. In 111 games in Minnesota, Hartman has been worth 4.7 points in the standings, or about 3.5 per 82 games. Basically, we're talking about 70% of what Marcus Foligno brings to the table at just over half the cost.
Signing bottom-six players to term can be tricky (ask Vancouver Canucks GM Jim Benning), but this appears to have no downsides. Hartman doesn't turn 27 until September, meaning a three-year deal takes him through his age-29 season. Those are the years you want to buy, not years past age 30. The cap hit is less than $1 million over the league minimum, making it easy to move at any time.
The contract has a chance to have even more value if it can set the tone for this offseason. It sends a message: Do you want to stay here? Here's what you're going to have to do.
It's not a message to Fiala, Eriksson Ek, or Kaprizov. Those players will get paid, and the team has a lot of incentive to get them inked. As for the Wild's many pending unrestricted free agents? They're probably going to have to make sacrifices to stay in Minnesota.
Nick Bjugstad turns 29 in July and will be the youngest member of this group. The rest — Nick Bonino, Ian Cole, and Marcus Johansson — will all be 32 or older. Bonino is the only player who can claim to be better than Hartman because he has been worth 2.4 standings points to Hartman's 1.6. Yet Bonino's role as a defensive, penalty-killing center is easily replaced. In fact, it could well be Hartman who takes his place.
And that's for Bonino, the best of the bunch. None of the remaining UFAs have been worth over a point in the standings for Minnesota. Bjugstad is one of the Wild's few puck-carriers but hasn't panned out at center on a team deep with wing talent. Johansson is another failed center experiment, and his recent points outburst shouldn't obscure him being a liability on both sides of the ice. Cole's reputation for being a reliable defenseman is propped up by a very lucky 105.6 PDO at 5-on-5, with advanced numbers showing his defensive impact as being slightly negative.
Could any of these players be brought back on a deal that helps Minnesota? Sure. Bonino is very good, and while the other three are closer to replacement level, sometimes those guys are needed to fill out a roster. If they do come back, though, Guerin should demand they all take their cues from Hartman. None of them should return on a multi-year deal or at a cap hit that approaches Hartman's $1.7 million.
If they're in for a one-year deal at a massive pay cut? Great. They can have their press conference talking about how much they love it here and want to play in Minnesota. If not, they can go out and take their chances on the UFA market.
The key thing that Guerin must do is not get attached to any of his pending UFAs. He proved over the past year that it's not particularly hard to replace any of them. Bonino was a throw-in to go with the second-round pick Minnesota got for Luke Kunin. Johansson was expensive and out of favor in Buffalo, making him easy to acquire. Bjugstad and Cole were cap casualties available for bargain prices.
Falling in love with replaceable players and hamstringing flexibility with multi-year deals over them is the kiss of death for a GM. Guerin has to know that bargains are going to be out there again and act accordingly. Hartman, who isn't nearly as replaceable, knew this and got with the program. If the Wild's UFAs don't, well, there's going to be plenty of folks looking for a job this summer.
All data is from Evolving Hockey unless otherwise noted.