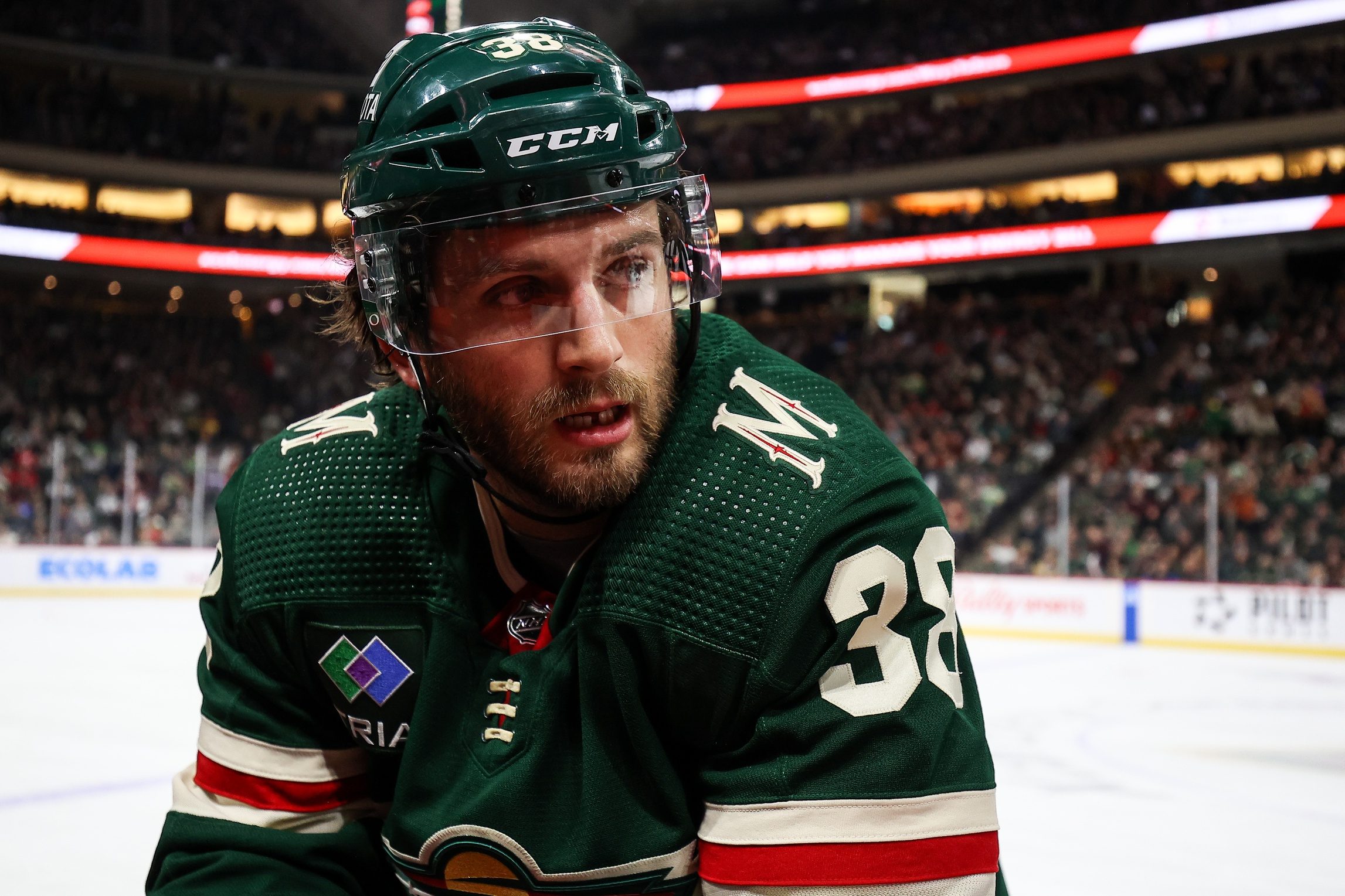 The 2021-22 season was a dream for Ryan Hartman. He played on a top line between two of the NHL's elite wings, scored more goals than the previous three seasons combined, and became a fan favorite by flipping off Evander Kane. It felt like he had finally found his place in Minnesota after bouncing around the league for a few years.

 

 

Hartman signed a three-year contract extension before last season. He took less money in exchange for stability and the chance to play on Minnesota's top line. Anyone playing between stars Kirill Kaprizov and Mats Zuccarello should be able to put up career-high points, and Hartman did. Last year, he had 34 goals and 31 assists. Previously, Hartman had never been above 20 in either column. He was crucial to the most successful regular season in Wild history. But would it last?

 

After the disappointing first-round playoff exit, fans and reporters alike questioned if Hartman could produce at that high level again. Then the 2022-23 season started, and his dream became a nightmare.

 

Hartman had a sluggish start, with only one goal and three assists through the first eight games. Not quite the 0.79 points per game average Wild fans saw last year. Then everything fell apart. Halfway through a road game against the Chicago Blackhawks, Hartman

with Jarred Tinordi. The Burnsville-born Tinordi is six inches taller than Hartman, and it showed. He grabbed Hartman's jersey and whipped him around like a bad Dancing With the Stars contestant. Hartman fell to the ice, clutching his arm. As Tindordi went to the penalty box, Hartman went to the locker room. He went on the shelf with the classic "upper-body injury" and would miss the next 20 games.

 

When Hartman returned against the Ottawa Senators on December 18th, the Wild had won four in a row and seemed to be finding their game. More importantly, Sam Steel played on the top line between Kaprizov and Zuccarello. Steel had two assists that night, while Hartman didn't register a point.

 

Most sports fans are familiar with the story of Drew Bledsoe and Tom Brady. Bledsoe suffered an injury, Brady took his spot, and the rest is history. Obviously, Steel isn't the next Tom Brady — the dude doesn't even play football! But Hartman has to be feeling like Bledsoe at this moment.

 

It's not like Steel is setting the scoreboard on fire as the No. 1 center. He has six goals and 13 assists since Hartman's injury. Sure, the Wild had a great stretch between Thanksgiving and Christmas, but the offense is stagnant. Zuccarello looks uninspired, especially on defense. Kaprizov has more offensive zone turnovers than a French bakery. And the team has two separate three-game losing streaks in January. The Wild are currently out of a playoff spot and are plummeting in the standings. The trade rumors and healthy scratches aren't helping.

 

It is becoming increasingly evident the Wild will not be able to afford defenseman (and alternate captain) Matt Dumba after this season. Fans expect general manager Bill Guerin to make a trade to keep Dumba from leaving without getting anything in return. Many thought it was happening when he was a healthy scratch in two consecutive games recently. The Wild lost both and struggled defensively, allowing five goals in each game. Hartman was a minus-two and had 17 penalty minutes. However, Dumba returned for the game in Tampa Bay, and the team looked better but ultimately lost their third in a row. Hartman added two more penalties and drew the ire of coach Dean Evason.

 

"He should be hard on himself. It's stupid." Evanson said about Hartman's recent penalty troubles.

 

Evason responded by scratching Hartman in the Philadelphia Flyers game. He explained his reasonings in the pregame press conference, "The main thing is he made a mistake two games in a row. We talk about accountability, and he will be accountable for his actions last game. We can't continually talk about discipline and taking bad penalties and then keep taking bad penalties."  When asked what Hartman needs to do, Evanson said, "How does he correct it? He doesn't take silly penalties."

 

"Yeah, obviously, I don't like letting my team down," a dejected Hartman said after the game in Tampa. "I feel responsible for some things that have gone on. Obviously, it's not a good feeling."

 

Hartman has looked lost since his return. He has struggled to find chemistry with anyone on the third and fourth lines. His point production isn't what it used to be, which isn't surprising, considering he no longer has Kaprizov or Zuccarello on his wings. The Wild need to shake things up again. Since trading for another enforcer makes less sense now than in November, maybe it's time to put Hartman back on the top line. But they can only make that move if Hartman can find his way out of the press (and penalty) box.