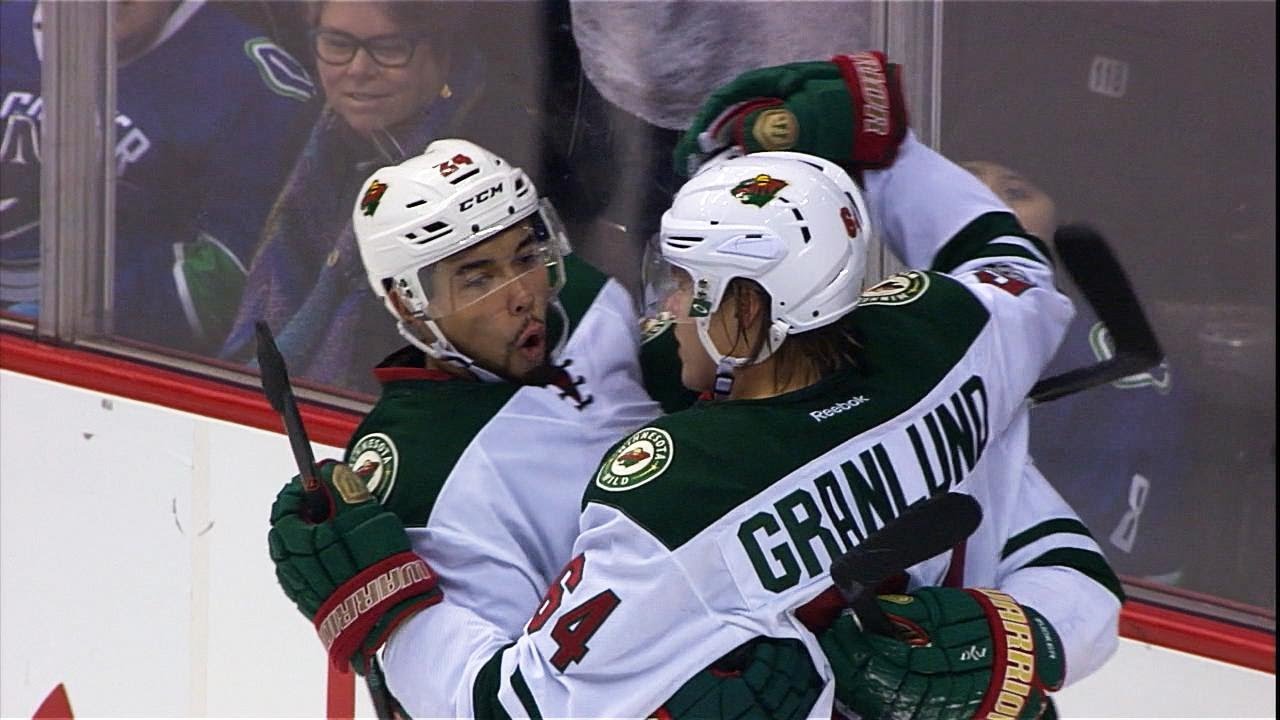 It was the most successful regular season in Minnesota Wild history. They didn't have to face the Chicago Blackhawks in the first round of the playoffs last spring. Things were looking up.

 

Then they lost the opening series 4-1 to former Wild head coach Mike Yeo and the St. Louis Blues. Erik Haula summed up the frustration after the loss.

 

"What is this, five years in a row? I'm sick of this," Haula said, referring to the Wild's inability to have playoff success.

 

As the Wild prepare to open a new season, this is the quote that still comes to mind when thinking back to the end of last season. Five years of making the playoffs only to have early exits. It's frustrating and leaves you wondering how the team can buck this created trend.

The return of hockey with a fresh, new season is sure to get fans excited to watch some puck once again.

Haula has a fresh start this year, too, as a member of the NHL's newest squad, the Las Vegas Golden Knights. His words still raise the question for Wild fans though: Should they get excited if the Wild puts together another solid regular season? Or just wait and see if they can make a playoff run?

 

I'll say that the journey needs to be appreciated. Just take a look at the 2017 Minnesota Twins for proof. I also know my thoughts might be slightly less optimistic than some of my Wild counterparts at Zone Coverage, based on the latest episode of Giles and the Goalie.

 

The return of hockey with a fresh, new season is sure to get fans excited to watch some puck once again. Last year's regular season did have a lot of great moments, even with the disappointment of an early exit from the playoffs.

It could be tough to replicate the success that so many on the roster had last season.

Still, it might be a tall order for the Wild to keep up with its solid regular season with a team-record 49 wins (49-25-8) and 106 points. It was slightly new territory for the Wild under new head coach Bruce Boudreau. They found themselves in the upper half of the playoff picture rather than in the No. 7 or 8 spot.

 

Back again with a similar group of core players, the Wild can either build on the 2016-17 campaign, or regress a bit and have a letdown year. If the result is the second option, I'm not saying the Wild will necessarily miss the playoffs. They just might have fewer wins and points, not win their division and reach the playoffs mid-pack.

 

It could be tough to replicate the success that so many on the roster had last season. The young "kids" (if that's what we're still calling them) had breakout years. Mikael Granlund led the team in points with 69 (26 G, 43 A). Charlie Coyle saw the highest point total of his career with 56 (18 G, 38 A). Nino Niederreiter skated 82 games and was a 25-goal scorer with 32 assists for 57 points. Jason Zucker didn't have a huge injury bug biting him, so he managed a 22-25—47 season.

 

So it seemed these guys figured something out last year. They produced on the scoresheet and looked to take significant steps toward developing into hockey players launching into the prime of their careers. I hope that all continues this year, really. I'm just not sure that they can all continue at the high level.

 

As I scanned through the media guide, I found a ton of the same thing for players last season: Career-high numbers. This isn't a complete list, and feel free to look up their exact numbers, but this gives an idea of how much went right for the Wild last year.

 

Career-highs in 2016-17:

Jonas Brodin: Points, assists

Coyle: Points, assists, power-play goals, shots on goal. Also, has played in a franchise-record 313 straight games.

Devan Dubnyk: Wins, saves

Matt Dumba: Goals, assists, points, hits, blocked shots, +/-

Granlund: Goals, assists, points, +/-, power-play goals, short-handed goals, shots on goal

Mikko Koivu: Blocked shots, +/-

Niederreiter: Points, goals, assists, +/-, power-play goals, shots on all. Also played in all 82 regular season games.

Jared Spurgeon: Points, assists, +/-, shots on goal

Eric Staal: Blocked shots, +/-

Ryan Suter: Goals, power-play goals, +/-

Jason Zucker: Points, goals, assists, games (79), shots on goal, blocked shots, +/-

The biggest concern: Parise and his back

 

Zach Parise will not start the first two games when the Wild open their season Thursday night in Detroit. He's still dealing with a back issue that's bothered him in camp and even going back to last season.

 

He missed the first week of training camp and all seven exhibition games. He's missed some practices lately. His back has been a problem in the past, but he made it through 2016-17 and the summer. It wasn't until just a couple weeks before camp started that he had a setback during his training, according to Michael Russo of The Athletic.

 

While the Wild hit the road for their first two regular-season games, Parise will stay in Minnesota to skate with a skills and skating instructor, then join the club for Monday's practice, according to Russo. That's if things go swimmingly.

 

Maybe one of the good things about the Wild's quirky schedule, with big chunks of off days in between games early, is that there's potential for Parise, 33, to only miss a couple games. We'll see what happens.

 

Parise (19-23—42 in 69 games last year) is entering year No. 6 of his large, 13-year deal he signed with Suter on July 4, 2012. The Wild doesn't have a natural goal scorer – haven't since Marian Gaborik – and Parise is a close second. He's a gritty player who'll stand in front of the net and get cross-checked and pushed around in the crease. He's a workhorse who skates and hustles his way to score goals. It's just that his body might not be able to keep up.

 

Sure, there could be a better crackdown on crosschecking penalties, and maybe teammates could do a better job sticking up for guys when they get unnecessarily roughed up. But that's not really the big issue here. Parise isn't starting the year healthy, and he could be one hit away from a career-altering injury.

 

I don't think the Wild are by any means sunk without Parise suiting up. But he's a solid goal scorer and playmaker when he's healthy.

 

Other tidbits:

The Wild finished the preseason 5-2. Take it with a grain of salt.

The Wednesday, the Wild finally signed forward Daniel Winnik. It's a $660,000 one-year deal for the 32-year-old. He should make his Wild debut in the season opener. He joined the Wild on a professional tryout during the preseason. He's an NHL veteran who most recently played for the Washington Capitals.

Moorhead's own Matt Cullen, 40, returns to the Wild this season after winning back-to-back Stanley Cups with the Pittsburgh Penguins.

Jason Pominville (13-34—47) was traded away to Buffalo in the offseason. In return, the Wild have Tyler Ennis and Marcus Foligno in their dressing room. Ennis played 51 games last season with the Sabres (5-8—13). He missed 59 games the season before – 45 of those were for a concussion. Foligno spent the past four years in Buffalo and skated in 80 games last season, scoring 13 goals and 10 assists.

Alex Stalock will backup Dubnyk in goal. Duby is still the No. 1 goaltender, and the Wild will need to rely on him once again.

Be on the lookout for the new uniforms this season. The Zone Coverage podcaster duo of Giles and the Goalie cover jersey opinions better than anybody. I'll defer to them.

The Wild open their season Thursday night for the inaugural game at Little Caesars Arena in Detroit. Puck drops at approx. 6:30 p.m. CT.

 
---