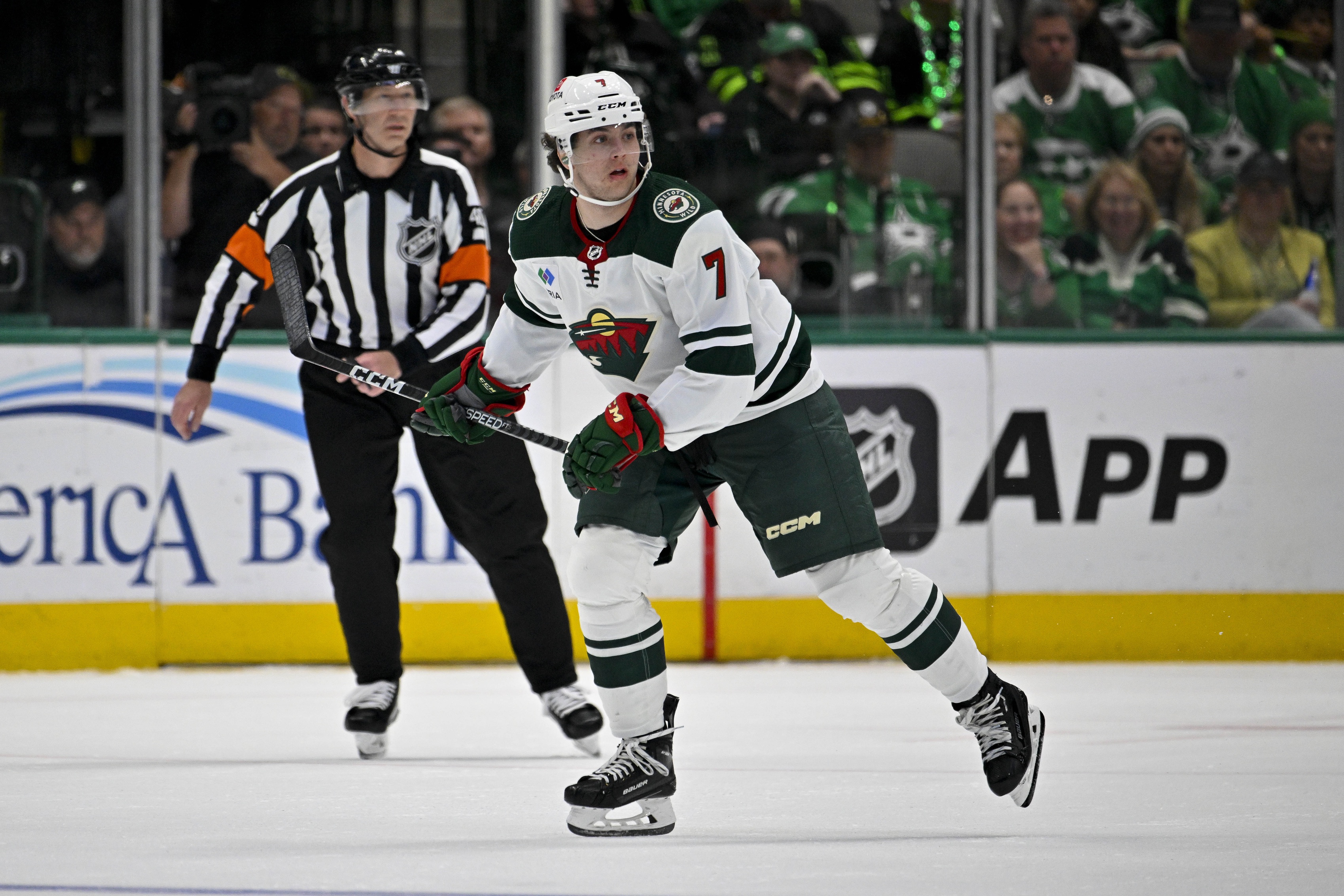 Image courtesy of Jerome Miron-USA Today Sports
The NHL season is creeping up on us, and we're dipping our toes into the waters of season predictions. Get your takes ready for Stanley Cup winners, division picks, pre-season awards predictions, fantasy sleepers, and all manner of things. We're plugging in the take machines.
One early bit of predictions comes to us via The Athletic's Scott Wheeler, one of their prospect gurus. Naturally, his preseason predictions involved ranking the top rookies who can make a push for the Calder Trophy.
The Wild don't have a front-runner like they did with Kirill Kaprizov in 2021. Those honors belong to the Chicago Blackhawks' Connor Bedard, Logan Cooley of the Arizona Coyotes, and Buffalo Sabres goalie Devon Levi. But lurking outside the top-10, the Minnesota Wild have not one, but two names on this list: Marco Rossi at No. 12, and Brock Faber at 15th.
The two Minnesota rookies will have a tough hill to climb to get Calder consideration this year. Bedard and Cooley are expected to be stars right away for their teams, with Bedard being considered the best prospect since Connor McDavid. Not only would they have to outshine the favorites, they'll have to avoid vote-splitting with their other potential star rookie teammate.
But speaking of McDavid, upsets happen in the Calder Trophy race. Little-known Artemi Panarin bested McDavid in his rookie year, after all. 
If you, the Wild fan, are looking to work on an early campaign for some Calder Love in St. Paul, which horse should you back? Let's take a look at the arguments for both Rossi and Faber's pre-season candidacy. I've broken down by using the very scientific and not-recently-made-up POPP system, where we gauge their Pedigree, Opportunity, Position, and Pointz.
PEDIGREE
Let's take a quick look at where the last 10 Calder Trophy winners by draft position:
2023: Matty Beniers, No. 2 overall
2022: Moritz Seider, No. 6
2021: Kaprizov, No. 135
2020: Cale Makar, No. 4
2019: Elias Pettersson, No. 5
2018: Mathew Barzal, No. 17
2017: Auston Matthews, No. 1
2016: Panarin, Undrafted
2015: Aaron Ekblad, No. 1
2014: Nathan MacKinnon, No. 1
On some level, this makes sense, because the best young players will tend to go very high in the draft. It's also the case that to make as much noise as possible come voting time, you'll want to have that name recognition that comes with being a first-round (or, better yet, top-10) pick.
Even among finalists (the top-three vote-getters), first-round picks make up 60% of the nominees over the past 10 years. Half of the non-first-rounders were either goalies (who are typically older because of their development curves) or players 24 and older. The odds of a player drafted outside the first round becoming a finalist is probably closer to 25%.
That gives Rossi, the No. 9 overall pick in 2020, an edge over Faber, who was a second-round pick (No. 45 in 2020). Impressing in the playoffs might give Faber a bit more name recognition than his draft position suggests, but he has a lot more eyes to open to get on the national media's radar.
Even now, despite Hockey Wilderness ranking Faber over Rossi in our recent Prospect Rankings, it's Rossi who's generally considered the better prospect for now. The Athletic's Corey Pronman put Rossi at No. 62 in his ranking of under-23 NHLers, with Faber a tier below Rossi at 112. EP Rinkside ranks Rossi 21st among drafted prospects, whereas a late push got Faber up to 45th. 
Edge: Rossi
OPPORTUNITY
It's not just about having name recognition, though. It's about being in a position to succeed. Rossi found out what happened last season what happens when the opportunity isn't present: You spend the year in the AHL, not racking up Calder votes.
Teams like Chicago and Arizona won't have any problems finding minutes for Bedard and Cooley. No one expects them to win, so their coaches can (and should!) run out their star prospects as often as possible to get reps. It's not the same for the Wild.
Despite whatever you might think about their outlook, Minnesota expects to win this season. Because of this, they're going to balance the needs of tomorrow with getting enough points in the standings to break into a Wild Card spot. If they don't feel Rossi and Faber are in the best position to squeeze some regular season wins out, the coaches will use another player.
This serves to benefit Faber much more than Rossi, at least coming into training camp. The Wild believe Faber to be NHL-ready, and ready to take on top-four defense minutes, something Faber's playoff run should only have reinforced. With Matt Dumba out of the picture, all that's standing between Faber and 20 to 22 minutes a night is Calen Addison, who wasn't much of an obstacle for him the previous year.
Rossi's road to a similar opportunity is much more fraught. Ryan Hartman has the inside track to stick on the top line with Kirill Kaprizov and Mats Zuccarello. There's no room on the second line, meaning Rossi might end up with Marcus Foligno and Freddy Gaudreau on the third line. With Minnesota's insistence that Rossi deliver first-line production before elevating him to play with Kaprizov, he might not be able to climb up the depth chart for a while.
Edge: Faber
POSITION
Look back at that list of Calder winners in the past decade. Seven forwards, three defensemen, with Seider, Makar, and Ekblad being the only ones to take those honors.
The learning curve for defensemen is much steeper than it is for forwards. For the most part, a rookie forward (at least one with Calder hopes) is expected to mostly contribute with offense. If you're above-replacement level defensively (of those seven forwards, just Beniers and Pettersson were significantly above that bar), that's a bonus.
Defensemen just have many more responsibilities. If they're deficient defensively, that's going to be seen as much more of a flaw than it is for a forward. All three defenseman Calder winners in the last decade were above replacement level on defense at even strength.
Rossi is a forward, Faber is a defenseman. Even though Faber is polished, you do the math.
Edge: Rossi 
POINTZ
But let's not kid ourselves, this is a POINTZ award. Since the start of the Analytics Era, the Calder has gone to a skater 15 times. The record of the rookie leader in Standings Points Above Replacement taking the Calder in those 15 seasons is just 5-10. Now, what about the league leader in points among rookies? They're 12-3.
You generally gotta get numbers to make noise in the voting. That'll generally favor a forward over a defenseman. But will Rossi be able to score enough to be in the mix among the top forwards? Let's look at where Rossi stands in terms of NHL equivalency (or NHLe, a formula to translate one league's point totals to an NHL equivalent) from last year, compared to the other rookie forwards on Wheeler's Calder Watch article:
1) Adam Fantilli, 64 points
2) Bedard, 62 points
3) Cooley, 54 points
4) Logan Stankoven, 50 points
T-5) Rossi, Shane Wright, 46 points
Using Rossi's AHL totals as a starting point for what he might accomplish next year with the right opportunities, he appears to be entering this year in the second tier of rookie forwards. The gap between Fantilli, Bedard, and Cooley is significant, but it's possible to close.
Meanwhile, Faber (25 NHLe) is sixth among the six defensemen listed in Wheeler's article, with Brandt Clarke (48 NHLe) nearly doubling up Faber's production last season. Does that write off Faber as a candidate?
Not necessarily. Most former NCAA defensemen who recently made Calder Trophy noise (finishing top-five in voting) tended to be big scorers in college. Owen Power, Cale Makar, Adam Fox, and Zach Werenski, all were point-per-game defensemen who put up solid point totals in their rookie seasons. Charlie McAvoy is the one exception to being a big-time college producer among this group.
McAvoy scored 26 points in 38 games in his sophomore season at Boston University, a dead-ringer for the 25 in 38 Faber just logged in his junior year. In making the leap to the NHL, McAvoy was instantly a do-it-all defenseman who scored 32 points in 63 games despite only getting 124 power play minutes on the season. He finished fifth in voting that year despite missing 19 games.
That probably looks like the path Faber will have to walk: Do a bit of everything, rack up points at even strength, and hope to get some power play time. Will it help against the hordes of young point-getters making their debuts this year? It's a long shot.
Edge: Rossi
OVERALL
In the big picture, if you're working on a Rossi/Faber For Calder Campaign, you're probably just having fun. Which is great! Have fun! But even in a rookie pool that doesn't include the likes of Bedard and Cooley, a lot has to go right for a player to mount a successful rookie campaign. It's a combination of hype, opportunity, performance, health, and a lot of points. 
Combine that with a loaded rookie pool, and either of these players are probably long shots to get to that level. Rossi likely has more variance in outcomes this year. He could either finish the year as the Wild's top-line center or fighting for NHL minutes. However, his upside is the kind of season that contends for Calders. Faber might be more of a sure thing now, but getting above the fray in the Calder race might be a taller order than it is for Rossi.
Edge: Rossi
2

1